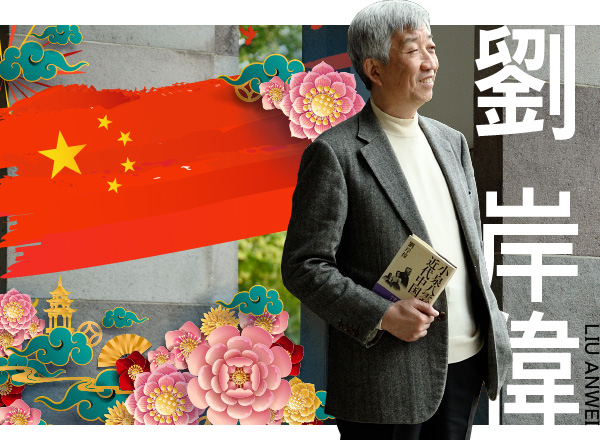 Relativization of Japanese language through learning of
second foreign language Chinese
I teach undergraduate students Chinese as a second foreign language and world literature.
My first world literature class presents classical Chinese poetry, which I read out loud in Chinese pronunciation to the students. Many have studied the poetry of Du Fu and Li Po before in junior high or high school, but are impressed to hear the rhyme and rhythm for the first time in Chinese.
Chinese is the second foreign language with the largest enrollment at Tokyo Tech. Japan and China have historical ties, and Chinese has had a tremendous influence on the Japanese language. Many compound words of four Chinese characters, now commonplace in Japanese, were imported from Shijing, China's oldest compilation of songs. In their reflections, students have noted that they learned this fact for the first time. I believe the framework of modern Japanese language rests on the Chinese classics. For instance, the writing styles of Soseki Natsume and Ogai Mori are based on classical Chinese text. Authors in their era could write their own Chinese poetry. Modern Japanese arose through unification of the spoken and written styles in the Meiji era, and owes its existence to the efforts of writers of that time. Learning Chinese reveals the connection between the two languages and enables a re-examination of Japanese. Moreover, Chinese is spoken by the world's largest number of people, and China is expanding its presence in the global economy. The significance of studying Chinese language in Japan appears to be increasing.
Various universities have taken a direction recently to eliminate the second foreign language, but the significance of establishing a second foreign language as a required course remains quite large, in my estimation.
It is important, because the relativization of English occurs for the first time through the second foreign language and leads to self-awareness of the Japanese language. Students in Japan have acquired the Japanese language naturally without a linguistic approach. Linguistics is the academic discipline that clarifies the common characteristics and differences between languages.
English studies beginning in junior high school are ordinarily an opportunity to relativize the mother tongue. The lack of self-awareness with respect to Japanese language, however, causes English to be evaluated merely as a special case. The second foreign language in university is normally taught for a brief term of about one year, presenting the general logic of the language. As a consequence, English is relativized for the first time and Japanese can be assessed linguistically. Science students need to communicate their technology and research in an easily understood manner, so acquiring Japanese and foreign language skills is definitely necessary.
The second foreign language offerings at Tokyo Tech are German, French, Russian, Chinese, Italian, Korean, and Spanish. Two may be selected as well. I want students who have additional capacity to learn a second foreign language beyond English.
Perspectives of "compound vision" and "overlaying" elucidate
historical fact, prove vital to science students
I also teach Graduate Methodologies in Culture and Arts to graduate students. This course overlaps in part with Comparative Culture Studies that I taught previously for more than ten years. I make sure to discuss the methodologies of comparative cultural studies first, because these techniques are the most fundamental when we examine the past, history, other people, or even nature. The key words here are "compound vision" and "overlaying."
Literary research and investigation of texts are rooted basically in the research of history. A unique event in history, what we refer to as historical fact, is literally only one occurrence, but the tracings or historical records of the event may be multiple. When looking back over the past, humans must rely on historical documentation.
The many, multiple historical records believed to have existed, however, are for the most part lost into the abyss. Of what remains today constitute fragments. In order to restore historical fact based on what we have, then naturally, a perspective of "compound vision," or approaches from many sides, becomes necessary. I frequently tell my students that this technique applies to research in the natural sciences, too. Without flexibility in thought and expansive field of vision, previously uncharted, beneficial research will not arise.
"Overlaying" refers to the handling of historical records, which could be practical documents such as ledgers, family tree diagrams, court records, and contractual documents, as well as subjective "works" of the author like novels, poetry, and criticisms. Inherently, neither grouping is different in the sense that human intent was at work in both. The various elements and their interactions in historical documents that overlap in a number of layers must be studied within critical historical entries. The examination regarding what the intent of the writing was, what actual role it served, must be historical. As I explained to my students, serious historical-record criticism consists of the perspective of "overlaying" at the core, which is also necessary for scientific experimentation.
Our world has many perceptions of value. Consequently, an expanded view through studying of other languages and culture to make value judgments is extremely important. The significance of studying an introduction to comparative cultural studies that cultivates "compound vision" and "overlaying" perspectives, a second foreign language, and world literature is all connected.
Revisiting with fresh perspectives the period of vast change
between Japan and China from Meiji Era onward
After the Cultural Revolution ended, I entered Beijing Foreign Studies University when college entrance exams restarted in 1977. There were no students admitted directly from high school at the time. I was actually the youngest to enroll, with experience as an elementary school teacher. I was happy to receive the opportunity to study, finally. I decided to study Japanese language, probably influenced by my father, a reporter for the People's Daily who had studied abroad in Japan.
I found Japanese books in my home and wondered about the curious writing since childhood. Chinese government policy at the time sent numerous young adults abroad to study at universities around the world. I was a member of those selected in the first year to study abroad at graduate school, specifically comparative literature at the University of Tokyo. Overall, 150 students were sent to Japan, of which just five or six belonged to humanities and letters.
My doctoral dissertation focused on the Chinese writer Zhou Zuoren (1885-1967), the younger brother of Lu Xun. The two brothers had studied abroad in Japan, but unlike Lu Xun who was completely reticent about his studies in Japan, Zhou Zuoren left extremely wide-ranging writings about his experience. Although a well-known 20th-century Chinese writer of prose, Zhou Zuoren cooperated with the Japanese during the Sino-Japanese war and was labeled a traitor of the Han Chinese. Consequently, his standing in China after the war was in stark contrast to Lu Xun. Zhou Zuoren must be held accountable politically and morally for his deeds, but completely erasing his achievements in advancing modern Chinese cultural studies is inappropriate behavior by historians. These feelings led me to shed light on the man.
Zhou Zuoren was particularly associated with Japanese culture among modern Chinese writers, and loved the works of novelist Kafu Nagai. My aim was to set forth the history of Japan and China as a re-interpretation of Kafu literature and by extension modern Japanese literature through the eyes of Zhou Zuoren. Since the dawn of the Meiji Era, Japan and China have traversed 100 years of massive change—a period that I have considerable interest in.
Some years later, my research took up Yakumo Koizumi. Validation of the importance of Yakumo Koizumi in modern Chinese history led to my book Yakumo Koizumi and Modern China (title trans.). The publication is read in China under a somewhat different context than in Japan. Yakumo Koizumi crossed over from the UK to the US, and then to Japan. As he became familiar with Japan, he became famous for his introductions of Japan to Western literature circles. Young students in China today find an attractiveness to the life he led.
As researcher and educator,
a compilation work to cap the career
My arrival at Tokyo Tech coincided with the start of Chinese language instruction. I also began working at my previous employer, Sapporo University, when Chinese language instruction started. My association with launching Chinese language instruction came about twice. When I arrived at Tokyo Tech, there was an organization called the Foreign Language Research and Teaching Center, and I belonged to the Department of Value and Decision Science, Graduate School of Decision Science and Technology. The predecessor to the Institute for Liberal Arts had assembled faculty of the humanities, social sciences, history, political science, international relations, sociology, etc.
Liberal arts instruction at this level for a scientific institution is a strong asset of Tokyo Tech. In my mind, liberal arts are required to fashion the person, in essence, to mold perspectives on life and the world.
The Path-Breaking Liberal Arts Courses and Independent Studies Courses held for doctoral program students highlight our pioneering liberal arts education. The courses were created to present the philosophy of liberal arts throughout the undergraduate, graduate, and doctoral curricula, and were never offered before in Tokyo Tech's past history.
For the instruction, students from their specialized fields, spread across the laboratories, come together. The class presents a theme to be discussed in English in small groups. The work also includes poster presentations, symposium planning and operation, etc. English presents a challenge for deep discourse linked to experience, but I find significance in the exchanges held between students from different fields of specialization. Students destined to be researchers need to learn moral philosophy and undergo training to present in words that people outside of their specialized field can understand. The lateral connection between students of different specializations is meaningful in this context.
My ongoing research involves the biography of Chiang Kai-shek. This work, which is scheduled for publication, is a compilation of my own research into Sino-Japanese relations since the Meiji Era. Because I have just a few years remaining until retirement, my last duties will be to enable the students in my research lab to complete their dissertations successfully. I feel disappointed to see the connections thinning between faculty and students not belonging to their laboratory in recent years. My finishing efforts will maintain emphasis in student instruction as the researcher life at Tokyo Tech is completed.

Professor Anwei Liu
Research Fields: Comparative Literature, Comparative Cultural History Study
Born in 1957 in Beijing. Graduated in 1981 from Department of Japanese, School of Asian and African Studies, Beijing Foreign Studies University. Came to Japan in 1982 through Department of Eastern Languages, Peking University Graduate School; completed doctoral program of comparative literature and comparative cultural studies in 1989, Graduate School of Arts and Sciences, the University of Tokyo. Appointed to Assistant Professor, Sapporo University, and transferred to Tokyo Tech in 1998. Recipient of Suntory Prize for Life and Society and Kim So-un Prize for 東洋人の悲哀 周作人と日本 1 (Sorrow of East Asian people: Zhou Zuoren and Japan) published by Kawade Shobo Shinsha (1991), the book based on the doctoral dissertation. Recipient of Shimada Kinji Memorial Prize for 小泉八雲と近代中国 1 (Yakumo Koizumi / Lafcadio Hearn and Modern China) published by Iwanami Shoten (2004). Recipient of Tetsuro Watsuji Culture Award for 周作人伝 ある知日派文人の精神史 1 (Zhou Zouren: psychohistory of a man of letters who knew Japan) published by Minerva Shobo (2011).
Related Works
(Zhou Zouren: psychohistory of a man of letters who knew Japan)

(Yakumo Koizumi and Modern China)

(Sorrow of East Asian people: Zhou Zuoren and Japan)
1 Published in Japanese