Tokyo Tech shows that energy output can be further controlled by gum-chewing after taking the time to properly consume a meal.
Although some people may find it unsightly, chewing gum may actually be good for you—not just for freshening your breath, but also for weight management—especially after a meal.
Studies have shown that chewing food slowly and properly helps to curb overeating. However, in today's busy society, many of us tend to eat quickly and carelessly. In slow-eating individuals, diet-induced thermogenesis (DIT)—the energy required to digest and metabolize the food we eat—was found to be greater than that of those who eat their meals quickly. A higher rate of DIT may be a protective factor in obesity.
Using that knowledge, researchers from Tokyo Tech set out to investigate how the negative effects of rapid eating could be reduced. The answer may lie in a humble piece of chewing gum.
DIT and eating speed
The team hypothesized that post-meal gum chewing would increase DIT by increasing abdominal activities, consequently substituting DIT increased with slow eating. To test their hypothesis, they recruited 12 healthy normal-weight males to participate in four eating trials on four different days. The participants were asked to consume a 621-kcal meal in two different ways; taking as long as they would like to eat their food, as quickly as possible. The same trials were repeated with the addition of a 15-minute gum-chewing session and the consumption of 3 kcal of sugar, which corresponds to the energy of the gum, respectively, after the meal.
As they had hypothesized, the researchers found that DIT was greater in the gum-chewing trials for both rapid-eating and slow-eating trials. Notably, the difference in DIT between rapid-eating and slow-eating trials was greater than that between non-gum-chewing and gum-chewing trials.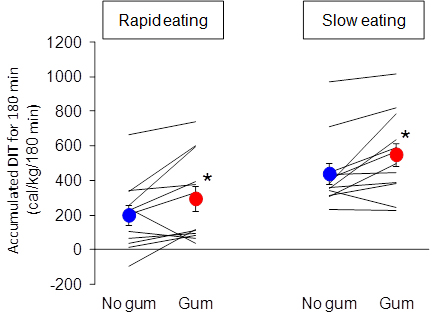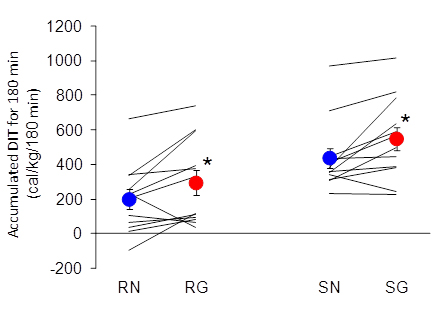 Chewing gum to lose weight
Although the beneficial effect of post-meal gum chewing did not outweigh that of slow eating, this study shows that having a piece of gum after each meal is likely to help weight management. Eating slowly can be difficult for some people, since natural eating speed is acquired over a long period of time. Gum chewing, in contrast, requires very little effort. Therefore, it should be an easy positive habit for all of us to adopt.
Reference
| | |
| --- | --- |
| Authors: | Yuka Hamada, Akane Miyaji and Naoyuki Hayashi |
| Title of original paper: | Effect of postprandial gum chewing on diet-Induced thermogenesis |
| Journal: | Obesity |
| DOI : | 10.1002/oby.21421 |