English Language Courses
In required courses you will improve your English skills, including listening and reading, and learn how to tackle language tests such as TOEFL. A variety of elective courses including Academic Presentation and Oral Expression are also available.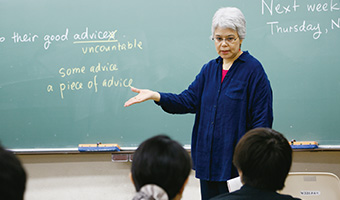 Featured Courses
English Speech Seminar 9

Bachelor's Degree Program (300-Level)

This course offers intensive training in public speaking in English. Students will craft and polish a speech, which they will present at the annual speech contest. Students will receive individual coaching on all elements of speech composition and delivery.

Associate Professor Lorinda Kiyama

Undergraduate Degree Program (300-Level)

Message from the teaching staff

After completing this course, students can be more confident in any oral communication setting in English. We practice extensively for the most unpredictable part of speaking — the Q&A session. All levels of English ability are welcome!
The complete listing of English Language Courses is available at TOKYO TECH OCW 100-300-level

, 400-level

.