A liberal arts education that bridges expertise with society
The Liberal Arts and Basic Science Courses at Tokyo Tech are full of originality. From undergraduate to graduate levels, they consist of essential courses that allow students to learn proactively, develop themselves, and grow together with fellow students.
To conduct excellent research, in addition to knowledge of one's own specialization, it is necessary to have basic understanding of a wide range of fields. Furthermore, to disseminate valuable research findings to the world, it is crucial to have an understanding of the different cultures around the world, not just those of English-speaking countries. The abilities students develop through liberal arts courses will help them see how their research relates to people around them and to society. They will indeed see how science and engineering contribute to the world.
The variety of courses we provide ensure that our graduates possess the abilities that are expected of them, abilities that make Tokyo Tech students stand out.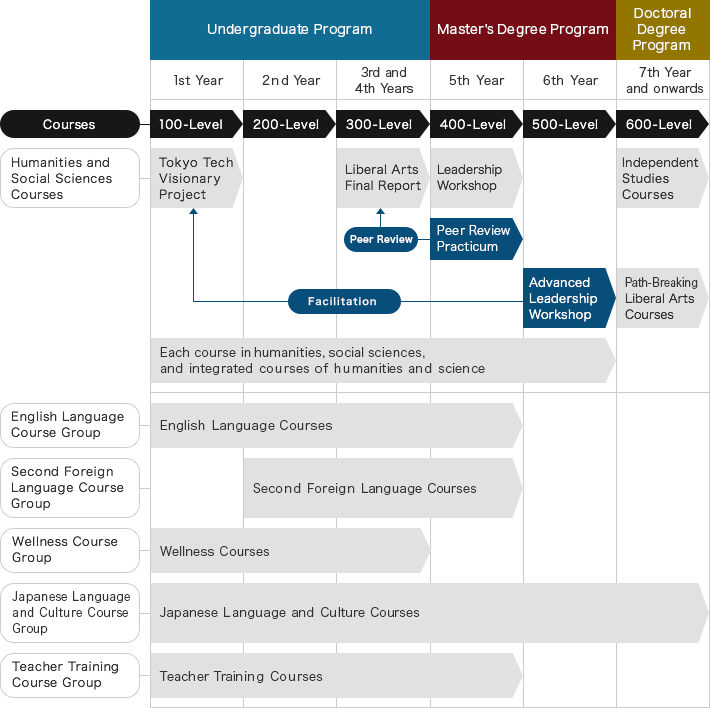 Experience Tokyo Tech's Approach to
Teaching Humanities and Social Sciences
Students learn humanities, which include areas such as philosophy, literature, cultural anthropology, and art; social sciences, whose subjects include law, political science, sociology, and psychology; and integrated courses of humanities and science, which cover topics such as theory of scientific technology, statistics, and theory of decision making, through a novel and innovative approach — the Tokyo Tech way.
Core Liberal Arts Education
Courses called Key Courses are unique and include the following.
Tokyo Tech Visionary Project is a course required of all students beginning soon after admission. It encourages self-discovery and aims to motivate students to set individual goals so that they can envision their own path throughout their liberal arts studies at the undergraduate level.
Liberal Arts Final Report is a designated course for students to complete the liberal arts component of their Undergraduate Program. Students write a thesis on the knowledge and skills they have acquired in their liberal arts courses, and consider how these can be utilized on the path they have chosen.
Leadership Workshop is a course for 1st-year master's students which aims to develop leadership skills. Students form teams and attempt to achieve common goals by utilizing the individual talents of team members. Leadership skills acquired in this course are further applied to guide undergraduate students — Peer Review Practicum participants provide thesis writing support to undergraduates working on their Liberal Arts Final Report, while Advanced Leadership Workshop students join Tokyo Tech Visionary Project as group work facilitators.
Independent Studies Courses are for doctoral students and serve as a finish line for ILA's liberal arts education. In these courses, students share their potential contributions to cutting-edge research and broad cultural accomplishments through group research and presentations. The presentation sessions mimic academic conferences. Students decide on a conference topic, arrange a venue, form groups, create a schedule, make other necessary preparations, and keep the conference running on the day just as event organizers would.
In Path-Breaking Liberal Arts Courses, students share the findings of their group research through presentations and poster sessions.
Get to Know the World
Required English courses consist of those focused on the four basic language skills as well as those based on English language tests such as TOEFL. In addition, various electives, such as Academic Presentations and oral expression (English conversation) classes are provided.
A second foreign language is fun! That's all there is to say. If you are curious about and have a desire to learn new languages, a second foreign language will open up new worlds. Through new words that are different from English or Japanese, recognize diverse views and segmentations. Develop a multifaceted thinking ability and get to know the world from new perspectives.
Lead a Healthy Lifestyle
Through lectures and practical courses in physiology, psychology, and biomechanics, students gain literacy on how to lead a lifelong healthy lifestyle. Practical courses mainly consist of sports activities. Students learn the proper techniques to maintain their wellness through sports, and in addition, they develop communication and leadership skills in a practical manner.
Get to Know Japan
Japanese language and culture courses are designed for international students to learn the necessary knowledge about Japanese language and society for their daily life, studying, and research activities at university. In the undergraduate curriculum, students will learn useful skills and methods for studying at university, such as how to write and express their opinions logically, while deepening their understanding of Japanese culture. In the graduate curriculum, various courses ranging from basic to advanced levels are offered for international students depending on their needs. Nihongo Space, an initiative offered by Japanese section, gives advice on how to study Japanese language, and offers various opportunities for conversation practice, tutoring in written Japanese, etc. in response to students' requests.
Become a School Teacher
"I became interested in science because of my teachers at school." Have you ever thought this? Being an individual who is good at science and has an interest in technology makes you a person who can truly share the joys of science and technology with the younger generations. At Tokyo Tech, it is possible to acquire a mathematics or science teacher's license for junior high school, and a mathematics, science, information science, or technical teacher's license for high school.