RENGO trade union leaders provide sociology lectures
President Rikio Kozu and General Secretary Yasunobu Aihara of the Japanese Trade Union Confederation (RENGO) provided lectures to a handful of lucky Tokyo Tech students on July 2 and 9 respectively. The guests, invited to join the first-year Sociology A course led by Associate Professor Ryosuke Nishida, approached the topic of workstyle reforms based on their own experiences and perspectives.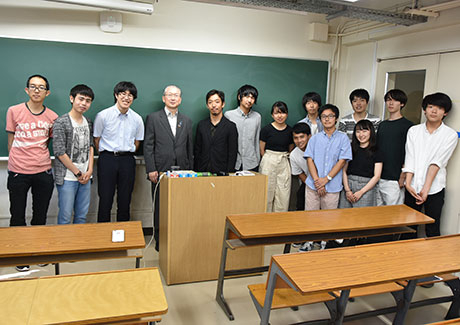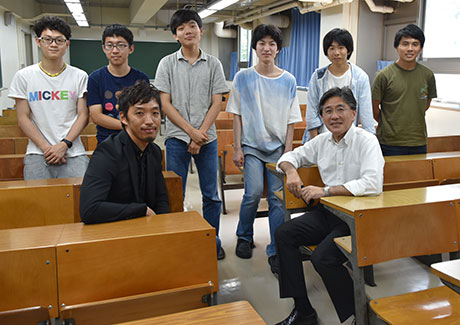 Kozu spoke about the role of and initiatives taken by RENGO to enhance the welfare of workers in Japan. In light of the current situation, he highlighted the importance of an optimistic approach and the existence of a gender equality plan within the workplace.
Aihara focused on the importance of work rules, and addressed some of the challenges that Japan can expect to face in the future. He acknowledged that the declining birth rate, aging population, and emergence of artificial intelligence were rapidly transforming the job market, but pointed out that Tokyo Tech students have the ability to adapt their skills flexibly to meet these changing needs. He also warmly encouraged his audience to apply their knowledge to solve Japan's pressing issues, both through technological advances and societal engagement.
During the week preceding each lecture, students were given ample time to examine various documents on workstyle reform bills recently proposed by the government, and to formulate ideas about the pros and cons of each one. On the day of the lectures, student shared and developed these ideas further, actively pressing Kozu and Aihara for their opinions on the matter.
The visits from two of RENGO's leaders provided a unique, well-timed opportunity for Tokyo Tech's students to study in depth the work rules of Japan — a topic that few of the country's students come into contact with in middle or high school.
Contact
The Office of Liberal Arts Courses, Institute for Liberal Arts
E-mail:ilasym@ila.titech.ac.jp
Tel +81-3-5734-7689