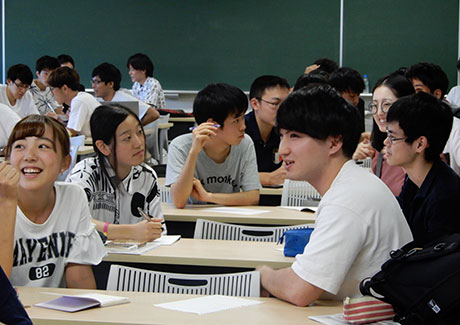 Since the implementation of Tokyo Tech's education reforms in 2016, the Institute for Liberal Arts (ILA) has been offering a liberal arts program to all students in parallel with the technical specializations offered by Tokyo Tech's six Schools. The Liberal Arts Final Report, a required third-year course, marks the completion of this liberal arts component for bachelor-level students at the Institute.
In the 3rd quarter of academic year 2018, the students who joined Tokyo Tech in 2016 — now third-year students — became the first cohort to complete the Liberal Arts Final Report. Fifteen weeks of lectures and group discussions culminated in a thesis highlighting each student's renewed vision and the knowledge and skills acquired in the liberal arts courses.
Sketching out one's path based on a developed vision
"What will be my focus as I begin to conduct research? What will my specialty be, and what will I do as I enter work life? How will that make an impact in the world?"
These were some of the questions that the course aimed raise in discussions among students. Under Tokyo Tech's new education system, students in the final year of their bachelor's degree join a laboratory and turn their focus to research. Through the Liberal Arts Final Report, students were encouraged to begin mapping out their future while completing a significant piece of academic writing, between 5,000 and 10,000 words long, which summarized their vision.
The Liberal Arts Final Report aimed to have students:
1.

Reflect on their liberal arts studies and build on their vision from their first year

2.

Understand the importance of and enhance their academic writing skills

3.

Help others improve the quality of their writing through dialogical peer review
To kick off, students reunited with ILA Dean Noriyuki Ueda, who helped everyone trace their thoughts back to their first year when students put forth a personal vision during the Tokyo Tech Visionary Project course. In the first group work class, students rejoined members of their group from this 1st-year course to review together the discussions and visions they had shared two-and-a-half years ago, and to examine how their objectives had developed during their time at Tokyo Tech, particularly through their liberal arts studies. Many students had entirely changed their visions from the first year. Others had a tough time remembering at all what they had envisioned. Through group dialogue, short writing assignments, and an introduction to peer review, students began to develop their visions and put their thoughts on paper.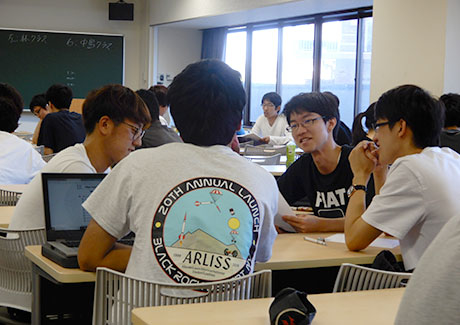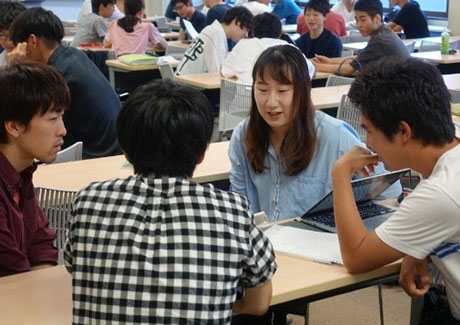 Enhancing essential academic writing skills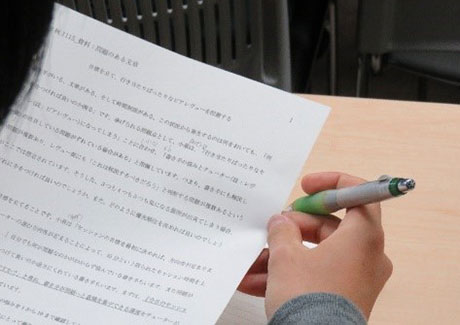 An important component of the course was the enhancement of students' academic writing skills. While many bachelor-level students at Tokyo Tech had taken writing classes in the past, few had actually had the chance to practice writing academic papers in a systematic manner, accordingly to Professor Naoyuki Hayashi, one of numerous ILA faculty members in charge of the course.
In the first of two weekly classes, students learned the basics of academic writing through lectures and group work. Contents included fundamentals such as the logical composition of sentences and paragraphs, effective use of topic sentences and signposting, relevant thesis statements, and appropriate styles of referencing. Each lecture also included group activities that allowed students to put into practice what they covered on that particular day. While growing accustomed to academic writing was an important goal of the course, each student was ultimately free to decide the writing style he or she adopted for the final paper.
Peer review — an effective way to improve one another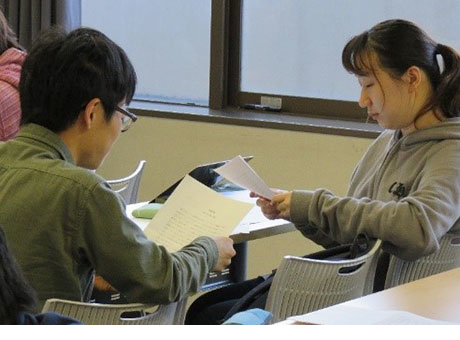 The second class of each week was a peer review class. In these sessions, the objective was not to simply proofread the text of a partner, but to empathize and understand the writer while focusing on drawing out his or her argument more effectively. In academia, a peer review often refers to the critical evaluation of a written piece to determine its suitability for publication, but in this class, students aimed to work through the content together, improve it through discussion, and enjoy the opportunity to teach and learn from one another.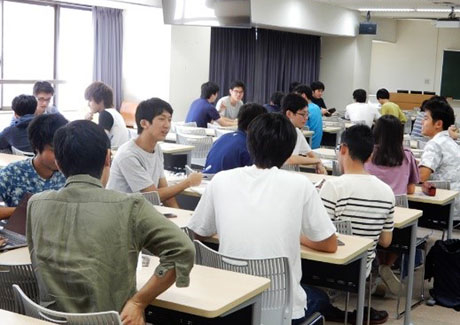 "Can you clarify what this sentence means? Can you give a concrete example of this point? Can you expand on this argument further?" Questions from the reviewer encouraged the partner to talk about their ideas in order to express them more clearly, and to move forward with their writing. The constant rotation of review partners in each class helped students gather a variety of perspectives on their texts. Reviewing the texts of others also helped students improve their own writing. Students not only experienced various writing styles, they also learned about the latest developments and issues in technical fields other than their own.
Mini-presentations — expressing thesis content orally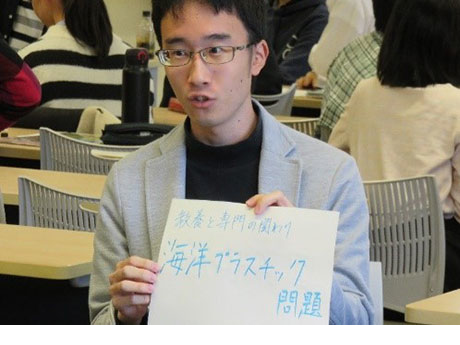 During the penultimate class of the course, students presented orally the content of their theses, touching on their newly developed visions for the future, awareness of current problems in society, and how their field of specialization had the potential to impact the world. Students had also given short presentations to complete the Tokyo Tech Visionary Project in their first year, and many were surprised by the improvements they observed in their classmates. Presentation topics varied widely. Examples from one of the ten classes included:
Utilizing soft robotics to improve life
Using metacognition to help others
Creating a safer society through information theory, media literacy, and law
Devising more pragmatic robots through engineering, ethics, and economics
Understanding humanities through other countries and cultures
Utilizing one's specialization and international cooperation to rid oceans of plastics
Optimizing situations through operations research
Addressing need for artificial intelligence in B2C interactions
Putting robots and humanoids to work on nuclear cleanup
Final submissions
"Based on my liberal arts experiences, how can I contribute to a better world, and how do I need to develop myself further?" This was the final guiding question for the essay on the liberal arts story of each individual student. Many of the submitted papers demonstrated a clear train of thought, novel content, and intriguing arguments that developed throughout the texts. The best papers from each class, which will be selected by a group of ILA faculty members, will be commended. ILA hopes to publish as many as possible for public viewing.
Peer Review Practicum — Towards a community of learning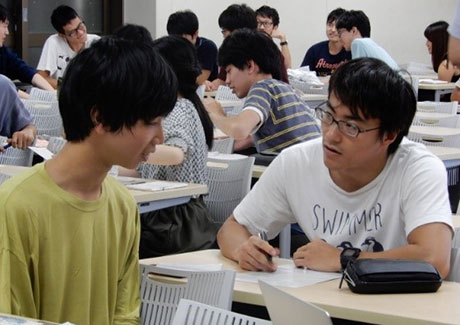 In addition to being peer-reviewed by their classmates, Liberal Arts Final Report students also received guidance from master's-level students enrolled in the Peer Review Practicum course. This course is restricted to master's students who excelled in the Leadership Workshop courses they completed earlier. These students often emphasized how critical the skill of listening is for effective leadership, and were glad to get in more practice when guiding younger peers on the Liberal Arts Final Report. Their juniors, in turn, were highly motivated when graduate-level students reviewed their work, and improvements in clarity of ideas emerged after just one review session. This created a cycle of learning that continues to pass on positive effects from one student to the next.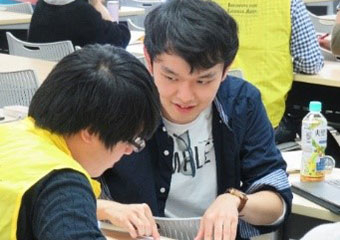 Master's students who achieved a score of 80 or higher in the Peer Review Practicum were awarded a Graduate Student Assistant — Review (GSR-R) certificate. Holders of this certificate can join future Liberal Arts Final Report and Peer Review Practicum courses as teaching assistants, providing them further opportunities to contribute to the Tokyo Tech community of learning.
While it is important for today's budding scientists and engineers to understand experiments and theories, clear written communication based on these experiments and theories is also paramount. The Liberal Arts Final Report provided participants an opportunity to experience the process of refining ideas on paper through discussions with other participants, while exploring how the intertwining of the liberal arts into their science and engineering curricula can help unleash a new world of innovative ideas. ILA aims to continue developing the course and incorporate it into the core liberal arts education for Tokyo Tech's bachelor-level students.