The number of international students at Tokyo Tech continues to increase. In addition to studying and conducting research at the Institute's various labs, many of these students join various exchange events throughout the academic year. In April 2019, 59 international students joined the Welcome Coffee Hours event. Tokyo Tech's Student Global Exchange Promotion Section organized three additional events for these students during the May-July period.
April – Welcome Coffee Hours
While joining a university overseas is an exciting experience, it can also be stressful. Tokyo Tech's Welcome Coffee Hours aims to minimize this stress by providing a relaxed, informal atmosphere where new students can get to know each other, gather information about Tokyo Tech, and get tips from more experienced international students.
This April, students from the Tokyo Tech International Students Association (TISA), the Student Association for Global Exchange (SAGE), and those involved in Hult Prize Tokyo Tech gave overviews of their groups' activities. Institute for Liberal Arts faculty members were also present to explain Tokyo Tech's Japanese language courses to newcomers.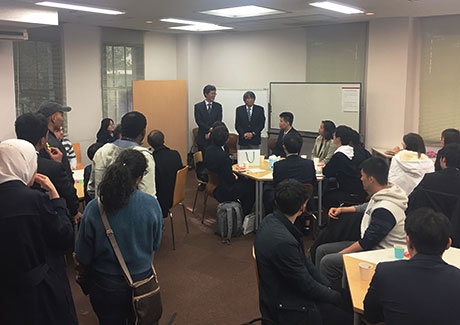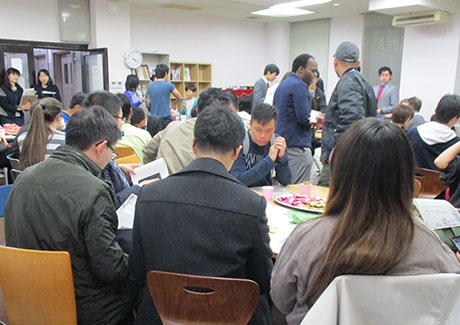 May — Origami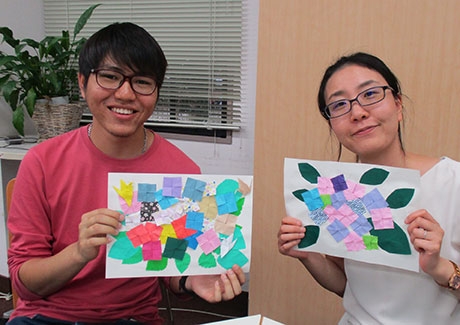 Colorful hydrangea creations
This event gave international students the chance to acquaint themselves with the art of origami and Japanese paper such as chiyogami. The objective was to create a collage-like hydrangea, but some students could not resist adding traditional cranes to their creations. "I had been interested in origami for some time, and I found this event very enjoyable," a participant commented.
June — Dorayaki pancakes
After a demonstration by staff on how to prepare pancake dough, students used hotplates to prepare pancakes flavored with custard cream, cream cheese, and red bean paste. One team of four created a gigantic 500-g masterpiece. "It was a great experience to cook Japanese food with fellow international students," one participated concluded.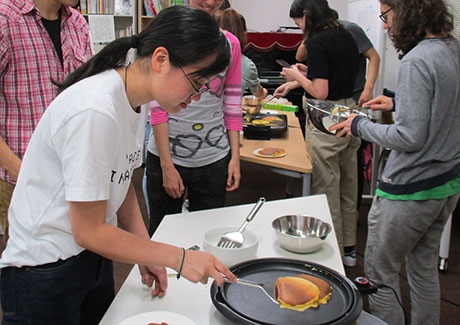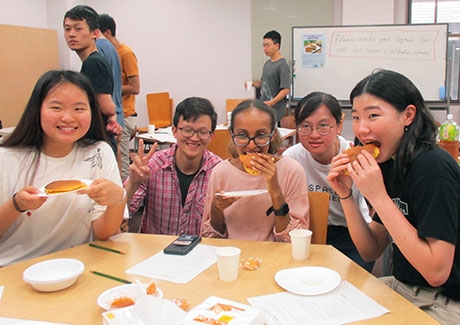 July — Tanabata festival
Tanabata, also known as the Star Festival, celebrates the meeting between deities Orihime and Hikoboshi. Wish making is a big part of the festivities. After watching a video about the origins and customs of Tanabata, students wrote their wishes on strips of paper and hung them on bamboo leaves. Many searched online for Japanese phrases that best expressed their hopes. After this, participants created traditional decorations using origami paper and discussed the manipulation of the paper from an engineering point of view. "I would like more events related to Japanese culture in the future," one participants requested.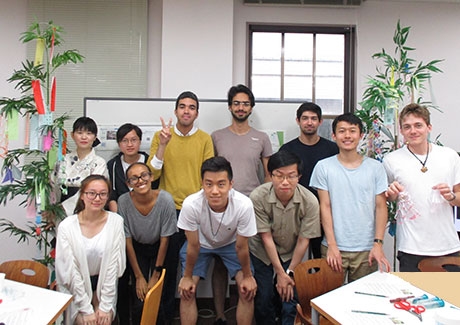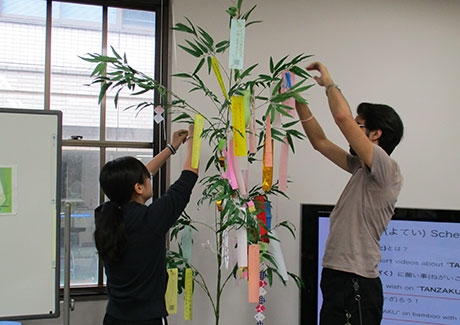 Tokyo Tech's Student Global Exchange Promotion Section is looking forward to facilitating more exchange events between students, faculty, and staff in the latter half of 2019.
Contact
Student Global Exchange Promotion Section, Student Support Center
E-mail : ryu.kor3@jim.titech.ac.jp
Tel +81-3-5734-3027