Three international students participated in a field trip to the historical city of Kamakura on December 14, 2022 as part of the Intensive Japanese Course offered by the Japanese Section at Tokyo Tech's Institute for Liberal Arts (ILA). The beginner language learners were guided around the area by three members of the Kanagawa Systematized Goodwill Guide Club (KSGG), a volunteer guide group based in Kanagawa Prefecture.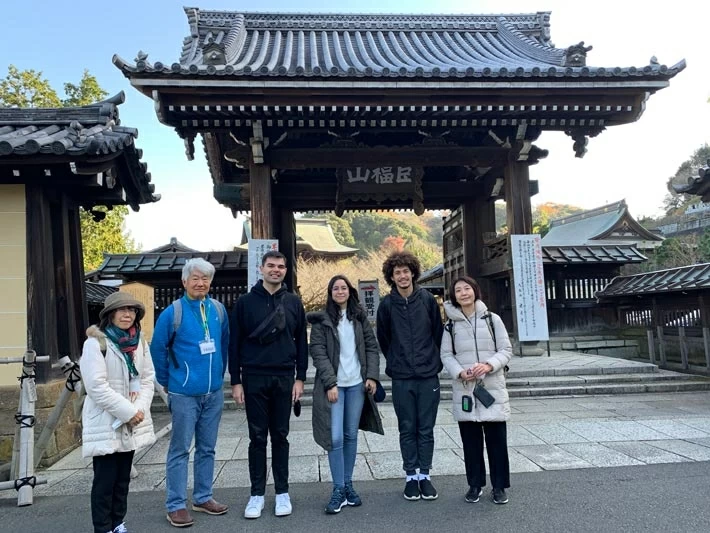 After beginning their outing at Kita-Kamakura Station, the participants visited Kenchoji Temple, Tsurugaoka Hachimangu Shrine, and Komachi Dori, a long shopping street in Kamakura. They then hopped on the Enoshima Electric Railway, a train line with its own historical charm, to reach Kotokuin Temple and the famous Daibutsu, a large statue of Buddha that is designated as a national treasure. Throughout the day, the international students surprised their guides with the many questions they asked in English and basic Japanese.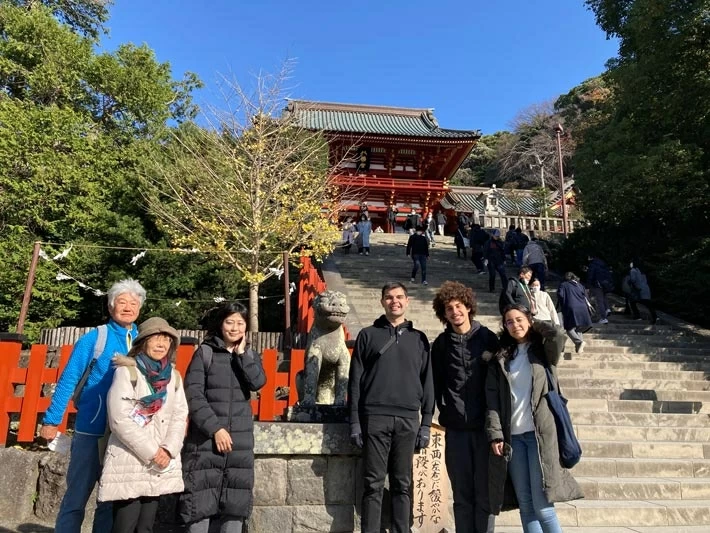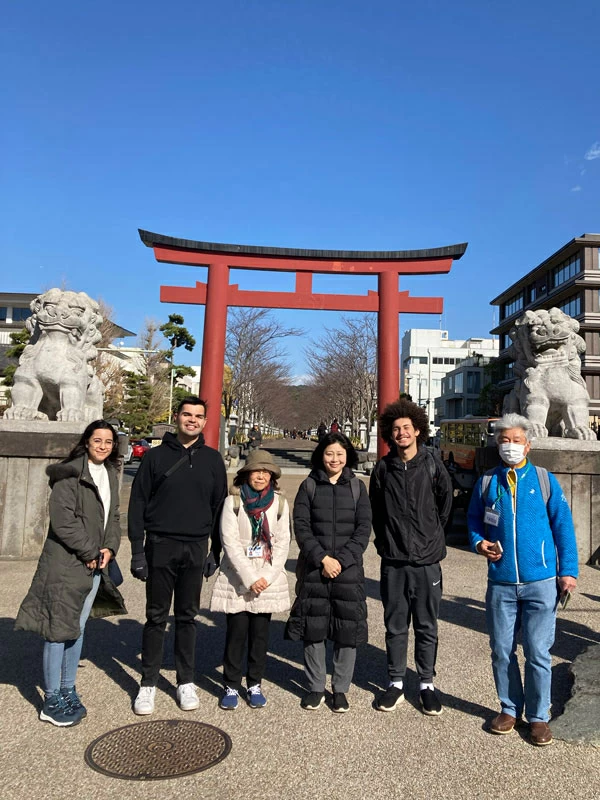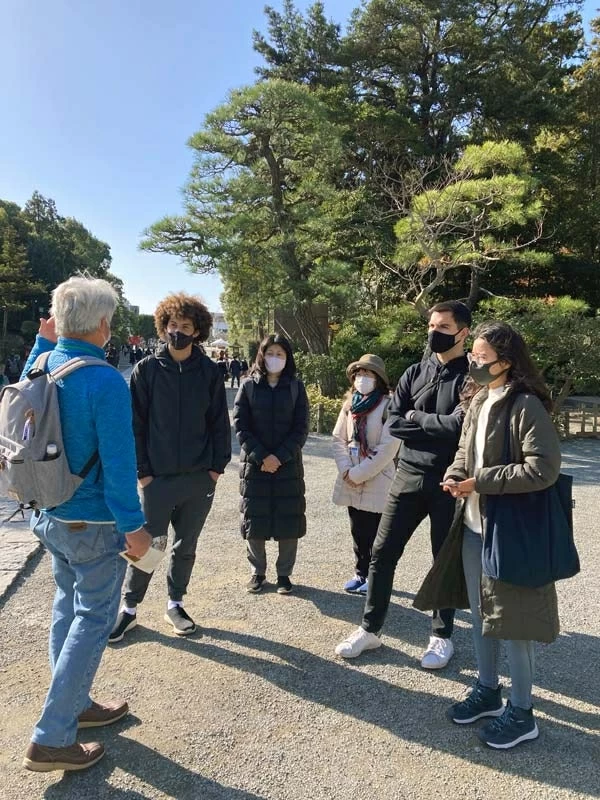 KSGG had been conducting tours of Kanagawa Prefecture for Tokyo Tech's international students for some time before the emergence of COVID-19, but from academic year 2020 onwards, this was no longer possible. ILA's Japanese Section felt a sense of crisis over the loss of opportunities for international students to experience Japan firsthand, as many of them were not even able to enter Japan. After discussions with KSGG staff, Tokyo Tech adopted a trial-and-error stance and continued to implement the tours virtually as part of the Intensive Japanese Course and as an extracurricular activity. In-person tours were partially resumed in the first semester of academic year 2022, and only recently have been implemented in their entirety. Even after in-person tours became possible, the Japanese Section continues to offer an opportunity to prepare for the visit beforehand through online tours so that students get the most out of the experience.

With the generous support of the KSGG volunteers, Tokyo Tech will continue to create experiences of culture, language learning, and exchange for its international students.
Comments from participants students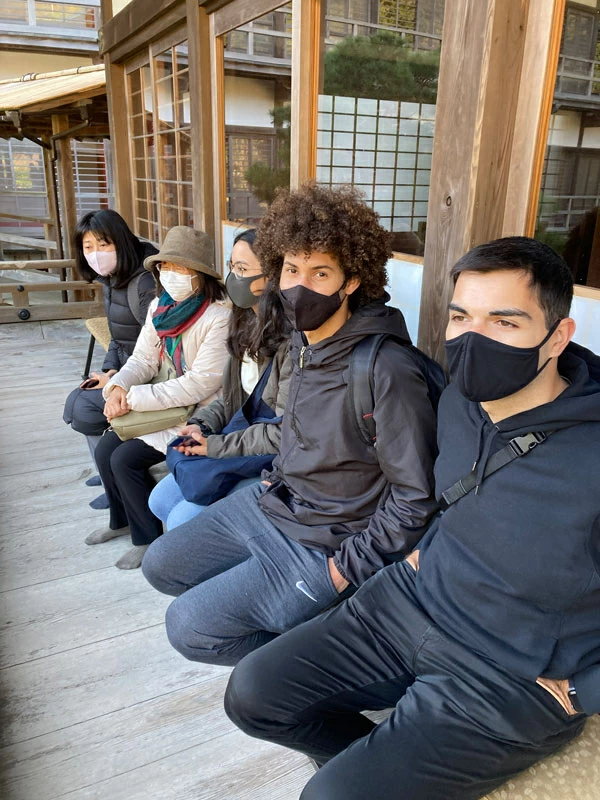 This was my favorite trip so far, I had so much fun and I learned a lot about Kamakura history and architecture. Everyone was so nice and kind to us.

I loved to learn about the history of Japan and see in real life how the religion has impacted the culture. As we live here for the next few years as international students, learning about Japanese traditions and culture will be good for us.
Tokyo Tech's Intensive Japanese Courses
Tokyo Tech's Intensive Japanese Courses, held twice a year, are aimed mainly at Japanese government-sponsored international students looking to progress to graduate-level studies. Other students are also invited to join if capacity allows.

These courses aim to develop Japanese proficiency among beginner-level students who have just arrived in Japan. By the end of the course, each international student will have acquired sufficient language skills to make an oral presentation in basic Japanese. ILA's Japanese Section functions as "a hub for meeting and learning" for students from different cultural backgrounds, and a safe place where international students can exchange information about life in Japan.

The course also focuses on providing opportunities to come into contact with Japanese culture. In addition to the visit to Kamakura, students can learn about natural disasters and first aid at the Life Safety Learning Center in Tokyo's Ikebukuro district, visit the Tokyo National Museum, conduct exchanges with elementary school students at Senzokuike Elementary School, and join outings at Senzokuike Park near Ookayama Campus.