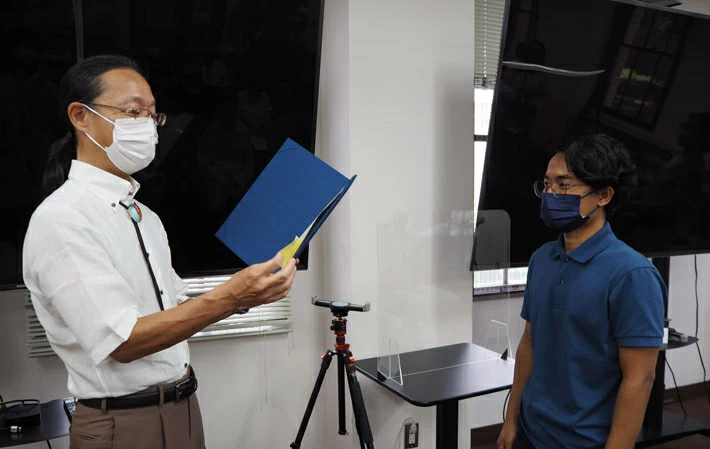 Fifteen international students at Tokyo Tech recently completed their Intensive Japanese Course, giving final presentations and receiving their certificates of completion at a closing ceremony on August 3.

After roughly four months of intensive study of a new language and culture, the participants presented their poster creations in Japanese while focusing on the broad topic of "my home region or home town."
Presentations included talks on the history of the large churches in Cote d'Ivoire, carnivals in Haiti, wedding attire in India, and other historically and culturally informative topics. Members of the audience freely shared their impressions and comments with the presenters using paper and stickers available in the presentation hall.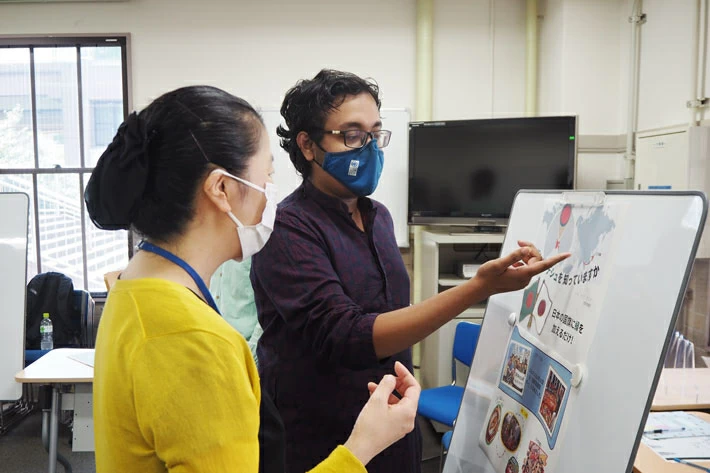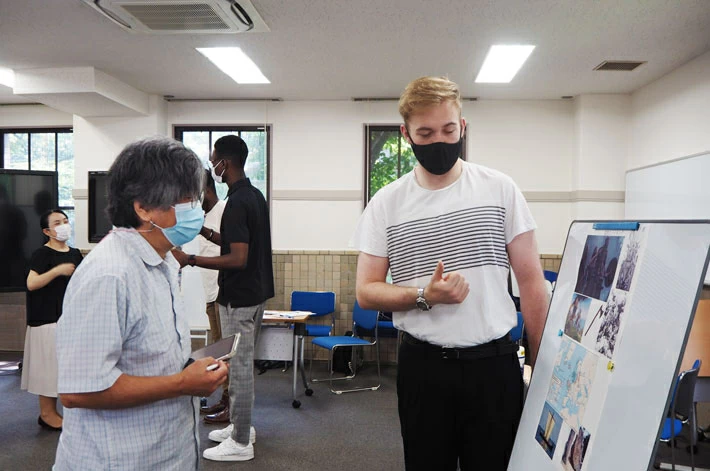 The closing ceremony was led by Institute for Liberal Arts (ILA) Lecturer Midori Komatsu, who is also the coordinator of the Intensive Japanese Course. Tokyo Tech's Vice President for Teaching and Learning Manabu Kanda presented certificates of completion to each of the participating students. Professor Hilofumi Yamamoto of ILA's Japanese Section was also present to offer words of praise and encouragement to each student individually. To commemorate the students' efforts and experiences, a group photo of the participants was taken in front of West Building 1 on Ookayama Campus, the venue for a large part of the group's hard work in the past four months.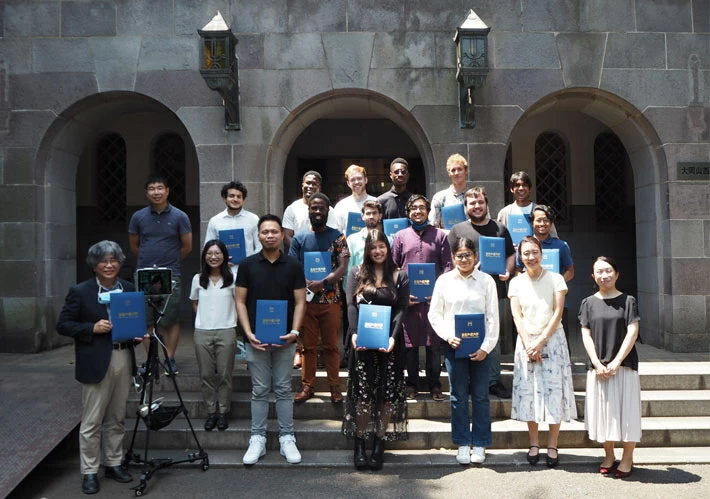 Tokyo Tech's Intensive Japanese Courses
Tokyo Tech's Intensive Japanese Courses, held twice a year, are aimed mainly at Japanese government-sponsored international students looking to progress to graduate-level studies. Other students are also invited to join if capacity allows.

These courses aim to develop Japanese proficiency among beginner-level students who have just arrived in Japan. By the end of the course, each international student will have acquired sufficient language skills to make an oral presentation in basic Japanese. ILA's Japanese Section functions as "a hub for meeting and learning" for students from different cultural backgrounds, and a safe place where international students can exchange information about life in Japan.

Classes also provide excellent opportunities to come into contact with Japanese culture, for example through exchanges with local elementary schools, online tours of Kamakura provided by external volunteer groups, and visits to the Tokyo National Museum.
Comments from Lecturer Midori Komatsu, course coordinator
This summer, we heard presentations from students from Ecuador, Cote d'Ivoire, Turkey, Haiti, Malaysia, Bangladesh, Liberia, Denmark, India, the United States, the Philippines, Brazil, and Switzerland. It was not an easy task for these students to talk about the history and culture of their home regions. However, on the day of the presentations, these students fully demonstrated the results of their daily study efforts. Many faculty members and students involved in Tokyo Tech's international student support also came to the event, which surely made this a wonderful experience for these students.