Professor Alvin E. Roth interviewed in Contemporary Society class
Professor Alvin E. Roth, the Craig and Susan McCaw Professor of Economics at Stanford University and co-recipient of the 2012 Nobel Memorial Prize in Economics, was interviewed in Institute Professor Akira Ikegami's 2016 Contemporary Society B

class on April 5.
Ikegami began the class with a brief description of how supply and demand determine commodity prices, and why difficulties arise when setting prices due to ethical and other issues. He then introduced Roth and his supply and demand matching methods. Roth was welcomed with a big round of applause, and the interview got under way.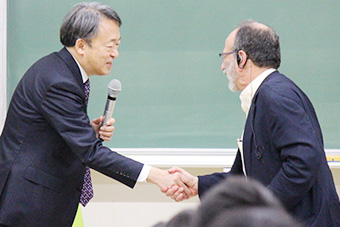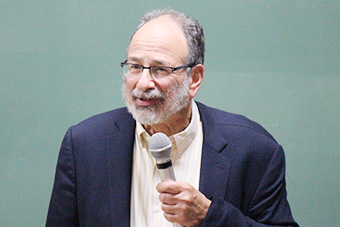 Tokyo Tech Prof. Ikegami with Stanford Prof. Alvin E. Roth (right)
The economic engineer explained that market design, his research topic, is "designing inventions to make markets smarter, thicker and faster." He cited several examples such as the use of the deferred acceptance algorithm to match 9th graders with high schools in New York City and Boston, US-wide matching programs for medical residents, and the kidney exchange program which pairs compatible kidney donors with recipients.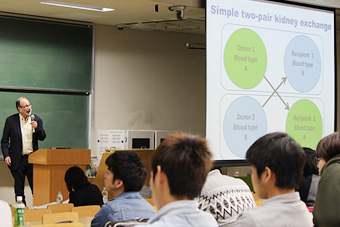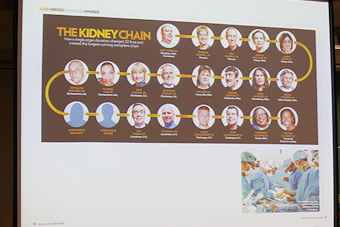 Prof. Roth's talk about kidney exchange program
At the question and answer session, Ikegami asked what led Roth to study economics. Roth replied that when he started learning about operations research as an engineer, he quickly became interested in the way people cooperate with each other, and ended up studying economics.
A student asked why Roth engages in fieldwork such as operating room visits to conduct his research. The professor pointed out that markets have too many unwritten rules and are too complex to understand only through books. There are also many culture-related rules that need to be learned through direct experience. If someone designs the Japanese market, that person should be Japanese, someone who truly understands Japanese culture. This comment visibly moved the audience and will undoubtedly motivate students as they pursue their future study and research activities.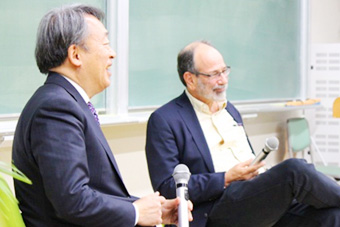 Question and answer session with students
Contact
Institute for Liberal Arts
Tel : +81-3-5734-3782