JLPT orientation held for international students
The Japanese Section of Tokyo Tech's Institute for Liberal Arts (ILA) hosted an online orientation session for international students regarding theJapanese-Language Proficiency Test (JLPT)※1on September 1. Nine international students joined the gathering to learn more about the JLPT, the world's largest Japanese language test, through discussions with faculty members and other students who had previously attempted the exam.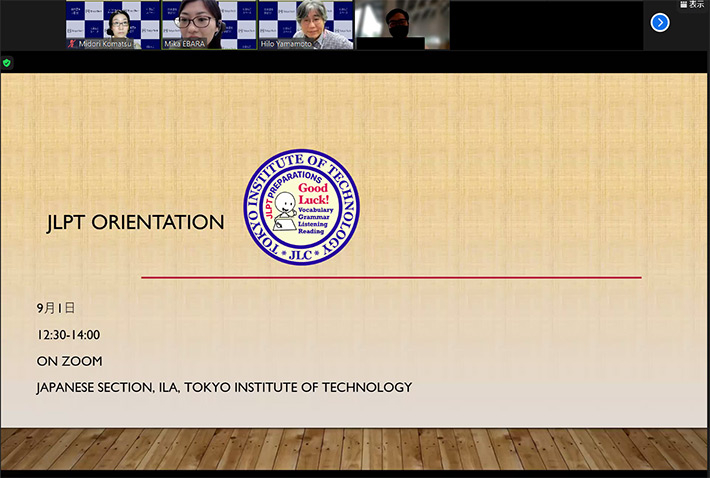 In the first part of the session, moderator and ILA faculty member Mika Ebara provided an overview of the JLPT and the differences between the five levels of the test. She also introduced study materials recommended by faculty members and JLPT-related resources available at the International Student Lounge.

Past test takers also shared their advice and experiences. According to some, the secret to passing the test is learning grammar points first and then expanding one's vocabulary. Others pointed out that movies and YouTube were useful study tools. "If you don't pass, you can always take the test again. There are plenty of sample questions available, and they are all worth trying. Stay motivated and keep learning Japanese," one student suggested.

The second part of the orientation focused on test preparations. Participants split into different rooms according to the test level they were aiming for and received more concrete study tips. One suggestion from a past examinee was the use of flash cards and convenient smartphone apps to learn kanji more efficiently. Faculty members also highlighted that students should choose their study materials carefully, as some resources might provide more detailed explanations than others.
Comments from faculty member
Mika Ebara
Institute for Liberal Arts
This was the second JLPT orientation after the first session in March 2020. The summer holidays, coupled with the continuing COVID-19 pandemic, have diminished chances for international students to maintain close contact with the Japanese language, and I was impressed by the positive attitudes and conscious attempts to continue learning among the students. The Japanese Section will continue to create an environment that provides opportunities to study and learn Japanese, even during breaks between semesters.
1 Japanese-Language Proficiency Test (JLPT)
The Japanese-Language Proficiency Test (JLPT) is offered twice a year by the Japan Foundation and Japan Educational Exchanges and Services. The test measures linguistic competence through listening and reading, including vocabulary and grammar, and has five levels — N1 through N5. N5 is the easiest level, while N1 is the most difficult. Successful examinees earn points for preferential treatment in Japan's immigration procedures, can take Japan's national exams for medical practitioners, and are often viewed favorably by potential employers.