Nihongo Space, a venue within the Japanese Section of the Institute for Liberal Arts (ILA), has been supporting international students in their study of the Japanese language since the second half of academic year 2018. The initiative also increasingly includes international exchange events which involve not only faculty and staff members, but also both international and Japanese students from Tokyo Tech.
On March 3, Nihongo Space hosted the Hinamatsuri doll festival, an international exchange event involving Japanese culture discussions, games, and group work. A total of 24 international and Japanese students, faculty, and staff participated — some from Ookayama Campus, others from the comfort of their own homes.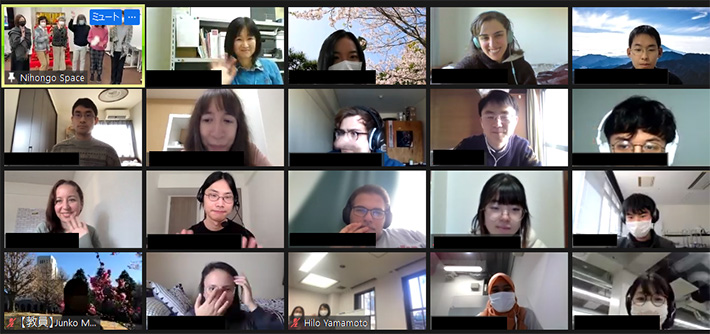 A centerpiece during this spring's event was a magnificent seven-tiered stand displaying numerous traditional Japanese dolls. The ILA faculty members used the dolls to introduce aspects of Japanese culture while quizzing participants along the way.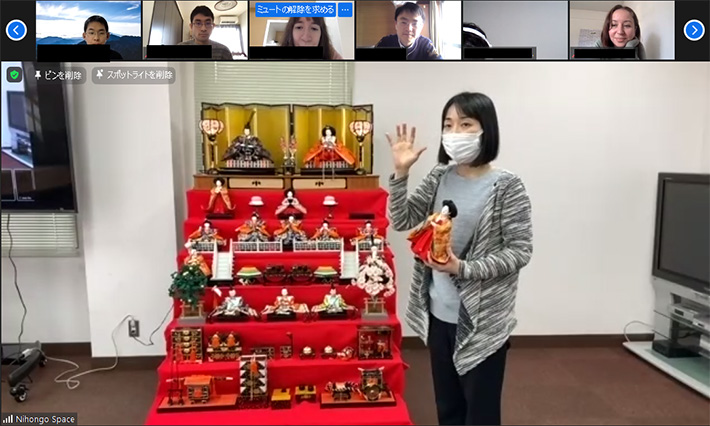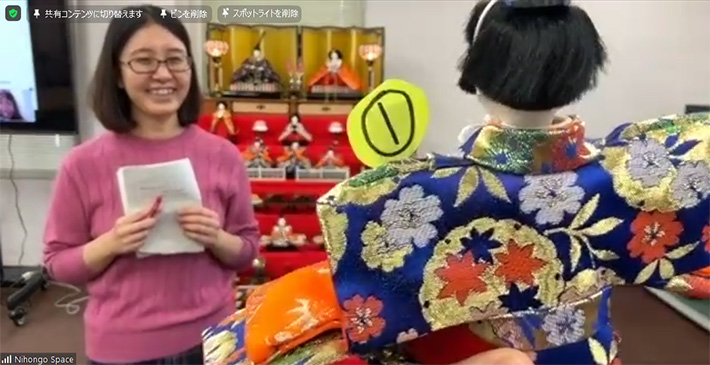 At the group work session, teams of five to six international and Japanese students played a hinamatsuri-themed game and created collages in a digital interactive setting. During the former, teams organized virtual hinamatsuri dolls in the best way they saw fit, creating playful arrangements that expressed their individuality.
For the collage session, participants brought in photos and images based on the topic of "A new spring, a new semester, and new aspirations." The groups put the components together, gave the collage a title, and then provided a short summary. Many works included elements that symbolized spring such as cherry blossoms and other flowers, which were tied to unique goals for the start of academic year 2021.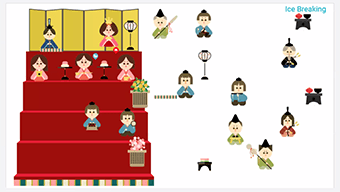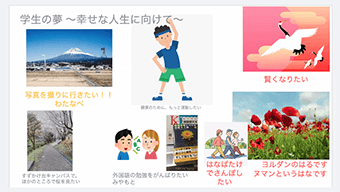 Comments from the post-event questionnaire summarized accurately the lighthearted atmosphere of the event:
I really enjoyed myself. Thank you!
It was great! We achieved so much in such a short time.
The students assistants were very helpful throughout the event.
Sharing personal photos with one another really opened up fun conversations.
Comments from Nihongo Space faculty members
Midori Komatsu
Lecturer, Institute for Liberal Arts
The Nihongo Space supports students in their language studies and research, but also aims to be a place where students can just relax, forget about their daily hurries, and have fun. We are planning various international events, Japanese culture-related sessions, and cross-cultural exchange for the new academic year, and we encourage both international and Japanese students to join us!
Mika Ebara
Lecturer, Institute for Liberal Arts
This event included students who have been coming to Nihongo Space events for some time, new students, and both Japanese and international students. The atmosphere was harmonious. We will continue to plan both online and in-person events that participants can enjoy.