The Ookayama Campus Sports Center was a lively venue on September 29 and 30, when thirty 1st, 2nd, and 3rd-grade elementary school students and their guardians joined the SPOCAM Multi-Sports Camp, organized jointly by Tokyo Tech's Institute for Liberal Arts (ILA), Innovations and Future Creations Inc., and E-3 Inc.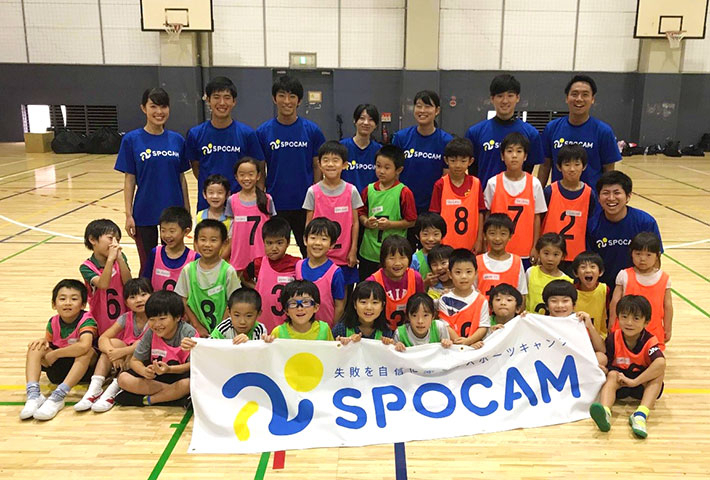 SPOCAM aims to build confidence in children by encouraging them to experience openly both victories and failures. This year, nine Tokyo Tech and other university students were present to gauge how effectively children transform challenging situations into positive confidence. To do this, these students had been trained in advance to observe in children five life skills — inquiry, thought, expression, self-awareness, and perseverance – and to use them as indexes when measuring the children's success.
Day 1 kicked off at 11 a.m., when the little ones engaged in some preparatory physical exercises while their guardians joined a short lecture by ILA Professor Naoyuki Hayashi. After introducing Tokyo Tech and ILA, Hayashi explained the important relationship between the two-day camp and learning in general, and the connection between the liberal arts and the specialized technical education that Tokyo Tech provides.
The program on the first day, split in half by a lunch break, lasted four hours. As the children were separated from their guardians from the very beginning, it was important to attract their attention immediately. This was done with some particularly large props. While taking turns and learning how to use these intriguing objects, the kids quickly relaxed and began forming new relationships.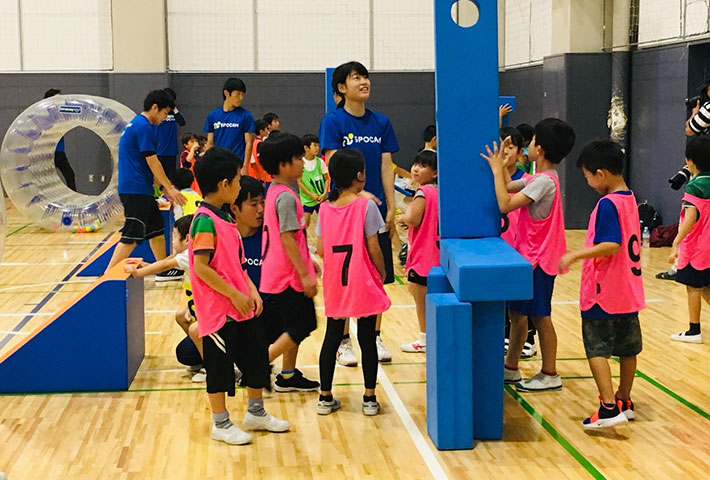 Due to an approaching typhoon, the program for Day 2 was shortened to two hours. By the second morning, the children were already accustomed to their new surroundings, mentors, and friends. There were no signs of fatigue from the preceding day, and participants continued to display an abundance of energy. After the exercise session ended, all participants reflected on what they had learned, what they could and could not do, and how their confidence had increased. The supporting university students also evaluated the children's changes in confidence based on the life skills they demonstrated. While they were reluctant to go home, many children also helped to clear up the exercise props.
SPOCAM provided children with a safe environment to experience challenging aspects of physical exercise while turning difficulties into a newly found confidence. The props used during this event were provided by BørneLund Inc., who also acted as advisors to develop the program. Support was also provided by Spoiku Inc. and Manabi Co., Ltd.