"How high is your Henry the Fifth index?" Institute for Liberal Arts (ILA) Professor Takehiro Tanioka kicked off this year's Shakespeare Out Loud workshop series.
After the success of the first Macbeth-focused workshops in the summer of 2017, Tokyo Tech's ILA continued with the popular Shakespeare series on Ookayama Campus from February 8 to March 8, 2018. This year, 39 Tokyo Tech students, faculty, staff, and local community members participated in lectures, group readings, and a final enactment of Henry V.
Workshops 1 through 4 were split into two parts. In the first half of each session, ILA Associate Professor Yuto Koizumi lectured on the cinematization of Shakespeare, comparing the screenplays of Laurence Olivier and Kenneth Branagh and reciting Shakespeare's passages in English with the participants. Japanese actor Gentaro Shimofusa, who provided acting tips to the participants, facilitated the latter halves of each session. The series culminated in Workshop 5, during which teams of four acted out a passage from Henry V.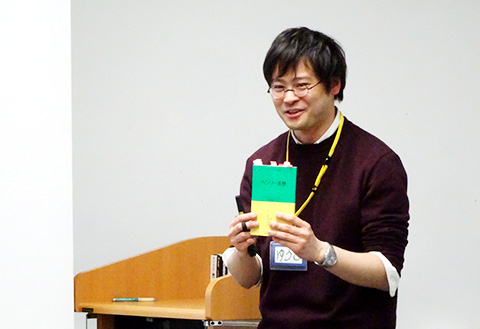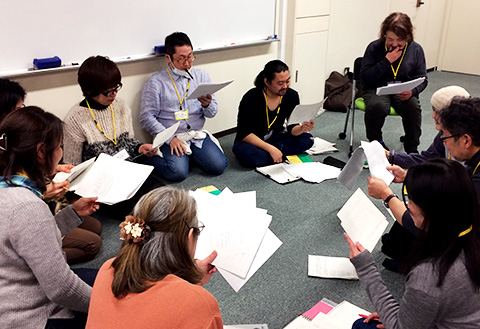 Before their final presentations, student groups extracted a provoking excerpt from the play with the aim of acting it out in a 10-minute, movie trailer-like presentation. The focal point was the St. Crispin Day's speech, an inspirational monologue by King Henry on the battlefield. With advice from Shimofusa, participants were soon adding flair to their performances, and many were clearly enjoying the added excitement of directing their own scene.
Both the specially invited audience and facilitators of the workshop lauded the teams' unique interpretations at the final session. Many were astonished by how complete the performances felt despite the short preparation and practice time. "I was not familiar with this play before the course, and I would not have imagined so many interesting characters emerging throughout the story. What's more, the other participants really fell into characters when playing these roles," one participant commented after completing the course. "It is just such a different experience when we perform it out loud," another concluded.
Gentaro Shimfusa will be performing in Henry V at the New National Theatre, Tokyo from May 17 to June 3. A symposium regarding this production is planned for May 28 at Tokyo Tech. The Institute of Liberal Arts is currently planning the third series of Shakespeare Out Loud workshops. Look out for more information so you can join us on stage next time!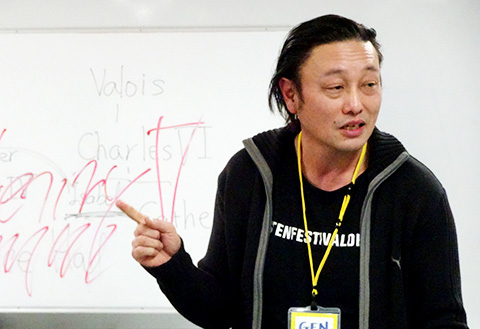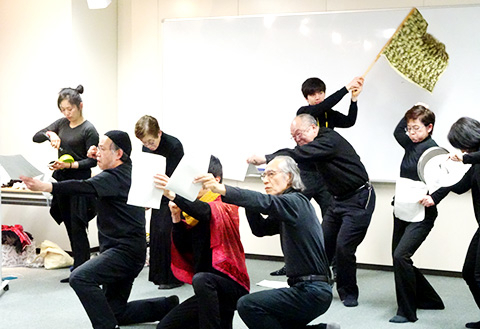 Contact
Humanities and Social Sciences, Institute for Liberal Arts
E-mail:ilasym@ila.titech.ac.jp
Sponsored by Humanities and Social Sciences, Institute for Liberal Arts