Entrepreneur-minded Tokyo Tech students exhibited their unique products and services at Slush Tokyo 2019, a startup tech conference that attracted over 6,000 participants from 80 countries and regions to the Tokyo International Exhibition Center on February 22 and 23. This was the third time Tokyo Tech participated in the event.
This year's newest creations were again a result of the Engineering Design Project, a course offered to graduate-level students majoring in Engineering Sciences and Design. During the course, participants form teams with students from Tokyo University of the Arts, Musashino Art University, and working professionals to create prototype products and services that offer new user experiences. For six months, the groups adopt a design thinking approach to address challenges provided by collaborating businesses. This year, nine companies participated in the course, and five teams revealed their products and services to investors and business development leaders at the Slush event.
Paralympics-inspired spectator experience
Team shanshanFC, one of this year's participants, teamed up with Panasonic Corporation to design Nigi-nigi Bravo, a device that enhances the experiences of blind soccer spectators. During blind soccer, a Paralympic event, players rely heavily on their sense of sound to play. The ball makes noise when it moves, and players use their voices to communicate while moving around the pitch. As sound is paramount for the players, the audience must remain completely silent during the game. The Nigi-nigi Bravo is a handheld device that vibrates according to the proceedings of the game, allowing the audience to experience a heightened sense of action and excitement.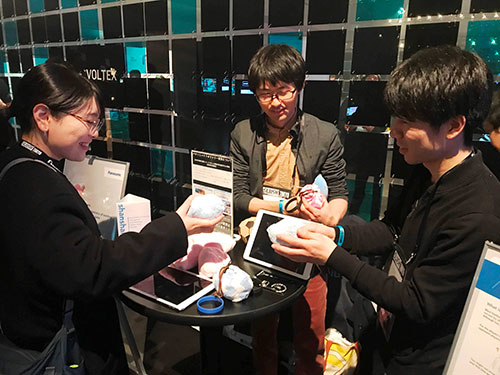 Educational tool to manage money
Team Panda combined forces with ORO Co.,Ltd., an IT service management company to create mirumiru, an educational tool that helps youngsters with developmental disorders "visualize money." As children transition into adulthood, developmental disorders can hinder one's ability to manage finances. Electronic money is difficult to keep track of, and a lack of understanding regarding market prices leads to overspending.
With mirumiru, guardians can present to children different ways of spending and required amounts in advance using a case-like device for IC cards.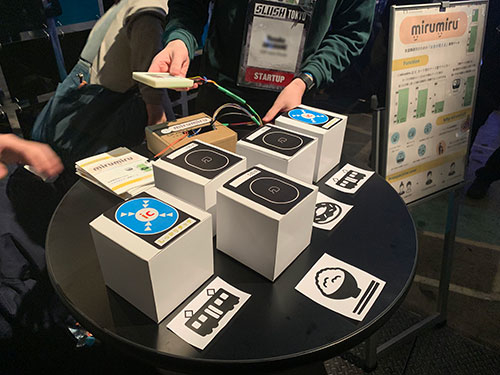 Overall, Tokyo Tech's efforts at the event were highly appreciated. The exhibited hardware drew plenty of attention, and presentations by the five teams were popular among student participants, business development professionals, and investors, who were eager to introduce companies that support people with disabilities.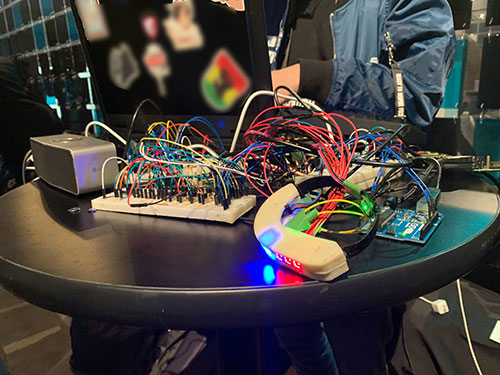 Unfortunately, Tokyo Tech students did not participate in the pitching of ideas this year, as the timing of the event overlapped with other responsibilities at the end of the study year. However, many said they were able to experience the true excitement surrounding startups, and that the psychological hurdle to pursue entrepreneurship receded. Many were also pleased that they could collect genuine opinions from potential users outside university circles.
Tokyo Tech hopes to continue providing entrepreneurial experiences for students at the next Slush Tokyo. Information sessions regarding volunteers at the event will be held for Engineering Sciences and Design and Cross Border Entrepreneur Cultivating Program students in the future.
What is Slush?
Slush, which has its origins in Helsinki, Finland, has grown from a 300-member assembly into a global two-day event that brings tech talent together international investors, executives, and media. SLUSH Tokyo was first held in 2015, and the event has since spread to other technology hubs in Asia, including Shanghai and Singapore. Tokyo Tech was the first Japanese university to set up a booth at Slush Tokyo in 2017.