Make your years of study in Tokyo Tech significant, and your future brighter
Jifang Zhang
Consultant, Consulting Team
The Boston Consulting Group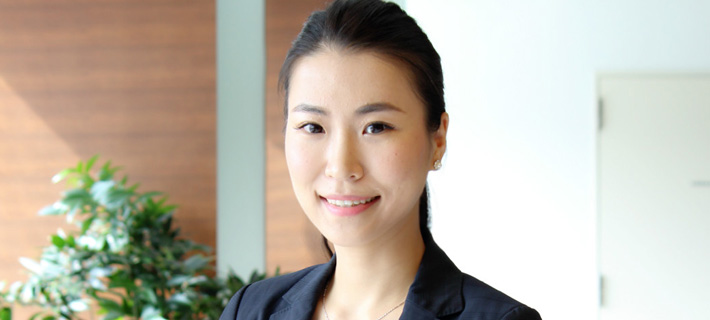 Please tell us about your current job (responsibilities, challenges, rewards, etc.).

I currently work at a consulting firm, providing clients with business strategy proposals and support in executing these strategies.

At times I have to ask businesses to eliminate practices that have continued for decades and propose creative alternatives. At other times I must take responsibility for a single number that changes the fate of the company and the hundreds of people involved. I discuss the direction that the client and business want to take, and we decide together how to proceed. It is both challenging and exciting to help a business succeed.

I get to think about how to provide value to my clients, regardless of their age or business experience, while experiencing personal growth. This is very rewarding.
How is the knowledge and experience gained at Tokyo Tech being utilized in your current position?

Firstly, during my time in the laboratory, I learned to be extremely accurate with numbers.

My participation in various international student bodies (Chinese Alumni Association, Tokyo Tech International Student Association) also gave me plenty of experience in event planning. I often thought about how to make things more interesting, or how to communicate something more clearly, and these are skills I still use with clients today.

During my internship at the Science Museum in London, I came into contact with various people who are very much like my clients now. This experience gave me more confidence in connecting with and talking to people, regardless of their age or nationality.
What are your future goals?

I want to continue polishing my consulting skills, become more capable of taking the lead in projects, and provide further added value to my clients.
Please write a message to students aiming for Tokyo Tech.

Making the most of your university days is not only about gathering knowledge and focusing on your major, but also actively experiencing as much as you can. Tokyo Tech provides an environment where you meet a variety of people and experience many interesting things. I recommend that, before you enroll, you think about how you can make your 4-6 years of study significant, and how you can utilize your Tokyo Tech experiences in the future.
Jifang Zhang(from China)
2012

Employed by The Boston Consulting Group
2012

Graduated from master's program, Department of International Development Engineering, Graduate School of Science and Engineering, Tokyo Institute of Technology
2006

Enrolled in 6th Academic Group, Department of International Development Engineering, School of Engineering, Tokyo Institute of Technology
The content of this article was accurate at the time of the interview.