Towards the diversifying needs of overseas infrastructure development and drastic changes in construction industry and technology
Thirapong Pipatpongsa
Associate Professor
Construction Engineering and Management Laboratory,
Division of Geo-Management, Department of Urban Management,
Graduate School of Engineering
Kyoto University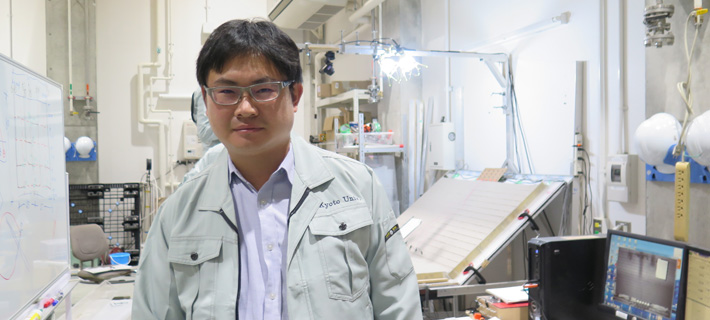 Please tell us about your current job (responsibilities, challenges, rewards, etc.).

My current work at Kyoto University involves both education and research. I am in charge of English lectures in geomechanics in the Undergraduate International Course Program of Civil Engineering at Kyoto University. The current curriculum of these lectures follows the general (Japanese) course. However, I am thinking of developing the curriculum so it covers the diversifying needs of overseas infrastructure development and drastic changes in construction industry and technology in the future. At the same time, I supervise students in the laboratory of Construction Engineering and Management in the Department of Urban Management, which conducts research involving slope stability, groundwater environments, geodisaster prevention, coal mining techniques, and constitutive models of geomaterials.
How is the knowledge and experience gained at Tokyo Tech being utilized in your current position?

I am now effectively utilizing the accumulated knowledge and skills gained at Tokyo Tech to develop experimentally realizable theories using various kinds of physical modeling in geomechanics at Kyoto University. My professional experiences are rooted in hardship and comfort in the three years as a student in the Department of International Development Engineering and nine years as a researcher in the Global Scientific Information and Computing Center at Tokyo Tech.
What are your future goals?

Currently, I aim to develop experimentally realizable theories for efficient prediction of ground behaviors and soil-structure interactions through laboratory experiments, constitutive modeling, physical modeling, and field measurement with engineering applications in subsurface resource development, and international collaboration in geo-environment and geo-hazard research. In addition, it is my challenge to tackle environment and mining engineering problems that have not yet been solved effectively with engineering works.
Please write a message to students aiming for Tokyo Tech.

As a university of science and technology, Tokyo Tech is the top Japanese university with superior facilities in research and education and transverse connections between various fields of studies inside the university. Having modern characteristics in comparison with other universities, Tokyo Tech always introduces a new system for self-development without fear of breaking the traditional way of administration and management. Tokyo Tech is a university with rapid changes and high-level evolution in science and technology which I recommend to those who would like to cultivate their own specialty in science and engineering organized as a network, not a pipeline.
Thirapong Pipatpongsa(from Thailand)
2015

Associate Professor, Department of Urban Management, Kyoto University
2014

Associate Professor, Department of Civil and Earth Resources Engineering, Kyoto University
2005

Associate Professor, Global Scientific Information & Computing Center, Tokyo Institute of Technology
2002

Assistant to Minister-Counsellor (industry), Office of Industrial Affairs, Royal Thai Embassy, Tokyo
2002

Doctor of Engineering, Department of International Development Engineering, Tokyo Institute of Technology
1999

Enrolled in doctoral program, Department of International Development Engineering, Tokyo Institute of Technology
The content of this article was accurate at the time of the interview.