A new and better future
Chris Salim
Lecturer & Researcher, Department of Environmental Engineering
Surya University, Indonesia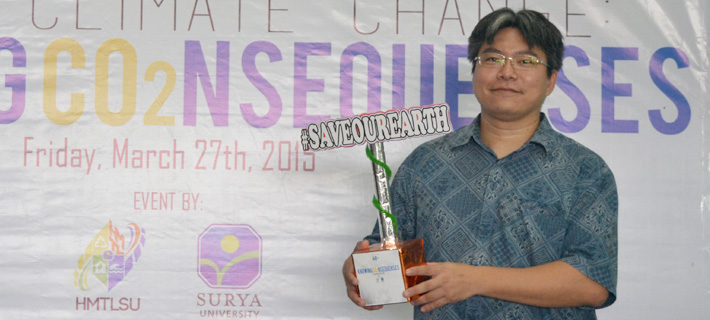 Please tell us about your current job (responsibilities, challenges, rewards, etc.).

I am now working as a full-time lecturer and researcher in Surya University, a new university established in 2013. Apart from daily teaching of several subjects related to my expertise both in environmental and chemical engineering, I am also working as laboratory head of Water & Waste Management at the Department of Environmental Engineering. Although two years have passed, the challenge of a new university where we have to build and prepare everything from scratch still remains. However, seeing the hardworking colleagues and joyful students really motivates me to give my best. I am now also doing some research in water and wastewater treatment technologies and carrying out external projects related to water and wastewater treatment and recycling. In Indonesia, it is sometimes difficult to acquire chemicals and equipment since most are imported. However, one thing I can be grateful for despite this is that our creativity is constantly challenged. And thankfully, I can still make use of available resources to proceed in my research and projects, and also to help students set up their own research projects.
How is the knowledge and experience gained at Tokyo Tech being utilized in your current position?

The variety of disciplines and fields of study I came into contact with during my study and work at Tokyo Tech, especially in the Department of International Development Engineering, gave me a broad view and understanding of many kinds of systems, technologies, and the interrelation between them, that is, the concept of interdisciplinary studies and works that I can apply to my lectures, research, and consulting activities. The already well-established management system and practices, such as the safety management system, are also something I learned at Tokyo Tech, and are very helpful in establishing a good academic environment at Surya University. And finally, the multinational, multicultural study and working environment provided by Tokyo Tech broadened my understanding and acceptance of different kinds of people, helping me to work together with many people from different backgrounds at Surya University.
What are your future goals?

Firstly, I hope to become a bridge between Indonesia and many other countries including Japan in academic and research cooperation, especially by helping Indonesian students to obtain not only knowledge but also a higher level of understanding of many good things by studying abroad. As an engineer, I am also trying to solve the many problems in Indonesia related to environmental management such as sustainable water resource management by developing better technologies in pollution prevention, control, and remediation, and also by providing basic and advanced understanding to society to achieve a better and sustainable living space for people in Indonesia. My hope is that I can see my own country become a better place to live in with a sustainable environment that is as good as Japan, if not better.
Please write a message to students aiming for Tokyo Tech.

I thought the years at Tokyo Tech would be enough to prepare me to start in a new working environment. University life, whether it is as a student or a staff member, is a different environment from the one you perhaps encounter when you step outside to find a job or make your own way as an entrepreneur. However, it is still a good place to hone your abilities, talents, and skills, shaping you to be a strong and flexible person who can overcome many obstacles ahead. I am proud to say that Tokyo Tech has all the resources you need to make yourself a better person and prepare yourself for the future. Think of it as your "training ground" where you can learn not only technical but also social skills. And the only other thing you need is the will to pass through this ground.
Chris Salim(from Indonesia)
2015

Lecturer, Department of Chemical Engineering, Surya University
2013

Director of Indonesia Center for Clean Water Technology, Surya University
2013

Lecturer, Department of Environmental Engineering, Surya University
2005

Assistant Professor, Department of International Development Engineering, Tokyo Institute of Technology
2005

Graduated from doctoral program, Department of International Development Engineering,Graduate School of Engineering, Tokyo Institute of Technology
1996

Enrolled in undergraduate program, Department of International Development Engineering, Graduate School of Engineering, Tokyo Institute of Technology
The content of this article was accurate at the time of the interview.