Master' and doctoral students majoring in Energy Science and Engineering held joint poster sessions and discussions on January 31 as part of their energy Innovation Co-creative Project and Practical Research in Energy Science A courses. Held on Ookayama Campus, the event attracted 74 students this year.
The annual poster session, now in its third year, has two main goals — to gain insight into the specific research that fellow students are focused on, and to understand where one's own research is positioned in the broader picture of the energy field. It also offers a valuable opportunity for students with different academic backgrounds to engage in energy discussions from the viewpoint of various disciplines.
Some doctoral students utilized this opportunity to plan and facilitate group work activity for 1st-year master's students, something they are required to do for the Practical Research in Energy Science B course. They chose to split presenters into two groups, allotting each group with one hour to share their research. Both sessions turned into heated discussions among students and faculty with varying specializations.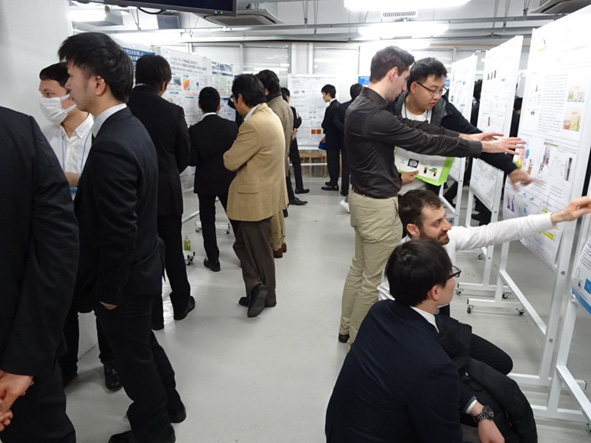 After a short break, all participants joined a tutorial lecture aimed at further boosting students' skills when engaging with an audience made up of different specializations. Speaking to the group was Assistant Professor Hirotatu Watanabe, an emerging faculty member at the Department of Mechanical Engineering, School of Engineering. Watanabe presented his research on solid oxide fuel cells and direct carbon fuel cells, and how they relate to a low carbon and recycling-based society. His talk touched on numerous topics including basic research and manufacturing, offering students both encouragement and meaningful content. To wrap up, he offered students valuable advice on how to maintain momentum in research.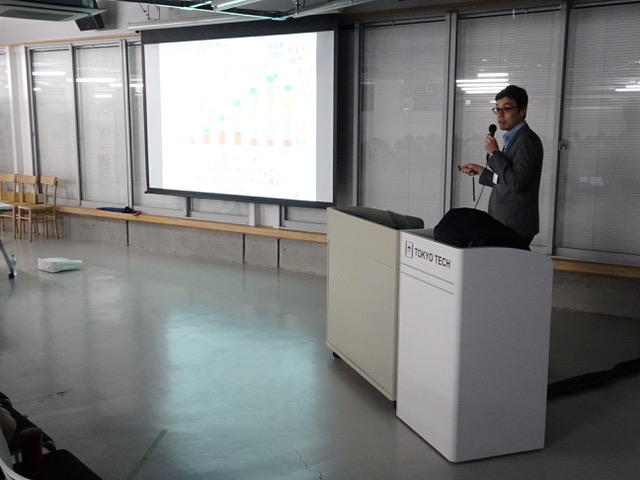 During an exchange session after the event, Professor Tetsuya Suekane, head of the Energy Science and Engineering Graduate Major, presented awards to the best presenters in the Energy Innovation Co-creative Project and Practical Research in Energy Science A courses.
Comments from participating student
Ayuki Murata
1st-year master's student, Electrical and Electronic Engineering
Giving presentations off-campus is a rare and valuable opportunity, but particularly this time, I felt the importance of presenting at the Institute. The audience consisted mainly of people outside my field of specialization, and so I really focused on communicating clearly the significance of my research in addressing energy issues. Discussions among students were lively, and this provided an additional source of motivation for the future. This experience allowed me to improve my presentation quality, but it also greatly expanded my understanding of the diversity of Tokyo Tech research.
Energy Science and Engineering Graduate Major
Tokyo Tech's Energy Science and Engineering Graduate Major is an interdisciplinary study path involving six departments in the Schools of Science, Engineering, Materials and Chemical Technology, and Environment and Society. It aims to provide students with broad, systematic knowledge of the energy field based on the deep expertise offered by each department.