Outstanding Master Student Award ― Sabina Kang (Iino Laboratory)―
Study on Ph-BTBT-10 Thin Film Transistors with Silver Electrodes
Fifteen out of about 140 Electrical and Electronic Engineering students presented excellent master thesis and received this award. Interview with the winners.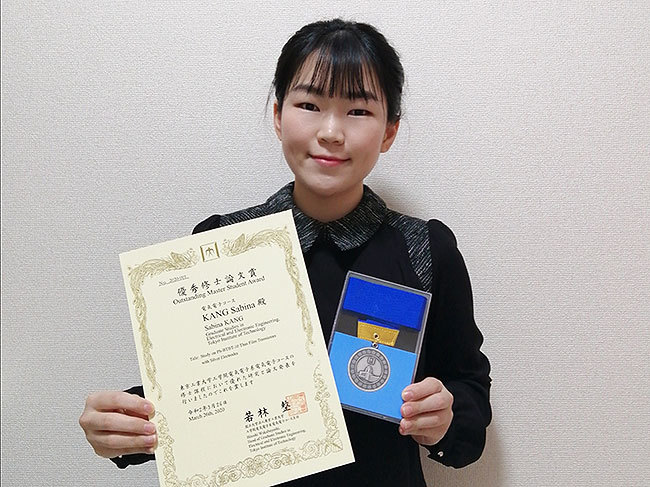 What is the content of this research, and how can it be expected to be useful to the world?
Organic semiconductors have been investigated for many years due to their potential applications for a flexible, large area, and low-cost electronics. Our laboratory has recently suggested a new organic field-effect transistor (OFET) material, i.e., Ph-BTBT-10, exhibiting high mobility in polycrystalline thin films, and this material is expected to practical applications by the solution - process. Most reports of Ph-BTBT-10 OFETs used gold source-drain (S/D) electrode due to its outstanding properties. Unfortunately, the high cost of gold has overshadowed its applications in low-cost electronics. Therefore, low-cost metal silver, although it shows poor properties because of the bigger energy level mismatch, it is an effective approach to dramatically reduce the cost. My research work focused on the fabrication of the high-performance low-cost OFETs with the silver S/D electrodes using liquid crystalline organic semiconductor Ph-BTBT-10, and it showed a meaningful result: superior performance to OFETs using gold for top contact configuration; the possibility of utilization for display. These results envision that Ph-BTBT-10 FET with silver electrode is a promising candidate for high-performance low-cost OFETs. Furthermore, by this approach, it is also expected to realize ultra-low-cost printing processes such as the inkjet-printed silver electrodes.
Comments on the award
During the two years of my master's course, I've experienced a lot of mistakes and failures in my experiments. Sometimes I didn't know how to proceed with this research and I thought maybe I wouldn't be able to solve these problems, so I felt frustrated. However, thanks to lots of comments and advice from our team, the professors, researchers, and colleagues, I was able to get another approach that I would not reach or find out interesting results that I did not catch. Because of these supports from our team, I could finally advance my research and finish my thesis. So, I'd like to say it is thanks to the members of the Iino laboratory that I was awarded. That's why I hope that people who are starting their research show others, even minor data that you don't think it's important, and discuss about that, and then get a lot of motivation and ideas from this process.