Choosing the right university opens vast career opportunities
Nadia Mei Lin Tan
Senior Lecturer, Department of Electrical Power Engineering
Universiti Tenaga Nasional, MALAYSIA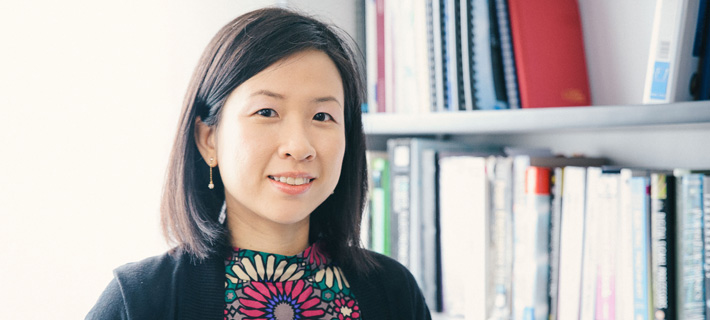 Please tell us about your current job (responsibilities, challenges, rewards, etc.).

My core responsibilities as a senior lecturer at Universiti Tenaga Nasional (UNITEN), Malaysia, include teaching and supervising undergraduate and postgraduate students. I also actively publish papers related to my research in the area of power conversion of energy storage systems using power electronics. I strive to cultivate competent future engineers, researchers, and leaders through classroom and hands-on learning and critical discussions. It is rewarding for me to know that my students are part of the work force in multinational companies or are successful as entrepreneurs or technopreneurs, contributing towards nation-building.
How is the knowledge and experience gained at Tokyo Tech being utilized in your current position?

I received a Ministry of Education, Culture, Sports, Science and Technology Scholarship and came to Tokyo Tech from Malaysia to study as a research student and subsequently as a doctoral candidate. I aspired to further my studies in the field of power electronics and decided to head to Tokyo Tech, Japan, which is well known as an outstanding, top-tier national research university. I am very lucky to have had the opportunity to study at the Akagi-Fujita Power Electronics Laboratory under the supervision of Prof. Akagi, a leading researcher in power conversion systems and their applications to industry, utility, and transportation. My doctoral research topic, "Battery and electric double-layer capacitor energy storage systems based on bidirectional isolated dc-dc converter," is very relevant to the current situation in my country, as we have only recently started to venture into this area. There is a special interest group at the national level that is looking into the viability and application of battery storage technologies in Malaysia, which I have been contributing to by providing technical advice on the subject matter.
What are your future goals?

In the immediate term, I hope to advance and contribute to research in Malaysia in the area of power electronics, particularly in power conversion of energy storage systems for grid applications. This is mostly because Malaysia plans to increase its renewable energy mix to 30% of the installed capacity by the year 2020, and it is such an exciting possibility as the resources for solar power in the country are almost limitless, and would require applications of energy storage systems.

Beyond that I aspire to move into the position of a professor and to establish a self-sustaining power electronics research group that is modeled after the Akagi-Fujita Power Electronics Laboratory, with a team of associate professors, senior lecturers, research associates, and doctoral, master's, and undergraduate students. Research in power electronics is challenging in that it is intrinsically interdisciplinary, requiring knowledge in control, conversion, and delivery of electrical power. I envision that the group will consist of international and local expertise and students conducting research to enhance electrification in modern society that will result in minimizing emissions of greenhouse gases. I also intend to strengthen industry-university collaboration to ensure a greater impact of research outcomes on society.
Please write a message to students aiming for Tokyo Tech.

My time studying at Tokyo Tech was amongst the best experiences of my life. Apart from being a top-tier university with world-class research facilities, Tokyo Tech also has a high percentage of international students which, along with the Japanese student population, creates an invaluable platform for cultural exchange, promotes diversity and global citizenship, and provides a flourishing ecosystem for nurturing outstanding graduates and researchers. Tokyo Tech also provides exceptional sports and recreational facilities. I particularly enjoyed using the indoor heated swimming pool at the university. I have very fond memories of my time at Tokyo Tech and I left with not only a doctorate, but also with many friends for a lifetime. By choosing Tokyo Tech, you will definitely be getting some of the best university education and experiences that Japan has to offer.
Nadia Mei Lin Tan (from Malaysia)
2010-

Senior Lecturer at the Department of Electric Power Engineering at Universiti Tenaga Nasional, Malaysia
2007-2010

Doctoral Candidate at the Akagi & Fujita Power Electronics Laboratory, Department of Electrical and Electronic Engineering, Graduate School of Science and Engineering, Tokyo Institute of Technology
2006

Research Student at the Akagi & Fujita Power Electronics Laboratory, Department of Electrical and Electronic Engineering, Graduate School of Science and Engineering, Tokyo Institute of Technology
The content of this article was accurate at the time of the interview.