E-learning and active learning are carried out in graduate school course
Professor Chiba utilized the cloud service 'Handbook' and carried out active learning in the lecture 'Magnetic Suspension and Magnetic Levitation'
E-learning cloud services have been carried out in some lectures for undergraduate 2nd and 3rd grade in Electrical and Electronic Engineering since 4 years ago. And we began to introduce it at the graduate school this year.
We deliver lecture materials and subjects using an application called Handbook

accessible from the student's own smartphone and PC. The assignment can be answered and submitted from student's own terminal devices. Active learning has also been realized by asking excellent students who answered the quiz quickly to explain the quiz questions in the next lesson.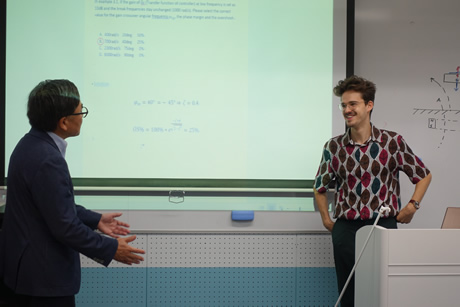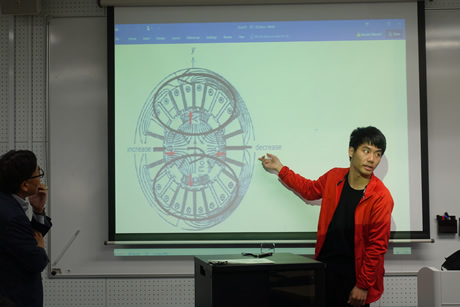 Student Interview
Ben Bogaert(Belgium)=B  Yinming Huang(China)=Y
Q.

Why did you select Electrical and Electronic Engineering as your major?

B.

I believe that Electrical and Electronic Engineers will play a big role in solving future challenges. I therefore hope that as an Electrical engineer I can contribute to society in the future.

Y.

When I was young I was always curious about what's inside the electronic devices, then I found I had interest in electronic devices and designing electric circuit, that's why I would like to learn more relevant knowledge by entering Electrical and Electronic Department.
Q.

Why are you interested in the lecture 'Magnetic suspension and levitation'?

B.

The field of Magnetic Levitation and Suspension is fairly new and many topics/subjects are still undiscovered, which makes this field exciting to study.

Y.

The maglev train is one of the most outstanding inventions in 21st century and I have heard a lot about it back in my country, it has aroused my curiosity of this course.
Q.

Which topic in the lecture impressed you the most?

B.

The practical implementations of Magnetic Levitation and Suspension in the train systems in Japan and China fascinated me the most. I was also impressed by the fact that these trains are safe and reliable, despite its high speed.

Y.

The introduction of maglev trains was very impressive to me.
Q.

How do you feel about doing a presentation in front of the class?

B.

By giving a presentation I was motivated to truly understand the topic. I also found the presentation of the other students helpful.

Y.

Going up for presentation is a good practice and a nice experience. When I have to explain the quiz clearly, loudly and properly in a foreign language, it's easy to get nervous and forget what to say which will probably embarrass myself, but I think this experience have improved my ability of presentation which is vital important for a graduate student, so I appreciate having this opportunity.
Q.

How do you feel about the Handbook?

B.

I thought the handbook app was convenient. It also provided feedback just after I submitted my answer, which was educative. Additionally, the quiz at the end of the class helped me to pay attention during the lecture.

Y.

After registration, it's very easy to be used and is truly convenient, but the registration process itself is a little bit troublesome and it becomes even more for oversea students when we have to set the device language to Japanese in order to register.
Q.

What advice do you want to give to the freshmen and the senior high school students?

B.

Be honest with yourself and never waste a good crisis.

Y.

Basic knowledge is very important for an engineer, try to study hard, and keep curious to everything that you don't know.
Last
E-learning and active learning are introduced and carried out in Electrical and Electronic Engineering. We will continue our efforts to promote education reform.