On July 15, under the theme of "How should universities promote cutting-edge research and human resource development that will create future society?", President Kazuya Masu, Professor Amir Yacoby

of Harvard university (Professor of Physics and Applied Physics), and Professor Mutsuko Hatano

of the School of Engineering participated in a three-way discussion facilitated by Associate Professor Ayuko Hoshino

of the School of Life Science and Technology.
This press release introduces the discussion between Professor Yacoby, a world-renowned authority on quantum research, and the president and professors of Tokyo Institute of Technology (Tokyo Tech). Based on what he glimpsed during international joint research with Professor Hatano, Yacoby talked about the current state and prospects of the research and educational environment at Tokyo Tech, Japan and the rest of the world.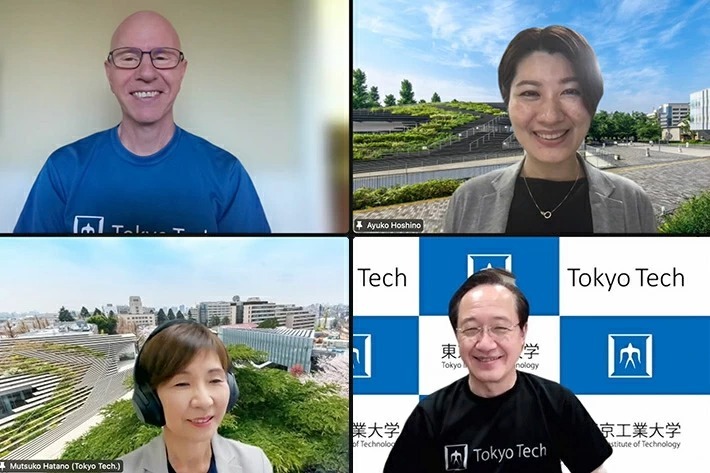 Entering an era where global networks are essential for excellent research
——Professor Yacoby, you have published many influential papers in leading academic journals such as Nature, and you are at the forefront of quantum research. Would you please begin by discussing your current research and how you got involved in collaborative research with the Hatano Laboratory?
Yacoby: Currently, under themes such as spin quantum bits and topological quantum systems, I'm working to understand the physical properties of solids and to apply that knowledge to quantum science and information technology. I am also actively engaging in collaborative research, and I was recently contacted by Professor Hatano.
Hatano: President Masu often discusses the importance of exchanges with world-class researchers, so I decided to go all in and sent an email to Professor Yacoby, which he kindly accepted.
Yacoby: Professor Hatano is conducting interesting research on diamond quantum sensors

from the perspective of application to fields such as sensor development. I am working on the same theme from the perspective of understanding physical properties. So, I thought that our collaborative research would produce a highly synergistic effect.
Masu: In this day and age, networks are an important aspect of conducting outstanding research. Therefore, at Tokyo Tech, we are also focusing our efforts on in-depth international joint research, such as the current program, where researchers stay for periods such as two weeks or one month. I am very grateful to Professor Yacoby not only for his research at the laboratory, but also for how he has provided far-reaching stimulation both inside and outside Tokyo Tech through seminars and other sessions.
Yacoby: I am also very pleased that I was able to develop new measurement methods and learn a variety of application methods.
Hatano: As the next phase in our collaboration, a doctoral student from my lab will conduct research at Professor Yacoby's lab in the United States for three months.
——Professor Yacoby, your lab has produced many outstanding professionals with Ph.D.s who lead research at advanced corporations. In the United States, professionals with Ph.D.s are widely active in both research and industry, right?
Yacoby: A Ph.D. is a prerequisite for employment at an academic research institution in the United States. Even in industry, it is difficult for someone with only a bachelor's or master's degree to obtain a research position at a leading company such as IBM or Google. This is especially true for fields such as quantum mechanics. A Ph.D. is the ticket to such jobs.
Hatano: During his stay in Japan, Professor Yacoby was surprised by the low number of doctoral students. One reason for the low number is the lack of employment opportunities. Japan needs to broaden the fields in which professionals with a Ph.D. can fulfill an active role, and to enable such professionals to diversify their career paths.
Masu: The power of human resources with Ph.D.s is essential both for the revitalization of Japanese society and the development of science and technology. Therefore, as a university, we would like to further strengthen our efforts in this area.
It's all about people: supporting and fostering young researchers
——Professor Yacoby is also an executive committee member of the Harvard Quantum Initiative (HQI). What does the HQI do to promote research?
Yacoby: Harvard University has identified quantum science as an important research area, and HQI has developed a Ph.D. program to promote employment. In addition, a portion from HQI's research funding is provided to postdoctoral students as 'seed funding'. They can gain experience of the process of getting grants, where they prepare proposals for grant applications, their proposals are evaluated and the best ones are supported. In this way, 'start-up of various ideas' is promoted.
Hatano: That the processes of obtaining 'seed funding' is a source of future. I felt that the environment is designed to provide opportunities for young researchers and for creation to occur.
——Moving on to individual project management. What do you think about the role of the Principal Investigator (PI)?
Yacoby: As a scientist, the first priority must be scientifically creative. The second is to provide mentoring to students, recognizing that it is through mentoring that we guide them in their research and studies as well as their contributions. And the third is that we also need to try to raise funds for the publication of articles and papers. In this sense, the role of PI is as diverse as being the CEO of a start-up company. I believe it is necessary for the growth to fulfill various aspects such as employment, fundraising, and PR.
——I think mentoring, publishing and publishing activities are all important in the exercise of scientific creativity, but if you had to prioritize them, in what order would they be?
Yacoby: If you eliminate scientific creativity, you will have nothing left. I really think that what matters is mentorship because mentorship is what allows you to benefit the most from the creativity of the human resources.
Masu: It reminds us of the importance of mentorship and the creativity that comes from them.
Research is invigorated by various forms of diversity such as different experiences and fields
——In recent years, expectations toward cutting-edge quantum research are heightening.
Yacoby: We are conducting research on quantum computers in cooperation with corporations such as IBM. However, it looks like a little more time will be required to produce results. It seems that the quantum sensor being developed by Professor Hatano will be put into practical use sooner.
Hatano: We can resolve social issues by realizing the dream of quantum utilization through the combination of the scientific field of understanding physical properties and applied technology. Collaboration across fields is essential for this goal. This is the exact reason for my collaborative research with Professor Yacoby.
Masu: I expect that the results of quantum research will lead to major advances in semiconductor devices, which is my field of expertise. For example, we could change the world dramatically by achieving quantum symmetry similar to CMOS, which is a mainstream semiconductor structure.
Yacoby: The integration of knowledge is essential for practical application. When selecting a research environment, the most important thing is to consider the type of people with whom you can conduct research. Of course, facilities and research support systems are important. However, interacting with outstanding partners will improve your own creativity, and collaborative research can have a synergistic effect that impacts society to a degree that exceeds individual research. Therefore, we always try to be inclusive, and we strive to make our research and work environment feel comfortable for all.
Masu: For example, after being involved in fundamental research and practical application at a certain corporation, Professor Hatano is now active in applied research at Tokyo Tech. In addition to nationality and gender, diversity of fields and experiences will invigorate research activities. For this reason, Tokyo Tech is promoting the creation of an environment filled with intellectual vitality by declaring Tokyo Tech Diversity and Inclusion Statement

.
——Professor Yacoby, in closing, could you discuss what you are careful of when instructing students and give some advice for students?
Yacoby: I don't view myself as a supervisor of students; rather, I act as an adviser and collaborator to support their research activities. Accordingly, I try to interact with students in a way that elicits their interests and helps them achieve their research goals and career development. Some advice that I give to students in my lab is that creativity is made possible by letting the mind wonder. Focusing only on being efficient is not necessarily the best way. Also, in the case of students who are unsure about their research theme or career path, instead of being overly focused on searching for a theme while still in the early stages of their education, I would advise that they start by finding a good adviser.
Hatano: Professor Yacoby has taught me many things that go beyond research. Some examples are methods of instructing students and the need to assess research from a high vantage point. It would be wonderful if we could continue to expand our systems for international exchange.
Yacoby: I am also looking forward to our next collaboration.
Masu: I also look forward to working together. In terms of conducting excellent research and contributing to society, I think that this discussion once again highlighted the importance of developing and acquiring outstanding human resources, and then forming a network among those resources.
——Thank you very much for participating in today's discussion.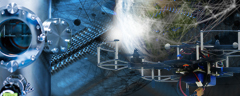 School of Engineering
—Creating New Industries and Advancing Civilization—
Information on School of Engineering inaugurated in April 2016
School of Engineering

Schools, Departments, and Institute for Liberal Arts