CoilSite, Tokyo Tech's student augmented reality (AR)1 development team, have won the Grand Prize in the 2021 University Business Plan Competition of the Financial Digital Transformation Summit (DX/SUM). Ryota Hosoi, a 1st-year master's student in Mechanical Engineering, and Natsuki Mizuno, a 2nd-year student in Electrical and Electronic Engineering, collected their prize on October 1.
The University Business Plan Contest, which began in 2019, aims to promote universities and university-born startups as an important pillar of innovation in Japan. The 2021 event, sponsored by the University of Tokyo and Nikkei Inc., was also supported by the Japan Association for the 2025 World Exposition. This year, the contest invited university students from across Japan to submit business plans based on the theme of Share X, a concept that covers advanced technologies such as 5G, artificial intelligence, the Internet of Things (IoT),2 and extended reality (XR).3 The contest also functions as a precursor to the implementation of the concept at Expo 2025 Osaka, Kansai, Japan.
From the 13 teams that participated from across the country, six advanced to the finals. These teams were rated by judges based on four criteria — clear definition of the problem and novelty of the idea, marketability and societal impact, feasibility and overall consistency, and communication and presentation skills. All final presentations were streamed online.
CoilSite's business plan aims to transform cities across the world into museums of computer graphics artwork using smartphone augmented reality. In addition to their enthusiasm and passion, the team was lauded for their clear vision, the high feasibility of the proposal as demonstrated by their prototype, and the project's potential to enhance Expo 2025 Osaka, Kansai, Japan.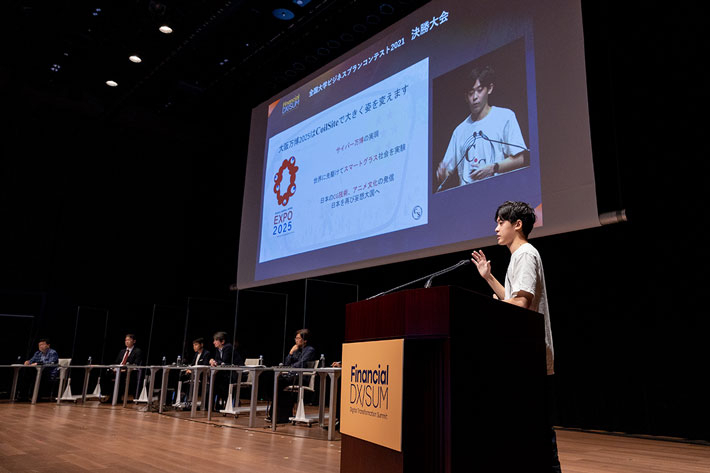 Ryota Hosoi
1st-year master's student, Mechanical Engineering
My teammate and I met at Attic Lab, the student-led co-working space on Ookayama Campus, and we heard about this business competition when a member of the Venture Development and Relations Section spoke about it in the Attic Lab chat group. Our idea took shape thanks to the encounters we have had at Tokyo Tech, and the result was the Grand Prize. I am grateful for these encounters, the opportunities to take on challenges, and the environment of innovation that the Institute has provided. Our idea actually originated from the work we did this year in the Virtual Reality and Interaction

course, which we then brushed up further. I hope we can continue with the launch of our business while incorporating in the process academic knowledge that we gain during classes.
Next year, we plan to launch the smartphone AR service CoilSite for Tokyo Tech students. We invite all of the Institute's students to enjoy the service once it is out.
Function that extends the world in front of you by superimposing virtual visual information onto real scenery
A system through which various things (sensors, buildings, cars, home appliances, etc.) that were not connected to the internet previously connect to servers and cloud services through a network, and exchange information
Technology that covers virtual, augmented, and mixed reality, and allows us to perceive things that are not real by merging the real world with the virtual world