The Japan qualifications for the 2018 Association for Computing Machinery (ACM) International Collegiate Programming Contest (ICPC) were held on July 6, and three Tokyo Tech teams booked their place in the Asian regional competition in December.
A total of 411 teams from 87 universities, junior colleges, and technical high schools around the country tested their skills during the 3-hour qualification round. Of the 39 top teams that received special awards from the ICPC Board, five were from Tokyo Tech.
However, in accordance with ICPC rules, only three teams from each institution can advance to the regional competition in Yokohama. Team narianZ, Team, new_moon_with_face, and Team 60odnight will attempt to tweak their performance further in hopes of progressing to the world finals, which Tokyo Tech reached last year.
This year, in addition to Yokohama, Singapore, Taipei, Nakhon Pathom, Hanoi, Jakarta, Seoul, and Yangon will also host regional competitions.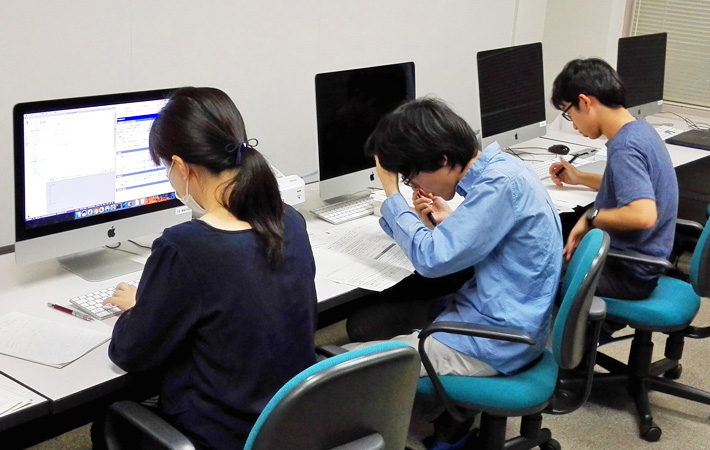 Teams that qualified for the Asia regional competition
Team narianZ (2nd overall)

Recipients of LINE Award, MUJIN7 Award, Tsubame Award

Riki Fukunari, 4th year, Computer Science

Rikuto Kubota, 1st-year master's student in Computer Science

Hiroki Katsumata, 2nd-year master's student in Information and Communications Engineering
Comments from team
With very strong teams from the University of Tokyo, Kyoto University, and other schools present, we were very happy to place second. The programming languages we usually use are different, so we thought debugging might be a challenge, but we were able to solve the problems through good communication within the team. We will do our best to put in a better performance in the regionals and progress to the World Finals.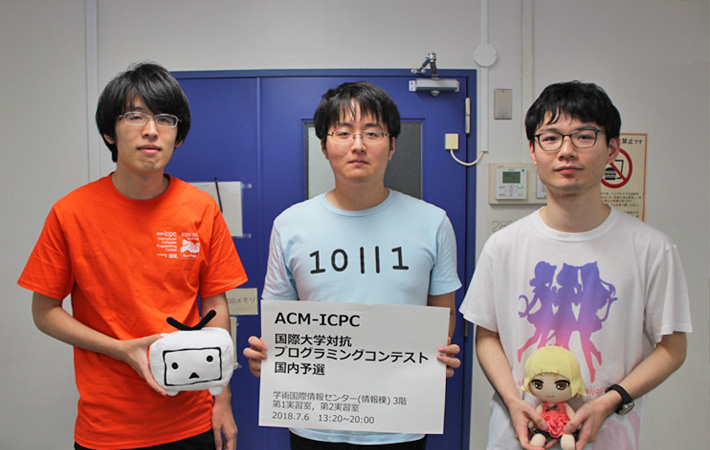 Team new_moon_with_face (10th overall)

Recipients of KLab Award

Shugo Miyamoto, 4th year, Information Science

Shinji Yoshino, 4th year, Information Science

Hisanori Masuda, 2nd-year master's student in Systems and Control Engineering
Comments from team
ICPC teams have three members each. By optimizing our members' individual abilities, we were able to beat teams that we considered stronger than us. Team competitions are special because you can consult with your teammates and explore how others would approach the problem. We encourage anyone with even a slight interest to join the contest. All our members were first-timers, and we were able to delegate tasks effectively and solve problems calmly. We would like to thank the coaches, managers, and those who helped form the teams for their efforts.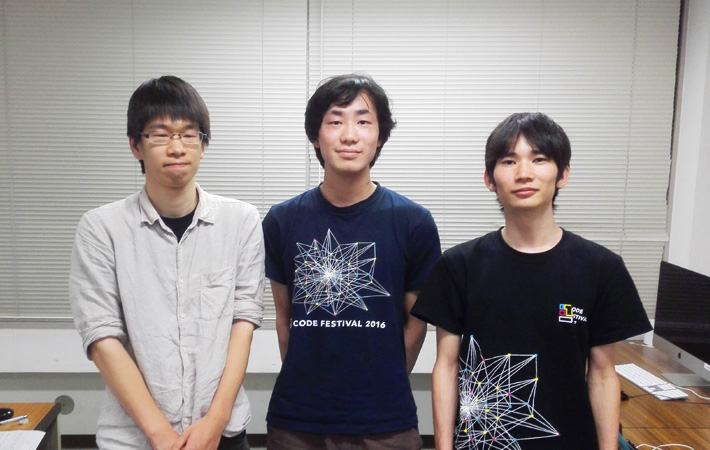 Team 60odnight (13th overall)

Takuto Yoshida, 2nd year, Computer Science

Hatsumi Yamane, 2nd year, Computer Science

Ryoji Nagata, 5th Academic Group
Comments from team
The level at this year's contest was very high. The qualifications were tough, we are very happy to have made it through. On the actual day of the competition, we were able to squeeze in a team practice session and perform close to our maximum team abilities. We will fight hard to obtain another good result at the Asian regionals in December.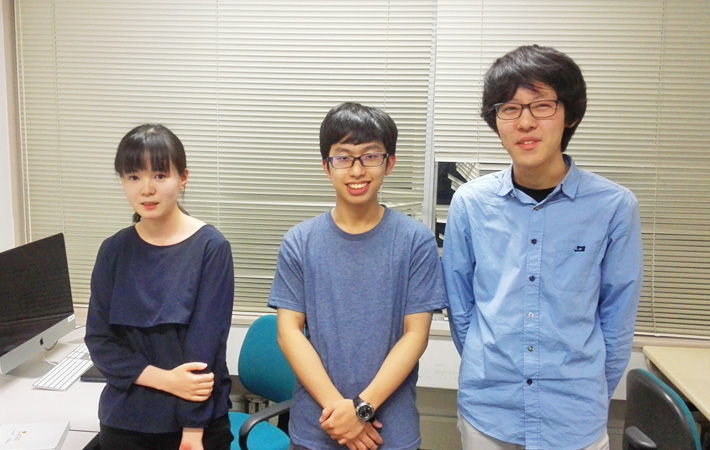 Other commended teams
Team IQ1 (22nd overall)

Recipients of Niconico Award

Yoshitaka Sakurai, 1st-year master's student in Computer Science

Kentaro Takakuwa, 2nd-year master's student in Computer Science

Koya Endo, 2nd year, Mathematical and Computing Science
Team j2j2w8 (28th overall)

Recipients of Niconico Award

Arimichi Matsumura, 1st-year master's student in Computer Science

Asuma Kato, 1st-year master's student in Artificial Intelligence

Tetsuro Sakamoto, 1st-year master's student in Artificial Intelligence