Concept presentation by Master and Doctoral students was held on Nov 28, 2016, and 8 students were selected as excellent presenters.
The concept presentation was held as a part of Master's and Doctoral research in Department of Information and Communication Engineering. Master students are recommended to make the presentation at after six months of their admission and they are required to have the presentation by finishing their courses. The aims of this event are to acquire presentation skills as well as to make their research plan understanding their own research. A vote on the presentations is held by professors in the course, and the Master students who make the excellent presentations are awarded. Doctoral students are recommended to make the presentation as well, though it is not mandatory.
The awarded Master students are following 8 students: Saori Takeyama, LIU XINWEI, Eiji Osawa, Ryouhei, Goto, Yusuke Kimura, Takumi Kosugiyama, Syunsyuke Takahashi.
Congratulations!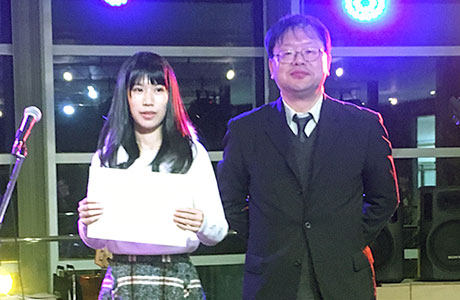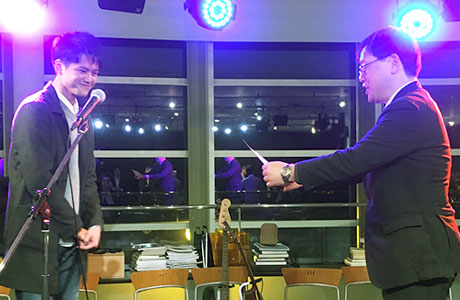 The awarding ceremony was held in a cafeteria located in Suzukake hole in Suzukake-dai campus.
Comments from the awarded students who get the highest score.
Saori Takeyama (Supervisor Prof. Itsuo Kumazawa)
Title
Regularization for hyperspectral image restoration based on spatio-spectral smoothness
I am very honored to receive the research plan presentation award.
The research topic I am working on is hyperspectral image restoration. Specifically, my approach is to mathematically model the characteristics of hyperspectral images, formulate the restoration problem as an optimization problem, and obtain a restored image by solving it.
One thinks that an image has no connection with mathematics, but it can be modeled mathematically. This is very interesting for me, and so I can enjoy my master's study.
It is always difficult for me to clearly explain my research topic. Fortunately, thanks to many advices from laboratory members I could get the award.
Finally, I am grateful to Prof. Itsuo Kumazawa and Assist. Prof. Shunsuke Ono for their fruitful advices.
Liu Xinwei (Supervisor Prof. Shigetaka Takagi)
Title
Design and application of a high slew rate, low power operational amplifier using capacitance multiplier compensation
I appreciate the interest shown by the professors and students in my poster presentation: Design and Application of a High Slew Rate Low Power Operational Amplifier Using Capacitance Multiplier Compensation. It is such an honor to receive this recognition and earn the Outstanding Research Plan Presentation Award.
I would like to express my gratitude to my supervisors Professor Takagi and Professor Sato, along with all the members from my laboratory, for their patience and valuable guidance with my research. My professors suggested that it would be wise to create a presentation that not only provides specific data and information, but also sufficient background information to help a wider audience understand and appreciate the presentation.
I am grateful to be a member of such an excellent academic family, the Department of Information and Communication Engineering, Tokyo Institute of Technology.