Inukai receives MEXT Minister's Award for excellent performance in CG Engineering Certification Test
Computer science master's program student Yasuhiro Inukai was honored with the Ministry of Education, Culture, Sports, Science and Technology (MEXT) Minister's award for individuals with excellent results in the expert category of the Computer Graphics (CG) Engineer Certification Test, conducted by the Computer Graphic Arts Society (CG-ARTS) in the first half of 2015.
The CG Engineer Certification Test aims to develop skills of engineers and programmers engaged in the development and design of computer graphics. The test is comprised of two categories — basic and expert.
The expert test covers ten fields — computer graphics and digital camera models, coordinate transformation and viewing pipelines, modeling, rendering, animation, image processing, visualization, computer graphics systems, intellectual property rights, and pertinent knowledge. Approximately 400 people took the expert test, of whom approximately half were certified.
Comments from Mr. Inukai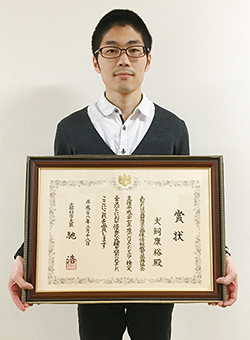 It is an honor to receive this award. During my undergraduate days, I created hand-drawn animations together with other Tokyo Institute of Technology Animation Society members. There, I also got a chance to try out some free 3D computer graphics software. Trying to produce something that resembled cel animation productions was a trial and error process that didn't go well, and I felt I needed to learn the principles and theoretical aspects of 3D computer graphics. The textbook I read was one by CG-ARTS, and since I had already done the tough part, I thought I might as well take the test to see what I know.
Recently, full CG animation movies such as Expelled from Paradise are gaining popularity, and those that combine CG with hand-drawn work like Girls und Panzer and Aikatsu! are on the rise, so the importance of CG technology in animation can only increase. Additionally, computer graphics are spreading from the screen to other aspects of life with the emergence of equipment such as 3D printers.
The Koike Lab, where I am based, is not directly involved in CG research, but instead focuses on themes such as human-computer interaction and information visualization. I hope I can indirectly apply my CG knowledge to contribute to these areas.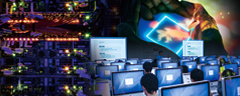 School of Computing —Creating the Future Information Society—
Information on School of Computing inaugurated in April 2016
School of Computing

Schools, Departments, and Institute for Liberal Arts