Build a prosperous society through
your expertise in computers
In the Department of Computer Science, students acquire expertise in a wide range of areas, which include software, hardware, multimedia, artificial intelligence, and biometric analysis, based on systematized theories related to information. We do not merely teach our students programming skills that enable them to become competent computer users. Starting with the fundamentals, we prepare them to become computer scientists and researchers who have a deep understanding of computer technology that has been integrated into all social structures and businesses. They are also trained to lead the way in cutting-edge technologies for modeling new information systems, efficiently developing complex software, extracting necessary information from large data sets, intelligent human-computer interfaces, advanced recognition of physical objects and natural languages, analyzing biological information, and analyzing society through simulations.
Message from the Department Chair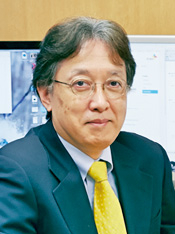 The importance of computer science is increasing every day, and the field now encompasses much more than just the manufacture of computers and the writing of programs. Computer science is used to inform and control physical social infrastructures and is a core technology in traffic systems such as self-driving cars, financial systems such as blockchain, and medical information systems.
The fact that many world-leading CEOs obtain their PhD in computer science suggests that knowledge of computer science is necessary for both engineers and managers.
Our department covers all crucial fields of computer science and offers you globally competitive laboratories and faculty.
Hideki Koike