Build a prosperous society through
your expertise in computers
In the Department of Computer Science, students acquire expertise in a wide range of areas, which include software, hardware, multimedia, artificial intelligence, and biometric analysis, based on systematized theories related to information. We do not merely teach our students programming skills that enable them to become competent computer users. Starting with the fundamentals, we prepare them to become computer scientists and researchers who have a deep understanding of computer technology that has been integrated into all social structures and businesses. They are also trained to lead the way in cutting-edge technologies for modeling new information systems, efficiently developing complex software, extracting necessary information from large data sets, intelligent human-computer interfaces, advanced recognition of physical objects and natural languages, analyzing biological information, and analyzing society through simulations.
Message from the Department Chair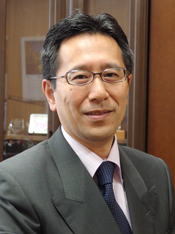 Imagine a world without computers. Then you will understand the important role computers play in modern society and how they enrich our lives. At the Department of Computer Science, we do not treat computers as simple tools. We are involved in research and educational activities that are broad and high-level. They cover everything from the fundamentals of computers themselves to program design methods, artificial intelligence, and advanced application systems. We also have a team of world-class faculty doing pioneering work. Let's open up new possibilities in the world of computers together.
Jun Miyazaki