Restructuring the world with artificial photosynthesis technology
Shunsuke Sato
Researcher
Morikawa Senior Fellow Laboratory
Toyota Central R&D Labs, Inc.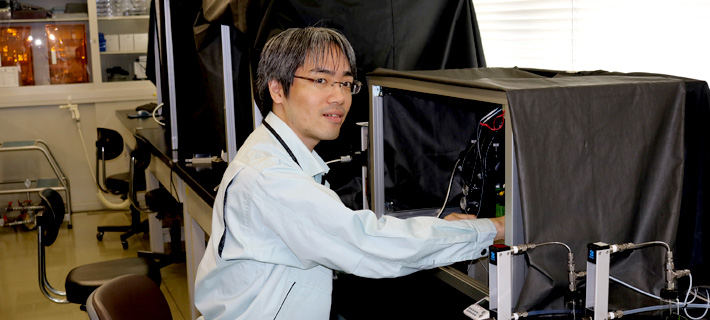 Please tell us about your current job (responsibilities, challenges, rewards, etc.).

Although I was hired by a laboratory that conducts automobile-related research, the work conducted by our department could be described as more far-sighted. Concretely speaking, we develop artificial photosynthesis technology that produces organic matter using only water, carbon dioxide, and sunlight. The technology is extremely complex, and if commercialized, could have significant ripple effects. Fortunately, research has been progressing smoothly. Our research findings were published in several newspapers in 2011. Since then, we have succeeded in developing an artificial photosynthesis device which has a solar-to-chemical energy conversion efficiency comparable to the theoretical maximum photosynthetic conversion efficiency of plants such as rice and wheat.
How is the knowledge and experience gained at Tokyo Tech being utilized in your current position?

"The world cares about research results, not efforts." I still remember these harsh words from my Tokyo Tech professor. The world of research is extremely competitive, and those who do not produce results get left behind. This might seem obvious, but the difference between success and failure lies in constantly being aware of this fact. I don't have any particularly special abilities, but Tokyo Tech taught me the foundations and awareness of a cutting-edge researcher, and I continue to exercise this train of thought today.
What are your future goals?

Whenever possible, I want to carry out significant research that alters the structure of the world, much like the research being done at the moment. If we succeed, we will help decrease the world's dependence on fossil fuels. There are many massive hurdles ahead of us, but I believe we can achieve our goal. In addition to this, I want to advance research into novel catalysts and new theoretical concepts.
Please write a message to students aiming for Tokyo Tech.

I only realized this after I left Tokyo Tech, but the level of activities at labs affiliated with the Department of Chemistry is very high. With its superior experimental facilities and abundance of electronic journals, the research environment at the Institute is truly unique. For a researcher, any experience at Tokyo Tech's Department of Chemistry is a plus.
Shunsuke Sato (from Saitama, Japan)
2011

Researcher, PRESTO Light Energy of Chemical Conversion program, Japan Science and Technology Agency (concurrent position)
2007

Employed by Toyota Central R&D Labs, Inc.
2007

Doctor of Science, Department of Chemistry, Tokyo Institute of Technology
2004

Master of Science, Department of Chemistry, Tokyo Institute of Technology
2002

Enrolled in Department of Chemistry, Tokyo Institute of Technology
The content of this article was accurate at the time of the interview.