1st-year bio-creators spark youngsters' interest at Science Museum
The best performers from Tokyo Tech BioCon 2019 took their show on the road by hosting presentations at Tokyo's Science Museum on December 7. Over 40 1st-year Life Science and Technology students presented their bio-creations to 33 elementary school children representing the museum's Friends of Science club.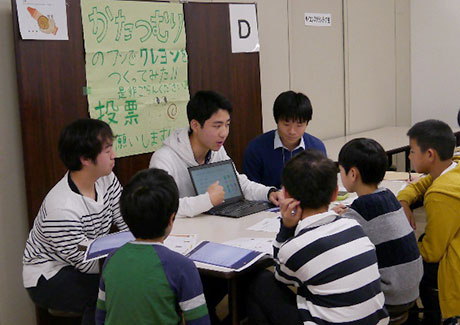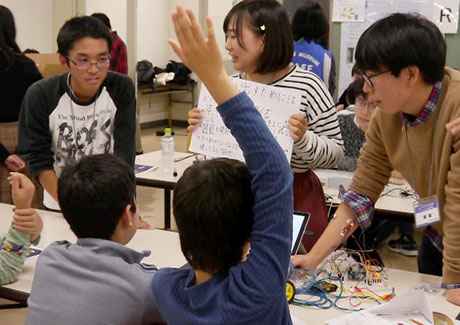 Elementary school students focused on Tokyo Tech mentors
The Tokyo Tech BioCon, a bio-creativity contest held for the fifteenth straight year in 2019, functions as the final assessment for the Bio-Creative Design 1 and 2 courses at the School of Life Science and Technology. During these courses, students work in small groups to plan and design easy tools that can be used to teach bioscience and biotechnology to the public, or are otherwise useful to society. This year's additional event at the Science Museum featured seven of the contest's best teams who shared their creations with children and their guardians. Bio Creative Staff, a Tokyo Tech student club, was in charge of organizing the event.
Judging the presenters were both youngsters from the Friends of Science club, who chose the winner of the Exciting Science Award, and staff from the Science Museum, who handed out the Science Museum Education Award. The winners were as follows.
Exciting Science Award Winners

Group O – Making paints from blueberries

Group E – Attempting to create sparrows

Science Museum Education Award

Group I – Myoelectrics is Fun!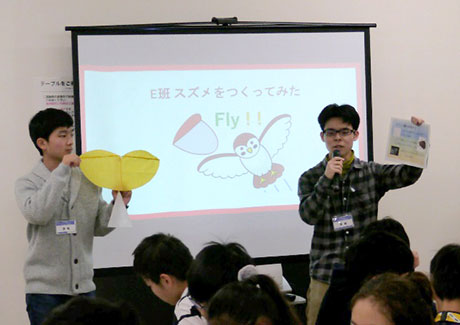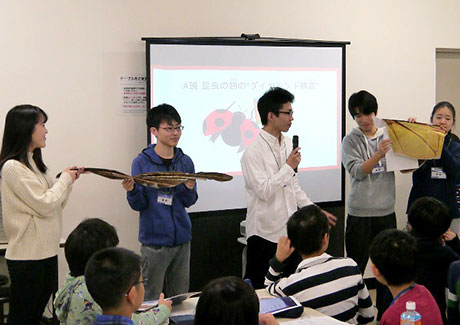 Tokyo Tech students presenting their creations
The attending elementary school students continued to show interest in the bio- projects long after the presentations had concluded. They interacted with their Tokyo Tech mentors and demonstrated a pure curiosity for learning outside their schoolbooks and classes.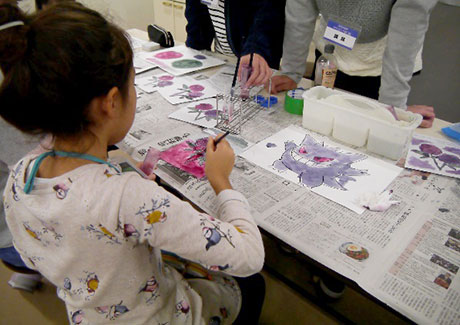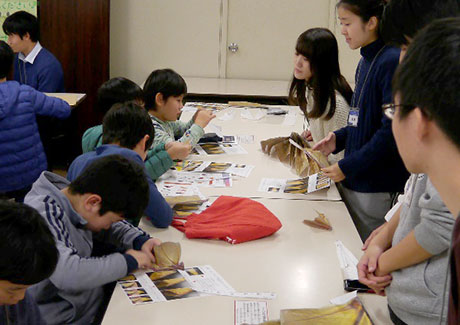 Youngsters' workshop in full swing
The School of Life Science and Technology and Bio Creative Staff are already looking forward to "spreading the science bug" at their next outreach session, regardless of whether it is on or off campus.。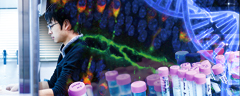 School of Life Science and Technology
—Unravel the Complex and Diverse Phenomena of Life—
Information on School of Life Science and Technology inaugurated in April 2016
School of Life Science and Technology

Schools, Departments, and Institute for Liberal Arts


Tokyo Institute of Technology iGEM is supported by Tokyo Tech Fund
Giving to Tokyo Tech