The 14th Tokyo Tech BioCon, or bio-creativity contest, was held at Suzukakedai Campus on November 10, 2018.
Foundations of the competition
Bio-Creative Design 1 and 2, which form the basis of the Tokyo Tech BioCon, are courses offered to first-year students.
During these courses, students work in small groups to plan and design easy tools that can be utilized to teach bioscience and biotechnology to the public, or are otherwise useful to society. While boosting creativity, the courses also aim to provide students with the fundamentals of bioscience.
This year, 142 students making up 20 groups carried out investigations, experiments, and surveys to gather data for their bio-creative design project.
Presentation
The Tokyo Tech BioCon is a public contest, which also functions as the final assessment for the Bio-Creative Design courses. Students regularly receive advice from professors and teaching assistants throughout the process, and ultimately present their project aims, methods, and data to an audience made up of judges and members of the public.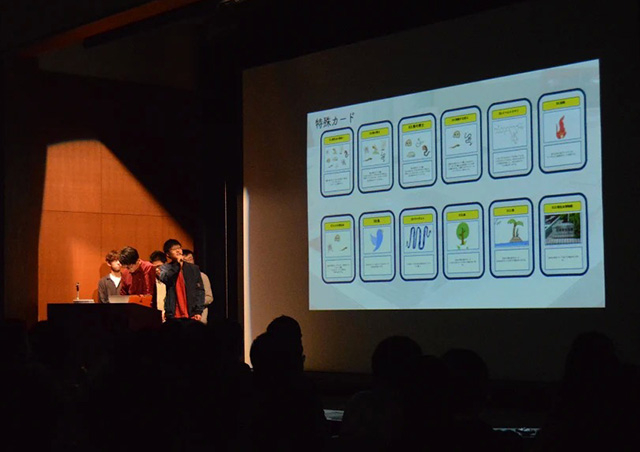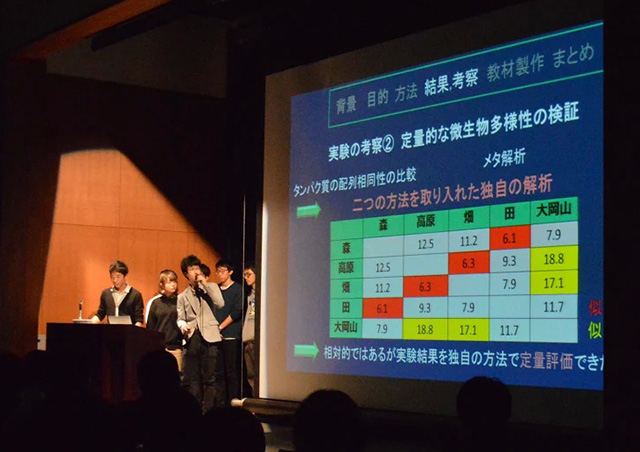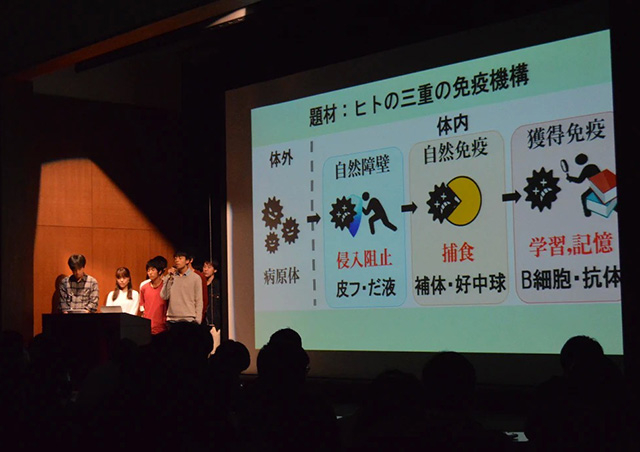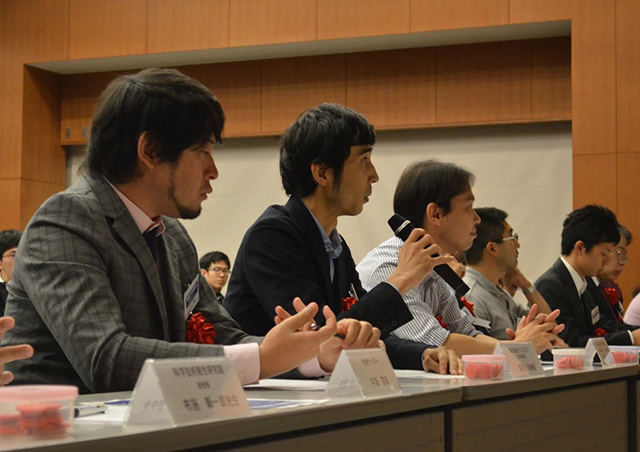 Audience and judges enjoying presentations
Bio-play with Tokyo Tech students
After the presentations, elementary and middle school students were invited to test out the groups' creations during the "Bio-play with Tokyo Tech students" session. Groups set up booths to further explain their projects and encourage children to get more involved. The younger generations were once again provided with a chance to experience bioscience and biotechnology through interesting and challenging games.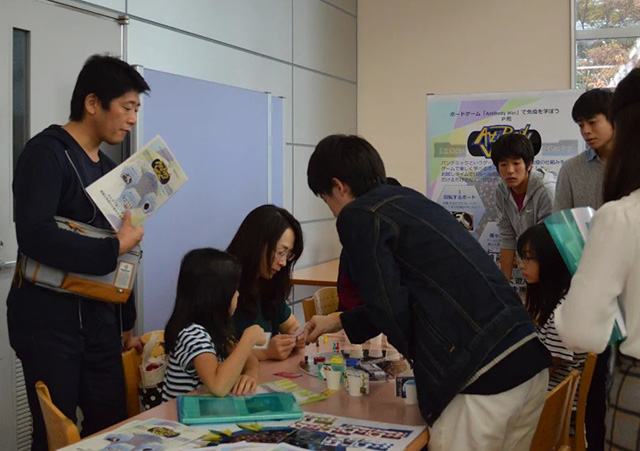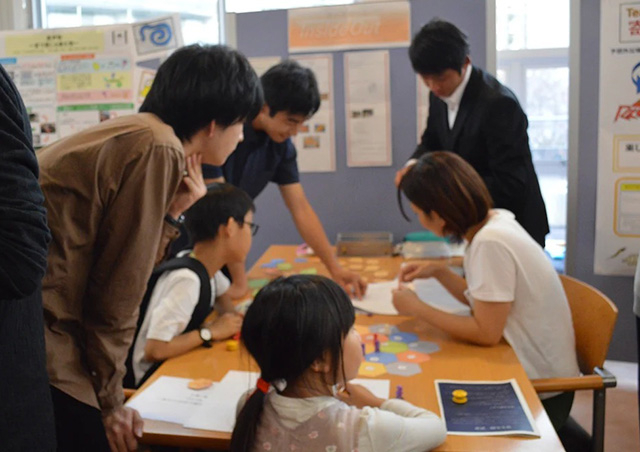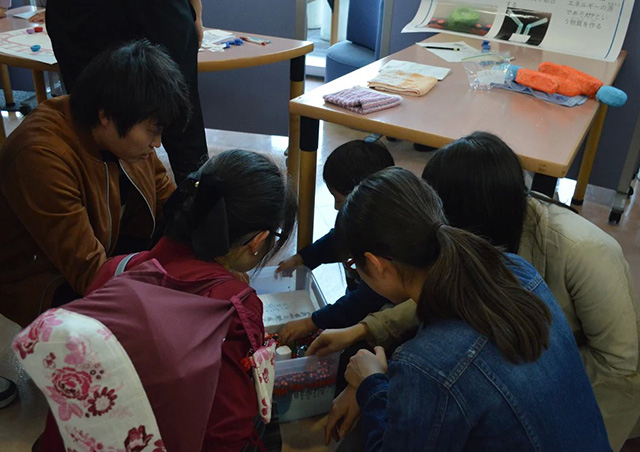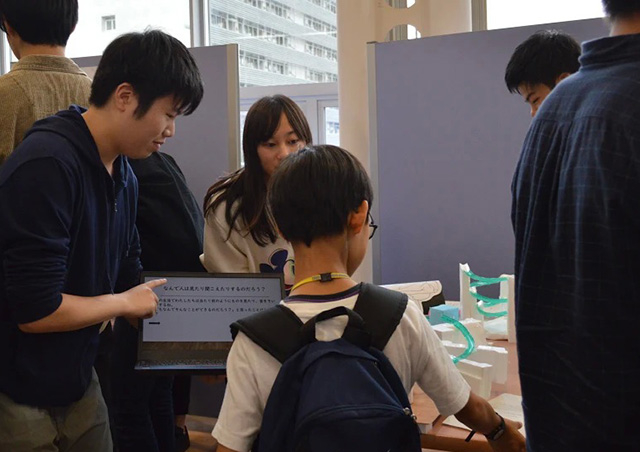 Bio-play with younger generations
Evaluation and competition results
In addition to the eight judges selected from within and outside the Institute, fellow students and other participants at the event evaluated the projects, casting their votes for their favorite groups. In 2018, Group R claimed victory with their project "Voices of Beauty: Sensing microorganisms through sound."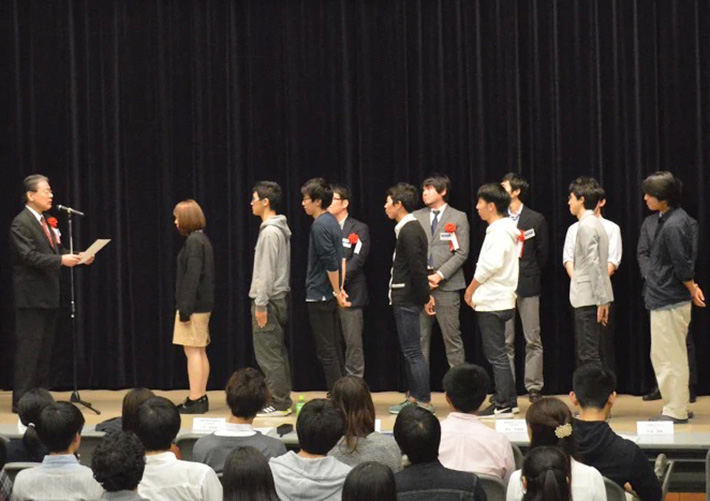 Winner

Group R: Voices of Beauty: Sensing microorganisms through sound

2nd place

Group J: Dozing prevention apparatus

3rd place

Group F: Playing with parasites

Industry Collaboration Award

Group J: Dozing prevention apparatus

Judges' Award

Group E: Inside Out: What is happening within you?

Group S: Protecting plants without pesticides!

Collaboration Center for Design and Manufacturing Award

Group C: Red cabbage crayons

Yokohama City Board of Education Award

Group P: Learning about immunity with board game "Antibody war"
Congratulations to the winners and all the groups for their efforts in designing creative, original projects.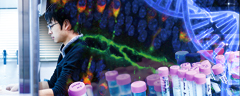 School of Life Science and Technology
—Unravel the Complex and Diverse Phenomena of Life—
Information on School of Life Science and Technology inaugurated in April 2016
School of Life Science and Technology

Schools, Departments, and Institute for Liberal Arts

Contact
Office of Bio-Creative Design