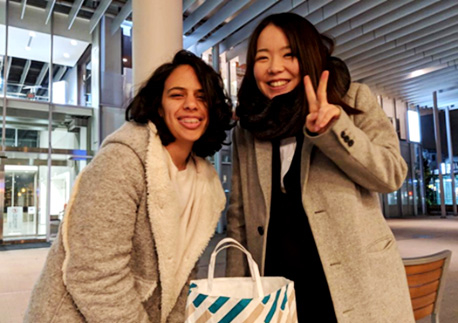 Tandem partners Layla (left) and Mai
Organized by Tokyo Tech student group ACTION, the Tandem exchange connects Japanese students and international students who are interested in language exchange. The partners decide the frequency of meetings, their location, and their duration. My partner, Mai, and I met both on and off campus twice weekly while I was at Tokyo Tech.
This language exchange was one of the activities I enjoyed most in Japan.
Not only did I gain a really sweet, friendly, and funny friend, I was introduced to Japanese restaurants and culture, and even Mai's friends. And this is not to mention the enormous help Mai gave me with the Japanese language.
I have some background in Japanese, so during our first meeting each week, we communicated exclusively in Japanese, and at the second meeting, we spoke only English. Though it was challenging at the beginning, the approach proved to be really beneficial, as we practiced both listening and speaking skills.
I definitely encourage other Winter Program participants to join Tandem, not only for the language benefits, but also to have a gateway to understanding and getting to know Japanese culture from your partner's perspective.