Tokyo Tech Winter Program 2018
"I really enjoyed my experience, both for the opportunities to tackle a real-world problem in the lab, as well as to explore Japanese culture through university-organized events."
So says Kathrine Clark, a master's student at the University of Melbourne and one of 18 Australian university students participating in Tokyo Tech Winter Program 2018. In its third year, the Winter Program offered students from the University of Melbourne, Australian National University, the University of Sydney, and the University of New South Wales the opportunity to conduct individual research projects at Tokyo Tech laboratories for a 10-week period.
In addition to their research projects, participants gained exposure to culture, history, and technology in Japan through lectures and off-campus site visits in the Winter Program's Japan Studies course. As in 2017, the course included visits to the Central Technical Research Laboratory of JXTG Nippon Oil and Energy Corporation and Fukushima Renewable Energy Institute. The program was conducted between November 27, 2018 and February 5, 2019.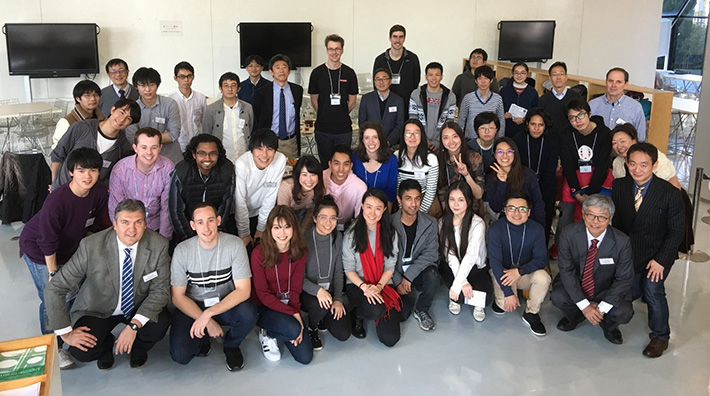 Experience at Nakashima Lab
Kathrine Clark
Master's student, School of Engineering (Biomedical), The University of Melbourne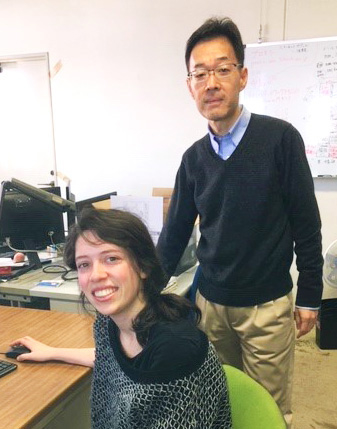 This (Australian) summer I was lucky enough to study at Tokyo Tech as part of the Institute's Winter Program. I conducted research in the laboratory of Professor Motomu Nakashima, where my project focused on designing a prosthetic paddle for use by forearm amputee swimmers doing breaststroke. For me, the program was a very positive first experience with research, both because of the fascinating research content, and because of the excellent support given to us by the program organizers. Under the guidance of Nakashima I learned many useful skills, including both technical skills to do with fluid force analysis and design, as well as more general research and organization skills that I think will be widely applicable in any future projects I undertake. I had regular meetings with the professor where we discussed my ideas and progress, and this really helped me maintain momentum and direction during my project. I was studying alongside the students in Nakashima laboratory, and I found them all so friendly and helpful, both with supporting me in my research, and with adjusting to life in Japan. I felt so lucky to be included in student life in my laboratory, including attending weekly seminars and playing baseball together.
Motomu Nakashima
Professor, Department of Systems and Control Engineering, School of Engineering
Our laboratory is working on research projects related to sports engineering, biomechanics, and welfare engineering. Although Kathrine's field is biomedical engineering, and her original interest was neural engineering, she showed a particular interest in the development of a training device to support Paralympic athletes. As a previous exchange student at our lab had been working on the development of a swimming paddle for swimmers with unilateral trans-radial amputation, I asked Kathrine to work on the improvement of that paddle.
Although there were many things for Kathrine to learn, she grasped new ideas quickly. She proposed a novel mechanism by herself and ran many simulations to validate her idea. As a result, her research bore fruit in the form of a final design proposal. Her positive attitude was motivating for the other students in the lab.
Experience at Ueda Lab
Alexis Schteinman
Undergraduate student, School of Materials Science and Engineering, the University of New South Wales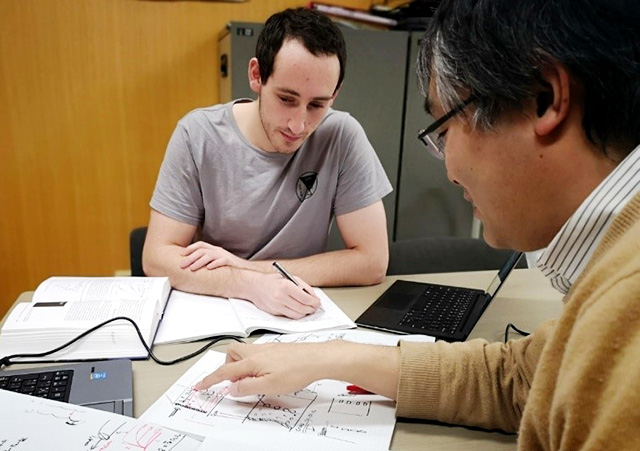 Under the supervision of Professor Mitsutoshi Ueda, my research project was aimed at understanding early formation of impenetrable chromium oxide layers in the high temperatures of 800℃ and steam oxidation conditions to provide stainless steels with higher resistance to oxidation for coal power plant applications. I was warmly welcomed at the combined Ueda and Kawamura Laboratory, and I recommend any future student with a keen interest in metallurgy to seek Ueda's guidance. Though I could not understand Japanese very well, I found the laboratory's seminars and presentations insightful. I was happy to obtain the results I wanted in the end, which made the entire program worthwhile.

Outside the lab, I travelled to Kyoto, Osaka, and Sapporo, where I saw many different localities and learned how different the Japanese countryside is from Tokyo. The Winter Program enabled me not to only visit Japan, but to live in Japan ― a totally different and more meaningful experience. I highly recommend it to anyone wishing to undertake research at a world-class institution.
Mitsutoshi Ueda
Associate Professor, Department of Materials Science and Engineering, School of Materials and Chemical Technology.
Our group is studying environmental degradation of heat-resistant steels at high temperatures. Alexis conducted short-term steam oxidation tests of model alloys and tried to clarify the formation mechanism of the protective oxide scales on commercial heat-resistant steels. He successfully conducted sample preparation, oxidation tests, and analysis of the oxidized specimens during his short stay at Tokyo Tech. Our group hopes that his experience in our laboratory is useful for his research career.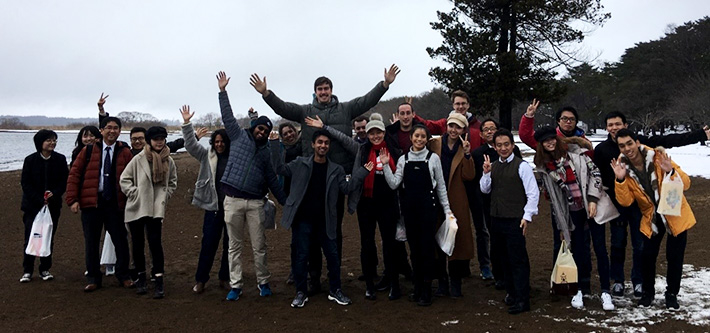 Japanese cultural events and interaction with local students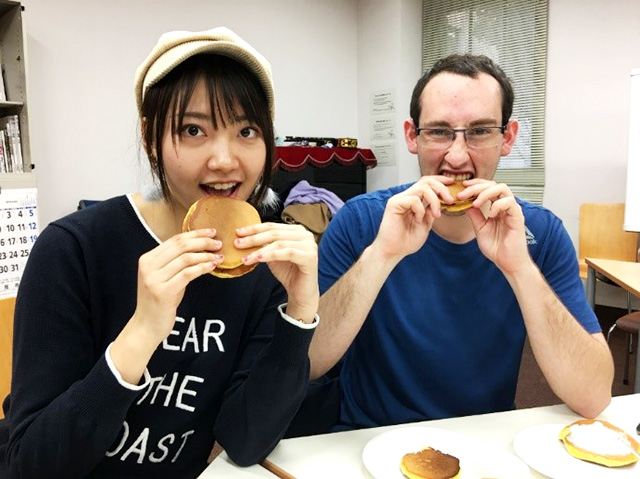 The Winter Program also provides optional activities for the participants to learn about and experience Japanese culture. In 2018, students were invited to observe a martial arts demonstration by Tokyo Tech's Aikido club, join a Hinamatsuri, or Japanese doll festival, celebration and engage in a confectionary workshop to prepare and taste dorayaki, a Japanese snack of small pancakes with sweet red bean paste.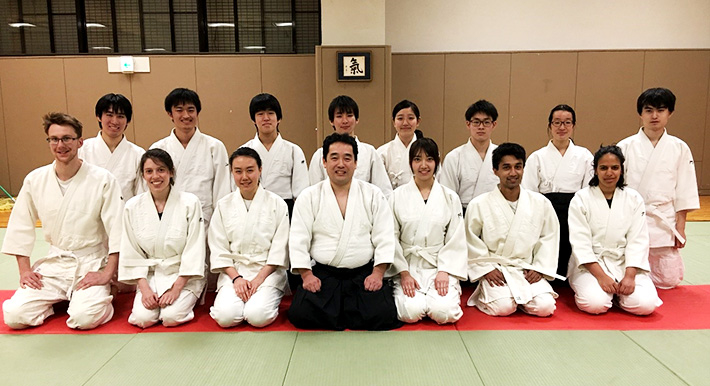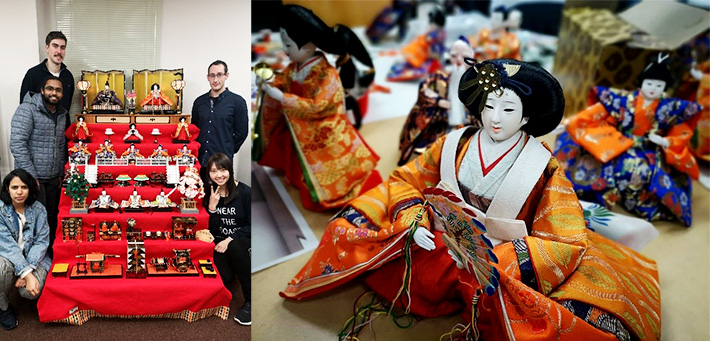 Final presentations
The Winter Program concluded with a day of poster presentations through which participants reported on their research projects to an audience comprised of fellow participants, lab members, and their Tokyo Tech academic supervisors. The Winter Program's People's Choice Award recognized Jiaxin Tan of the University of Melbourne for her poster on Eye Tracking Technique as a Cognitive Task Analysis Tool in Diagnosis of Infant Epilepsies.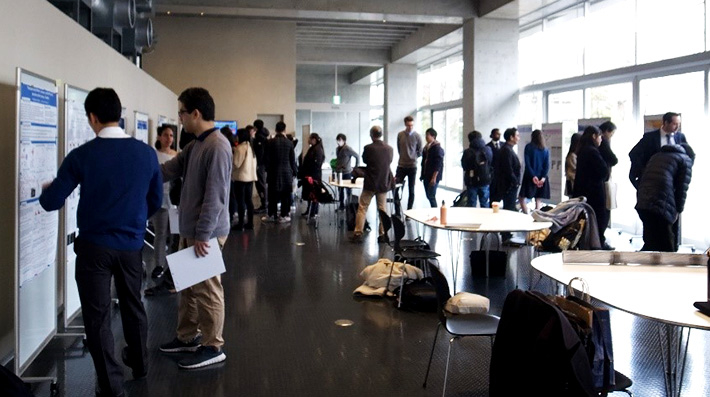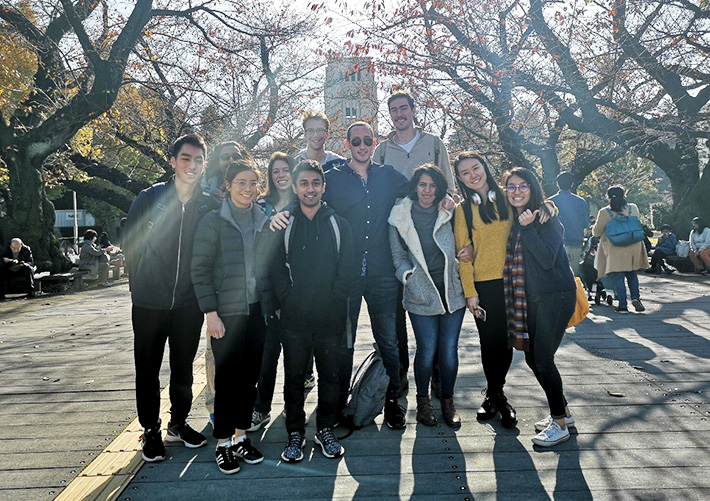 The Tokyo Tech Summer and Winter Programs are conducted as part of Tokyo Tech's Top Global University Project.