With the power of light, creating technologies that contribute to the world
Tatsuya Yoshihiro
Frontier Core–Technology Laboratories
Research & Development Management Headquarters
FUJIFILM Corporation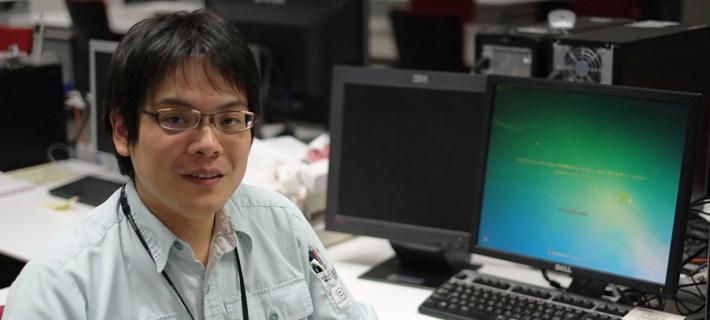 Please tell us about your current job (responsibilities, challenges, rewards, etc.).

As a member of the optics research group,I am involved in the research of nanostructured anti-reflection coating for digital camera lenses,from theoretical design to manufacturing on site.Photographic technology has had a major impact on business at Fujifilm,and we have dealt with light in its various forms.Our group mission is to develop new core technologies of light.The work I currently do differs significantly from my master's thesis research.However,the underlying theme, namely light,remains the same and continues to fascinate me to this day.
How is the knowledge and experience gained at Tokyo Tech being utilized in your current position?

The knowledge and experience gained at my Tokyo Tech lab provided strong foundations for me as a researcher.While investigating optical detection of single rare earth ions under the guidance of Associate Professor Michio Matsushita,I learned what light is,what it can do,and how it can be produced and measured.The fundamental knowledge obtained during lectures and specialist knowledge in optical technology collected during my lab days gave me a reliable,standard way of looking at things.
What are your future goals?

As a corporate researcher,I strive to help create the world's best technology embedded in our company's products.Despite our best efforts in infrastructure technology development and research into commercialization,there is no guarantee that our work will reach the public as a commercial product.Light plays an important role in displays,digital cameras,medical equipment,solar cells,and other products that improve people's lives.If we can continue to create products like these using novel technologies,then I feel we create new value.At times I envision the realization of"a world where light is fully utilized," with the help of my colleagues of course.
Please write a message to students aiming for Tokyo Tech.

Your university days provide a rare opportunity to study and research the topic you truly want to.Even if you change research fields as you progress to further study or move into work life,your university experience will still function as your fundamental strength.At times,I too questioned the necessity of what I was doing,but I now realize it was absolutely crucial in shaping me into who I am today.I wish you all a fulfilling student life.
Tatsuya Yoshihiro (from Kanagawa,Japan)
2009

Employed by FUJIFILM Corporation
2009

Master of Science, Department of Physics,Tokyo Institute of Technology
2007

Bachelor of Science, Department of Physics,Tokyo Institute of Technology
2002

Enrolled in 1st Academic Group,Tokyo Institute of Technology
The content of this article was accurate at the time of the interview.