From Handmade to large-scale:
a Wide Variety of Research Equipment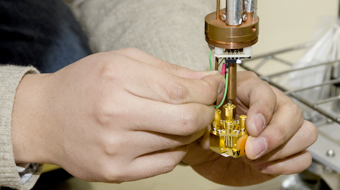 Physics research involves a wide range of methods. Some experimental research may require devices to be built from scratch. In other cases, large-scale equipment such as accelerators may be used. Theoretical research, on the other hand, may involve repetitive steps of logical thinking and calculations. Large-scale simulations are also an approach adopted quite often nowadays. Undergraduate students who major in physics will gain hands-on experience of some of these methods. In their final year, the Independent Research Project will ensure that they acquire specialist skills relevant to their research.