Towards a well-established scenario for planet formation
Ayumu Kuwahara
2nd-year master's student
Department of Earth and Planetary Sciences
School of Science
Academic Year 2019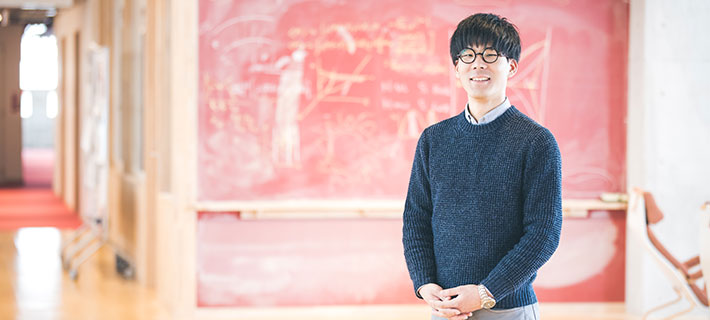 What is your research topic?

I am conducting research on gas flows around planets and their effects on planet formation.
Can you expand on the content of your research?

Soon after a star forms, a structure called a protoplanetary disk, made of gas and dust, develops around it. It is thought that planets are created through repeated collisions of small dust particles inside such a disk. By applying hydrodynamical simulations, I am conducting research on how gas flow around a planet affects its formation, particularly in the midway stage of this process.
What attracts you to this field of research?

How did planets like the one we live on form? Even simple questions like this still cannot be answered by modern planetary science. When attempting to solve this mystery, we apply an approach called numerical simulation and attempt to reproduce on a computer a phenomenon that may be occurring somewhere in the universe at a certain instant. It is a bit like creating another small universe in the palm of your hand. By engaging in this field and with science as my weapon of choice, I can enjoy confronting the magnificently endless universe.
Tell us about your future plans at Tokyo Tech and beyond.

In current planet formation theory, there are many detailed studies based on various hypotheses, but the results of these studies are not completely consistent. They resemble various scattered pieces that don't quite seem to fit the puzzle. My dream — through my own research — is to connect each of these pieces and construct one established scenario for planet formation. I sincerely hope that, one day, this will help one of the big mysteries of the universe.
The content of this article was accurate at the time of the interview.