Spreading interest in science to as many people as possible
Yuko Uchio
Chief,
Public Relations and Management Strategy Division
National Museum of Nature and Science, Japan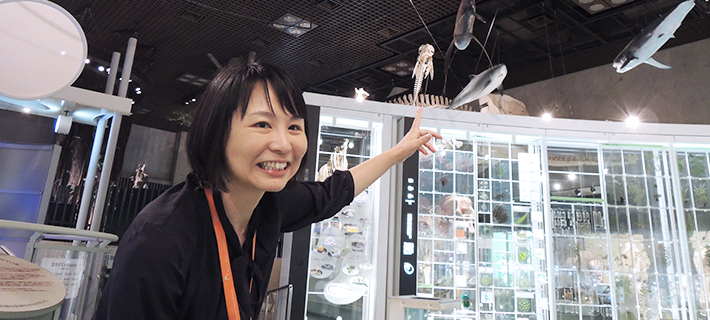 Please tell us about your current job (responsibilities, challenges, rewards, etc.).

I help organize various types of science events at the National Museum of Nature and Science in cooperation with external institutions and organizations. Our goal is to spread interest in science to the general public. Projects include hands-on science experiments and workshops for children of all ages, and tours executed together with local community members and businesses. As the coordinator, my job is connecting people in order to make each event as effective as possible. It is very rewarding to see the results of my work in the form of delighted participants at each event.
How is the knowledge and experience gained at Tokyo Tech being utilized in your current position?

As a student, I participated in an investigative research trip to Russia, which was a very rich experience. I communicated with local people, camped out at survey sites, and learned an incredible amount from my professors and fellow students. I learned to consider aspects from a variety of viewpoints, and gained not only knowledge, but also logic and perseverance. Everything I picked up during my student days — scientific knowledge, the ability to select information and to prioritize, improved communication skills — all of these aspects help me in my job today.
What are your future goals?

I want to carry out activities that spark the interest of people in science, or further deepen an existing interest. In addition to my duties here at the museum, I strive to be increasingly active in other areas such as volunteering for academic associations. While deepening my research into science communication, I want to dedicate my time to outreach activities, particularly in the field of geology, which is my area of expertise, and generally contribute more time to others.
Please write a message to students aiming for Tokyo Tech.

For me, Tokyo Tech was a wonderful place where I learned as much as I could possibly take in through exchanges and discussions with professor and students. I deepened my interest and knowledge in fields other than my own through constant contact with people from other areas of expertise. The environment at the Institute allows every student to experience significant personal development, and I hope that future students take full advantage of this.
Yuko Uchio (from Hiroshima, Japan)
2004

Employed by National Museum of Nature and Science, Tokyo
2004

Doctor of Science, Department of Earth and Planetary Sciences, Tokyo Institute of Technology
2000

Master of Science, Department of Earth and Planetary Sciences, Tokyo Institute of Technology
1998

Enrolled in master's program, Department of Earth and Planetary Sciences, Tokyo Institute of Technology
The content of this article was accurate at the time of the interview.