A place of learning with friendly and attentive faculty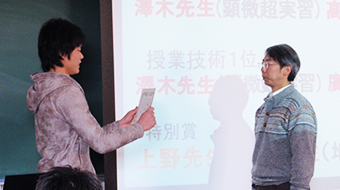 Undergraduate students majoring in Earth and Planetary Sciences enjoy a high degree of autonomy with regard to their studies. Apart from three compulsory courses — one laboratory course, Research Opportunity in Laboratories, and Independent Research Project — students are free to choose the courses they take. Even the laboratories that students join to conduct their Independent Research Project are decided by the students themselves.
Students are also active in improving the quality of instruction they receive. Since the department's founding, they have conducted their own course evaluation surveys, the results of which are announced and submitted in the form of reports to faculty members.