Five researchers received the 2022 ASUNARO Grant, which is Tokyo Tech financial support for researchers under 45 years of age engaged in basic research. A ceremony to present the researchers with their award notices was held on June 16.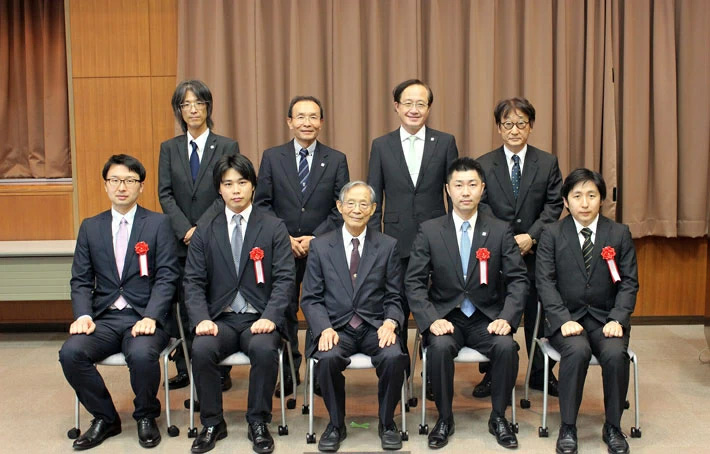 The grant was established in FY 2020, in response to Professor Emeritus Koichi Asano's wish to donate a portion of the proceeds from his research, saying, "I am grateful to society for the many years of support that allowed my work in basic research to flourish. In return, I would like to use the funds to support basic research by future generations."
This is the second time the Institute has provided the grant for which 17 researchers applied and 5 were selected as recipients. At the ceremony to present the recipients with their award notices, President Kazuya Masu stated in a speech that he was looking forward to seeing the development of their research.
Professor Emeritus Asano also addressed the recipients, saying that when recipients feel they are up against the wall on all sides in their research, he hopes they will not give up and that they will try again one last time because, at such moments, it is often the case that they are just about to discover the solution to their problem. Following their speeches, recipients explained their research activities and then had a deep and active discussion with Professor Emeritus Asano, President Masu, Osamu Watanabe, Executive Vice President for Research, Shigeru Hioki, Vice President for Public Engagement.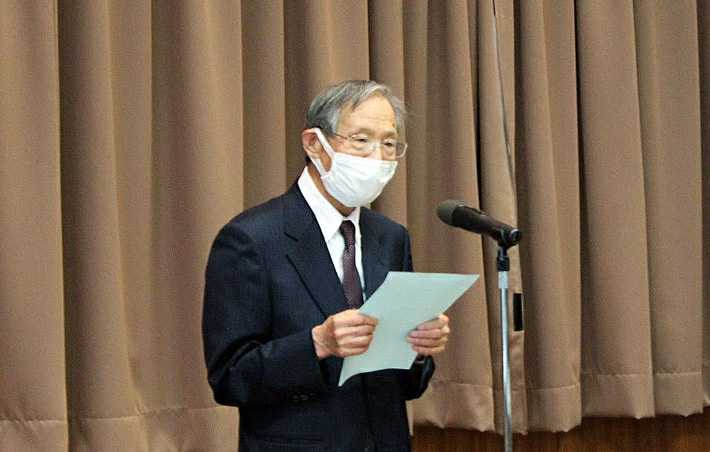 Overview of the ASUNARO Grant
Objective
The Fund is designed to provide financial support to researchers engaged in fundamental science and engineering research, including steady research in mature engineering fields, engineering research that explores new possibilities based on a long-term perspective without being influenced by trends, and original engineering research for which it is difficult to acquire funding.
Eligibility
Associate Professor, Associate Professor(Lecturer), or Assistant Professor (excluding Specially Appointed Faculty) who is employed by Tokyo Tech and under 45 years of age as of April 1, 2022.
Research support period
As a general rule, the support period is 1 year from the day the research support begins. However, depending on the research plan, it is possible to apply for a 2-year period.
Amount of support
1,000,000 yen per research proposal
FY2022 Recipients of ASUNARO Grant
Hiroaki ISHIZUKA
Associate professor / Department of Physics, School of Science
Research Topic: Theory of electron-phonon interaction in moire super-structures
Graphene is a semiconductor with extraordinary properties that attract interest in basic science and application. In addition, recent experiments found that the semiconductor turns into a superconductor (a material with zero resistivity) and ferromagnet by stacking a few layers of graphene in a certain manner. To understand the origin of the rich phases arising from stacking, we studied the electron-electron and electron-phonon interactions of the electrons. Our calculation shows that the interactions are strongly modified from the conventional form owing to the unique electronic state realized in this material. The predicted interaction reproduces the experimental observation, which contradicts conventional theories. The result suggests that the predicted modification of interaction occurs in the material, playing key roles in their electronic properties. This discovery potentially impacts the understanding of interaction effects observed in the stacked graphene, including ferromagnetism and superconductivity.
Kihiro YAMADA
Assistant professor / Department of Physics, School of Science
Research Topic: Creation of spin current by a ultrashort laser pulse in heavy metal/magnetic insulator hetero structures
Spin currents, flows of spin angular momentum, can be used in next-generation information processing, fast non-volatile memories, and hard-disc drives with ultra-high recording density. Therefore, developing an efficient method of generating spin currents is essential for above applications. While there are a lot of investigations of generating spin currents from charge and heat currents, the optical generation of spin currents has been much less explored. Especially, the fast and energy-efficient features of an ultrashort optical pulse are not fully used to create spin currents. The goal of our study is to unveil the mechanism of femtosecond laser-induced spin currents in heavy metal / magnetic insulator junctions. Based on the unveiled mechanism, we would like to show a pathway toward further increasing the light-induced spin currents that may be important for future applications.
Satoshi KANEKO
Assistant professor / Department of Chemistry, School of Science

Research Topic: Control of the Electron Transport of the Molecular Junction by the Modulation of the Intermolecular Interaction
Intermolecular interactions are essential in the function of living organisms and the composition of materials. Recent developments in nanotechnology enable the scale down of the research target to nanometer to sub-nanometer sizes, raising the interest in the electron transport between single molecules via the intermolecular interactions. However, it is difficult to characterize the structure of the molecular dimmer connected to the metal electrodes. In this study, we focus on the surface-enhanced Raman scattering enabling the detection of the vibrational signal from a single molecule. We tackle the characterization of the electron transport through the intermolecular interactions at the dimmer connected to the metal electrode and control it based on the analysis of the electronic current signal synchronized with vibrational spectroscopy.
Yusuke TAMAKI
Assistant professor / Department of Chemistry, School of Science
Research Topic: Development of redox photosensitizer controlling spin orbit coupling using metal complex-organic compound hybrids
Recently, the artificial photosynthesis such as CO2 reduction and water splitting using solar light as an energy source and photo-induced organic reactions have attracted attention. Redox photosensitizers that absorb visible light and initiate electron transfer processes play a critical role in these reactions. The triplet excited (T1) state of a photosensitizer having long lifetime is highly important to initiate electron transfer processes. The heavy-atom effect of transition metals accelerate not only the processes to form T1 state from ground state but also the deactivation processes of T1 state and backward electron transfer processes from T1 state. In this study, therefore, metal complex photosensitizer will be connected to an organic molecule to use as a triplet energy reservoir. The excited triplet energy of metal complex photosensitizer will be transferred to the organic molecule and the deactivation and backward electron transfer from T1 state are expected to be suppressed. Superior photosensitizer, that cannot be achieved by a metal complex or an organic molecule themselves, can be developed.
Hidehiro ITO
Assistant professor / Department of Life Science and Technology, School of Life Science and Technology
Research Topic: Understanding the mechanism of rare-earth elements acquisition by methanotrophs
Rare earth elements (REEs) are essential metals for high-technology products such as high-performance permanent magnets. However, the bioavailability of REEs had been unknown. Recently, metalloenzymes and gene expression regulation dependent on lanthanide ions have been discovered in microorganisms that metabolize C1 compounds. On the other hand, the details of REEs uptake mechanism into microorganisms from the environment have not been clarified. The purpose of this study is to elucidate the mechanism of rare-earth elements acquisition by methanotroph, Methylosinus trichosporium OB3b. Chelate compounds that bind lanthanides are identified from analysis of organic compounds in the culture medium of M. trichosporium OB3b. Furthermore, the biosynthetic pathway of the lanthanide chelate compounds is predicted based on the gene expression levels of M. trichosporium OB3b.
Related Link