The 16th Tokyo Tech BioCon, or bio-creativity contest, was held online on November 21, 2020.
Foundations of the contest
Bio-Creative Design 1 and 2, which form the basis of the Tokyo Tech BioCon, are courses offered to first-year students. During these courses, students work in small groups to plan and design easy tools that can be utilized to teach bioscience and biotechnology to the public, particularly elementary and middle school students, or are otherwise useful to society. While boosting creativity, the courses aim to provide students with the fundamentals of bioscience.
This year, 107 students making up 20 teams carried out investigations, experiments, and surveys to gather data for their bio-creative design project.
The process began in April when new students formed teams with other Tokyo Tech newcomers and began thinking about their projects. Progress was hampered by the cancellation of in-person classes due to COVID-19, but students quickly adapted and moved their discussions online. Despite the sudden shift in the environment, each team spent the next six months collaborating, conducting experiments, and enhancing their creations.
Online presentations and bio-play with Tokyo Tech students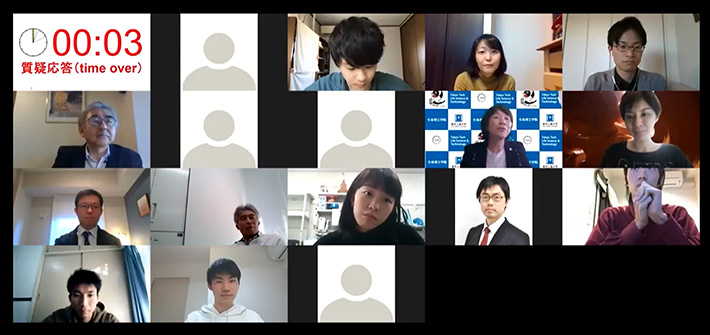 The contest itself was held fully online and consisted of three categories: oral presentations, poster presentations, and bio-play sessions with Tokyo Tech students. During the first of these, teams had 11 minutes to explain their objectives, experimental methods, and collected data. Each team received advice and questions from the judges and learned about various topics through the presentations of other teams. This year's presentation topics were as follows.
1

2

3

4

5

6

7

8

9

10

11

12

13

14

15

16

17

18

19

20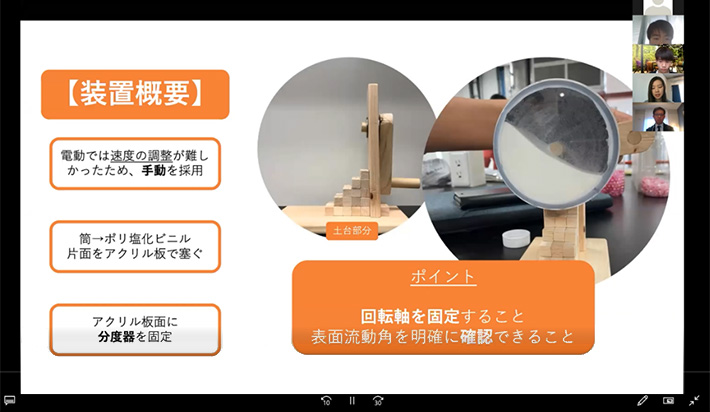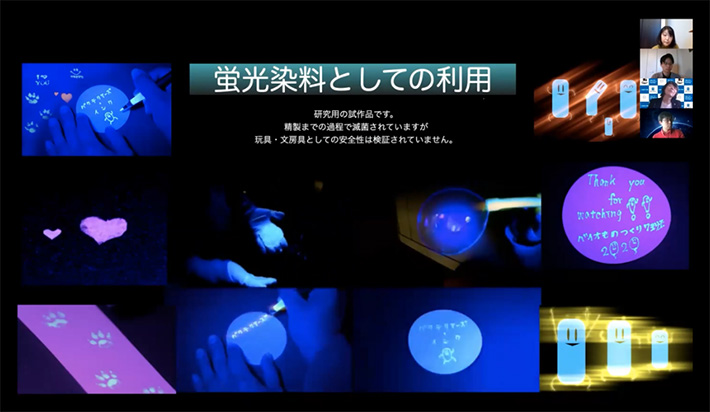 The bio-play session, which allows elementary and middle school students to test out the BioCon creations, are traditionally held face to face. This year's situation would not allow this, so the session was moved online where participants could speak to Tokyo Tech students at virtual booths. Approximately 60 youngsters participated.
Evaluation and contest results
This year, awards were presented to the strongest teams after a comprehensive evaluation by two faculty members and five judges invited from outside the university. Students, faculty members, and bio-session participants could cast their vote to determine the winners of the Audience Award and Poster Presentation Award. This year, Group 3 claimed overall victory with their work on antlion traps.
Winner

Group 3. Who knew how complex an antlion trap was?

2nd place

Group 7. Bacteria's ink: Making fluorescent ink with bacteria

3rd place

Group 17. Homemade starch into plastic

Industry Collaboration Award

Group 5. Semipermanence: Making your boiled egg crunchy

Judges' Award

Group 10. Let's make plastic: Performance and improvement of biodegradable plastic
Group 20. Let's play with volvox!

Collaboration Center for Design and Manufacturing Award

Group 18. Creating fireworks with microorganisms

Yokohama City Board of Education Award

Group 11. Let's learn biology through SNS

Audience Award

Group 7. Bacteria's ink: Making fluorescent ink with bacteria

Poster Presentation Award

Group 7. Bacteria's ink: Making fluorescent ink with bacteria
Congratulations to all the winners and other participants who took their first steps in research. The last six months posed challenges that the BioCon had not experienced in its sixteen-year history, but thanks to the efforts of all those involved, the contest and related courses were completed successfully.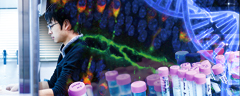 School of Life Science and Technology
—Unravel the Complex and Diverse Phenomena of Life—
Information on School of Life Science and Technology inaugurated in April 2016
School of Life Science and Technology

Schools, Departments, and Institute for Liberal Arts