On November 2, 2019, the Japanese Exchange (JEx) committee of the Tokyo Tech International Student Association (TISA) teamed up with the Tokyo Tech Judo Club to provide international students with a unique opportunity to experience the traditional Japanese sport.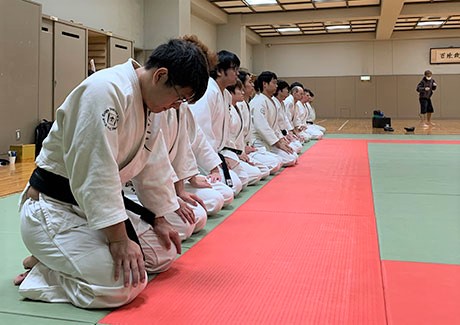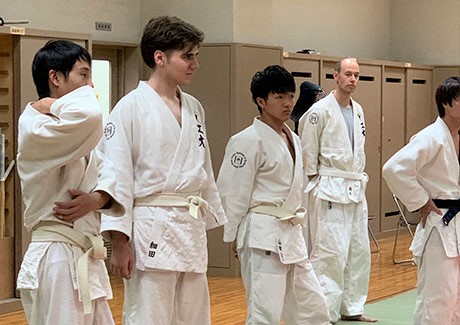 Practicing judo etiquette and learning some moves
From the start of the special training session, Tokyo Tech's more seasoned judokas emphasized to the newcomers the concept of reigi, or courtesy, which is treated in high regards in judo. The TISA participants learned that they must start and end every training session with a special bowing ceremony, and demonstrate respect for their opponent before and after every match. The judo club members also shared with their international counterparts the basics of judo wear and techniques, including ukemi — the skill of fall breaking to minimize injury and pain.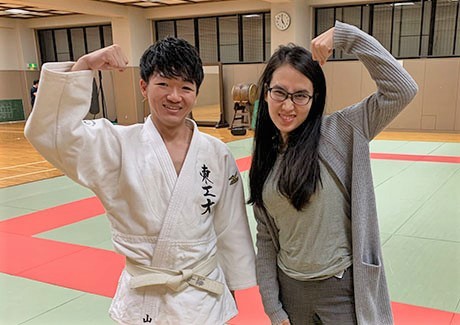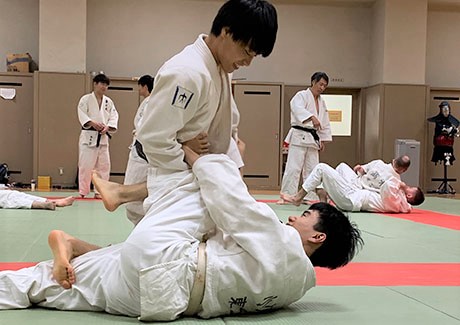 Participants showing off their strength and getting physical
The event also provided an excellent setting for cross-cultural communication. While a fully Japanese environment might seem daunting at first, the TISA students quickly realized that their hosts were patient and attentive. Language barriers were dealt with quickly using gestures and other non-verbal communication.
Overall, the event was a great opportunity for students to experience each other's cultures, and left everyone feeling rejuvenated. Meeting new friends, experiencing different cultures, and just having fun — these can all be expected at future TISA events.
Comments from participants
Nattanon Tharachai
4th year, Information and Communications Engineering
I'm a 4th-year student and my research is about artificial intelligence. I have a long-term goal to create AI that can parent and guide humanity to a happier world. Currently, I am working on education and technology. I had a lot of fun and got cute small scratches from the event. Judo is both traditional and practical. Experiencing it through this event gave me the valuable chance to learn this Japanese tradition while interacting with Japanese club members and other international students. Thank you TISA and Tokyo Tech Judo club for this wonderful experience!
Comments from organizers
Hibiki Mori
2nd year, Life Science and Technology
Event manager
I'm a 2nd-year student majoring in life science and technology. I decided to join TISA in order to communicate with international students by organizing events like this one. I think this was a good opportunity for international students and Japanese students to experience judo and enjoy international exchange. The Judo Club did a wonderful job in holding this event. It was fun for me to experience judo and communicate with the other attendees.
Oleksii Kyrylchuk
2nd-year, master's student, Computer Science
JEx officer
I'm a 2nd-year master's student studying artificial intelligence at the Murata Lab. I joined TISA in the summer last year to support the international community in Tokyo Tech as well as develop my event planning and leadership skills. This was the first event that I supervised in my role as the TISA JEx officer. Hibiki did a good job at communicating with the people from the Judo Club and was able to reserve everything in time, which made the event planning a breeze! I also used it as a chance to try out some facilitator routines I've learned from attending events like "d.school comes to Tokyo Tech," and while I would say that there's always room for improvement in every event you make, this one went pretty well. The participants seemed to enjoy the experience.
Atsushi Ono
4th year, Chemical Science and Engineering
Judo Club captain
I'm a 4th-year student majoring in chemistry and conducting research on organometallic complexes. I'm also working on club activities while doing my research, and this time I planned and participated in a cultural exchange event. I'm really glad that people from many different cultures were able to enjoy judo. I'd like to help out with cultural exchange events like this one in the future as well.
Tokyo Tech International Student Association (TISA)
TISA is a student organization that supports international students and works to enlarge the human resource network among Tokyo Tech students around the globe. TISA promotes cross-cultural understanding among Tokyo Tech students in addition to organizing useful academic, educational, social, cultural, and recreational activities in the best interest of the association, its members, and the Institute.

Tokyo Tech Judo Club is supported by Tokyo Tech Fund
Giving to Tokyo Tech