Team iGEM Tokyo Tech has won the silver medal at the 2019 International Genetically Engineered Machine Competition (iGEM) held in Boston, Massachusetts from October 31 to November 4. Approximately 360 teams and over 40,000 students participated.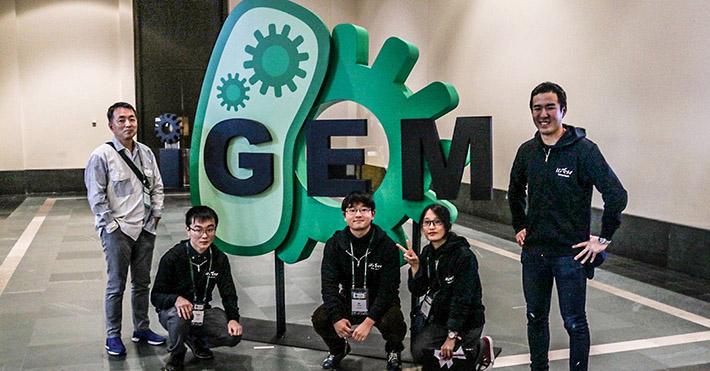 The iGEM competition is an international synthetic biology competition for high school, undergraduate, and graduate-level students. Student teams are given a kit of standard genetic parts called BioBricks, and are asked to design and build a new biological system. Each team presents their results to a panel of judges.
In 2019, the Tokyo Tech team embarked on a journey to study Turing patterns, which offer a plausible explanation for the various stripes and patterns on animals such as zebras and giraffes. These patterns are simple enough to create using computer simulations, but are very difficult to recreate using cells.
In an attempt to elucidate the mechanism of pattern formation and understand morphogenesis, i.e. the appearance of an organism's body plan, the Tokyo Tech team programmed E. coli to form patterns by designing a new genetic circuit in which bacteria use N-acyl-L-homoserine lactone to communicate.
Comment from Tokyo Tech team leader
Moe Takahashi
3rd year, Life Science and Technology
I have been part of the iGEM team since I was a first-year student. We have had our ups and downs, but the support from our academic supervisors and other team members has been fantastic. We have worked hard and we are proud of our silver medal.
The iGEM competition appears to be experiencing a shift from science towards monozukuri, or the creation of things. For the Tokyo Tech team, which has a long history at the contest, there have been many obstacles, but the gains have also been significant. I sincerely hope our younger teammates and successors will continue to enjoy the challenges offered by the competition.
Participating students
Moe Takahashi

3rd year, Life Science and Technology

So Tsuruta

3rd year, Life Science and Technology

Akito Machida

3rd year, Life Science and Technology

Ryoto Matsuda

3rd year, Life Science and Technology

Yan Ming Voon

3rd year, Life Science and Technology

Shin Ying Ng

3rd year, Life Science and Technology

Kazuya Izawa

3rd year, Computer Science

Masaaki Nakano

3rd year, Electrical and Electronic Engineering

Takato Saito

2nd year, Life Science and Technology

Yusuke Kato

2nd year, Life Science and Technology

Yumi Kitano

2nd year, Life Science and Technology

Ayano Tabira

2nd year, Life Science and Technology

Koki Date

2nd year, Life Science and Technology

Aoi Shinkai

1st year, School of Life Science and Technology

Ryohei Ruhu

1st year, School of Life Science and Technology

Akari Kuroishi

1st year, School of Life Science and Technology

Tamaha Ogawa

1st year, School of Life Science and Technology

Hajime Fujita

4th year, Life Science and Technology
Instructors
Assoc. Prof. Yoh-ichi Tagawa, School of Life Science and Technology
Assoc. Prof. Nobuhiro Hayashi, School of Life Science and Technology
Prof. Masayuki Yamamura, School of Computing
Assoc. Prof. Yoshihisa Matsumoto, Institute of Innovative Research
Akifumi Nishida, Research Staff, School of Life Science and Technology
Shoya Yasuda, Research Staff, School of Life Science and Technology

This project is supported by Tokyo Tech Fund
Tokyo Institute of Technology Fund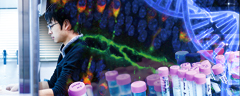 School of Life Science and Technology
- Unravel the Complex and Diverse Phenomena of Life -
Information on School of Life Science and Technology inaugurated in April 2016
School of Life Science and Technology

Schools, Departments, and Institute for Liberal Arts