Another world record for Tokyo Tech with 10th straight iGEM gold medal
Tokyo Tech achieved yet another gold medal at the International Genetically Engineered Machine Competition (iGEM) in 2016, extending the world record to a tenth straight gold. Of the 305 iGEM teams participating in 2016, only Tokyo Tech and the University of Freiburg from Germany have been awarded the shiniest medal ten consecutive times.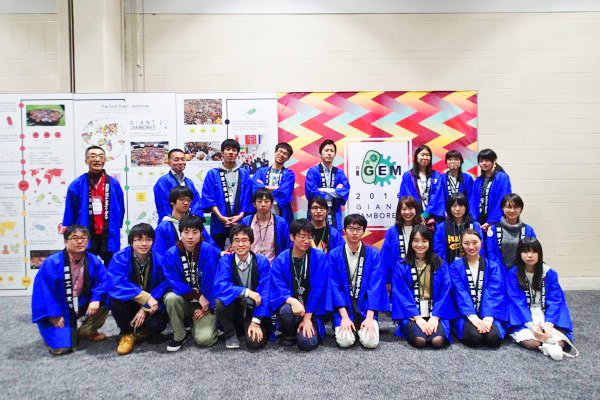 iGEM is the world's premier competition for undergraduate synthetic biology in which student teams are given a kit of standard genetic parts called BioBricks, which are used to design and build a new biological system. To help students focus their projects on certain subject areas, the competition is divided into tracks. This year, the iGEM included ten standard tracks and four special new tracks. Results are shared in presentation form and evaluated by judges.
iGEM 2016 was held in Boston from October 27 to 31, with 305 teams from around the world participating. These included students from renowned universities such as MIT, Ruprecht-Karls-Universität Heidelberg, and Tsinghua University.
This year's Tokyo Tech team was made up of 17 students from the School of Bioscience and Biotechnology, four students from the School of Engineering, and one from the School of Science. The team's goal was to spread awareness of the importance of synthetic biology by retelling the famous fairytale of Snow White using E. coli. Team Tokyo Tech also made videos on genetic modification and showed them at nearby high schools during the contest.
2016 Tokyo Tech team members
School of Bioscience and Biotechnology
Kazuki Fujisawa

3rd year, Biomolecular Engineering

Kentaro Akiyama

3rd year, Biomolecular Engineering

Hiro Kondo

3rd year, Bioengineering

Mizuki Tabata

3rd year, Biomolecular Engineering

Yuya Netsu

3rd year, Bioengineering

Narumi Ogawa

2nd year, Biotechnology

Mako Kono

2nd year, Biotechnology

Nozoki Takeue

2nd year, Biotechnology

Ayako Tamaki

2nd year, Biotechnology

Kengo Nakahara

2nd year, Biotechnology

Miki Nishimori

2nd year, Biotechnology

Nae Fu

2nd year, Biotechnology

Jiawan Sun

2nd year, Bioscience

Maoko Takenoshita

2nd year, Bioscience

Hazuki Hasegawa

2nd year, Bioscience

Yoshio Takata

1st year, 7th Academic Group

Hajime Fujita

1st year, 7th Academic Group
School of Engineering
Ryuta Sasaki

3rd year, Computer Science

Xin Guo

2nd year, International Development Engineering

Alex Miguel Llacsahuanga Allcca

2nd year, Mechanical Engineering and Science

Koji Nishikawa

2nd year, Organic and Polymeric Materials
School of Science
Shunya Akiyama

3rd year, Physics

Tokyo Institute of Technology iGEM is supported by Tokyo Tech Fund
Giving to Tokyo Tech

Contact
Department of Life Science and Technology, School of Life Science and Technology
Associate Professor Yoh-ichi Tagawa
Email ytagawa@bio.titech.ac.jp
Tel +81-45-924-5791