Tokyo Tech's Shogi Club finished third in the group category of the East Japan Student Shogi Championships, held in Chiba City from August 20 to 22.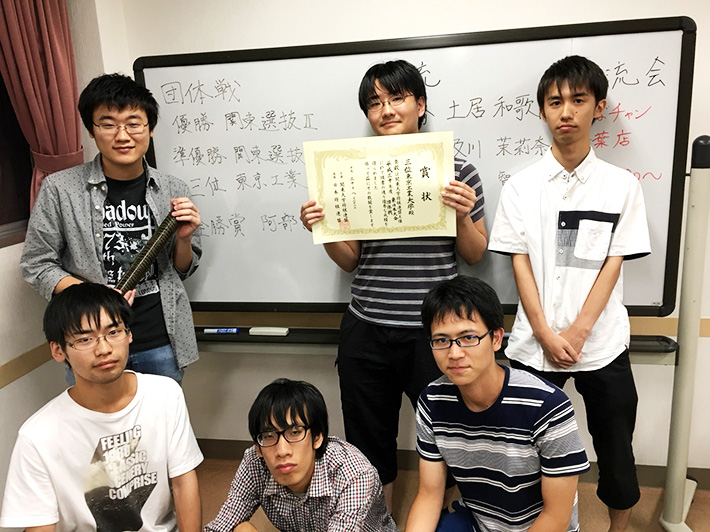 Organized by the Kanto Area Universities Shogi Federation, the competition brought together ten shogi teams from eastern Japan - five university teams and five regional teams. Tokyo Tech's players defeated one of the favorites, Nihon University, and conceded only to Tohoku University and the Kanto II regional team, finishing with a 7-2 record. This earned them top spot among the participating universities and a third place finish overall.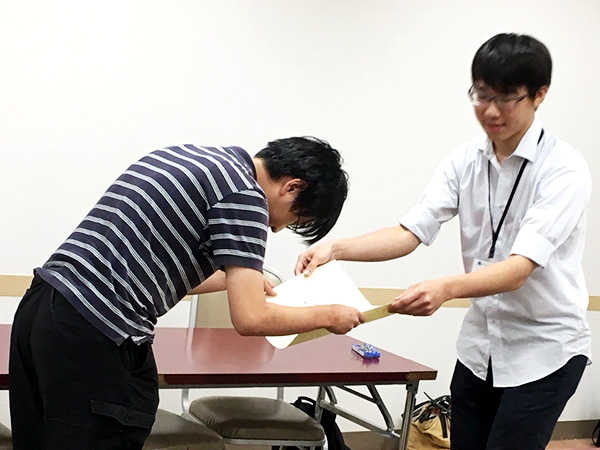 Comments from vice-captain Shohei Takada
This team competition involved five players, with three individual victories required to win each group match. Personally, I lost my bearings on the final day and was defeated, but thankfully, my team members outperformed their opponents and we finished that day with two wins and one loss, guaranteeing third place overall. I am extremely grateful to my teammates - Hiroki Ohno, Saiki Ariga, Chiaki Iida, Jun Oohigashi, Ryosuke Shiino, and Akira Tanaka for their efforts, and look forward to improving my performance in the next tournament.
Takada, a 3rd-year Systems and Control Engineering student, dedicates his study time to learning about fluid dynamics, image processing, and the mechanisms of robots.
Comments from captain Hiroki Ohno
My strategy as captain was to beat one of the top opponents and alleviate the pressure on my teammates. I lost. However, my teammates performed very well in the matches against the Kanto I regional team and Hokkai Gakuen University, and I applaud them for that. This tournament was a prime example of teammates helping each other out. From seven matches, we won five with a 3-2 score line, and I could really feel the strength of the team as a whole. I look forward to carrying this team spirit forward at the fall competition.
Hiroki Ohno, a 2nd-year student in the Department of Life Science and Technology. Last quarter, he spent two days a week conducting experiments in the lab, expanding his knowledge in fields such as thermodynamics, organic chemistry, and molecular biology.
Tokyo Tech Shogi Club
Each spring and fall, members of the Tokyo Tech Shogi Club participate in individual and group competitions around Japan. The club includes approximately 40 members ranging from bachelor to doctoral-level students. Some of these members are experienced players with nationwide competition experience, while others are complete beginners. The club meets twice a week to practice.