Tokyo Tech student third in Kanto Student Shogi Tournament
Hiroki Ohno, a 2nd-year Life Science and Technology student at Tokyo Tech, placed third in the All-Students Shogi Championships, organized by the Kanto Area Universities Shogi Federation.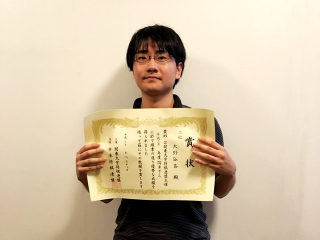 The tournament, aimed at shogi enthusiasts ranging from kindergarten to university graduate students, was held in Tokyo on August 17 and 18. On the first day, 88 participants ranging from elementary school to university students competed in the preliminary stages, where two wins meant the player advanced, while those who lost twice were knocked out. On the second day, when the best 16 continued in sudden death format, Ohno won his first bout against high school prodigy Kosei Kawashima, but lost in the semifinal against Waseda University's Hiroo Zenimoto. In the third-place match, Ohno defeated Takasaki City University of Economics rival Yusaku Watanabe.
Comments from Hiroki Ohno
I am happy I came in third, but at the same time it is regrettable, as I did reach the final last year in this tournament. I hope to win the whole tournament next year. I am very interested in the studies within my department, and managing my time between academics and shogi is a challenge. As captain of the Shogi Club, I am trying to encourage my teammates to do well at the university group competitions in the fall and spring. If we rank second in the Kanto area, we qualify for the all-Japan championships. Last spring, we were fourth, so we still have some work to do.
Ohno is a 2nd-year student in the Department of Life Science and Technology. Last quarter, he spent two days a week conducting experiments in the lab, expanding his knowledge in fields such as thermodynamics, organic chemistry, and molecular biology.
Tokyo Tech Shogi Club
Each spring and fall, members of the Tokyo Tech Shogi Club participate in individual and group competitions around Japan. The club includes approximately 40 members ranging from bachelor to doctoral-level students. Some of these members are experienced players with nationwide competition experience, while others are complete beginners. The club meets twice a week to practice.