Tokyo Tech students and faculty took part in Science Fair 2018 for junior high and high school students of Kanagawa Prefecture on July 14. In collaboration with Bio Creative Staff, the Institute's biological sciences student club, the Institute set up an experiment booth and a Tokyo Tech info corner to spread the word on science and technology.
Science Fair is an annual event for middle and high school students of Japan's second most populous prefecture. It aims to enhance students' understanding of science and engineering, encourage them to advance into these fields as they move into higher education, and ultimately develop talented professionals capable of boosting science, technology, and industry coming out of Kanagawa. This year, 16 universities and 3 companies from the prefecture participated, attracting 2,178 visitors to the venue in Yokohama.
Experiment booth
"The wonders of light and living beings," this year's theme at Tokyo Tech's experiment booth, allowed visitors to examine how living creatures utilize light in their natural habitat. First, participants learned the basics by observing how scarab beetles make use of circularly polarized light. By using a similar mechanism, as well as some clear film, cellophane tape, and paper cups, they then created their own polarizing kaleidoscope. Throughout the day, over 150 visitors to the booth took home their light-inspired creations.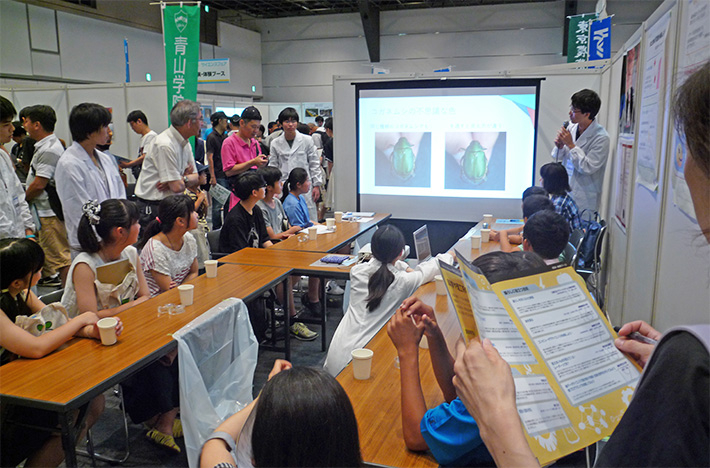 Examining the scarab beetle at Tokyo Tech's experiment booth
Tokyo Tech info corner
Tokyo Tech also set up an info corner where current students were available for consultation throughout the day. Some 20 visitors sat down to hear about the Institute's particularly features, admissions and entrance examinations, and what and how to study during the tough examination periods. Particularly enthusiastic prospective students spent up to an hour asking questions at the info corner.
Overall, the day was a successful one. Through hands-on experiences and informative discussions, Tokyo Tech students and faculty members were once again able to share with younger generations the exciting opportunities Tokyo Tech has to offer.
Bio Creative Staff
Bio Creative Staff (BCS) is an official Tokyo Tech student club established mainly by students of the School of Life Science and Technology in 2009 to spread awareness among children regarding the biological sciences. Each year, BCS organizes the BioCon, or bio-creativity contest for high school students, hosts experimental workshops for children, and holds exhibitions at various science-related events.