Career Paths
Bachelor's Degree Graduates
About 90% of graduates advance to the graduate program to conduct more specialized research.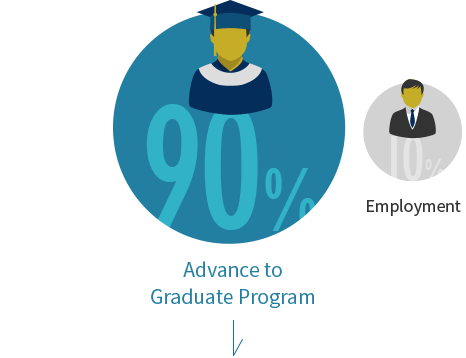 Graduate Majors Connected
to the Undergraduate Major in Systems
and Control Engineering
Master's and Doctoral Degree Graduates
Tokyo Tech has produced leaders in many areas. Master's and doctoral degree graduates use their specialized knowledge to become successful professionals in various fields.
Career Paths
for Systems and Control Engineering
Postgraduates
Potential Career Paths

Education and research institutes in Japan and overseas
Companies in the manufacturing industry and service industry, etc.
Government offices
Potential Employers for Graduates

The Oriental Land / Olympus / Kawasaki Heavy Industries / Komatsu / JR Central / JFE Steel / Shimadzu / Nippon Steel & Sumitomo Metal / Sony / Dainippon Screen / Denso / Toshiba / TOTO / Toyota Motor / Dwango / NAVITIME JAPAN / Nittoku Engineering / NEC / Nomura Research Institute / Hitachi / Fuji Electric / Honda Motor / Mitsubishi Heavy Industries / Yaskawa Electric / Yokogawa Electric
Career Paths
for Engineering Sciences and Design
Postgraduates
Potential Career Paths

Business designers who use engineering design
Innovators who combine their deep insight into citizens and consumers with engineering to reform society
Researchers and engineers at business enterprises, etc.
Researchers and academics at universities, etc.
Potential Employers for Graduates

Ministry of Land, Infrastructure, Transport and Tourism / Tokyo Metropolitan Government / JAXA / National Institute of Information and Communications Technology / Electronic Navigation Research Institute / Japan Advanced Institute of Science and Technology / Université catholique de Louvain (post doctor) / IHI / IBM / Accenture / Asahi Kasei / Itokuro / Intelligence / NTT East / NTT Comware / Oracle / Kajima / Calsonic Kansei / Environment Design Institute / KDDI / Komatsu / SYGMAXYZ / Shimano / Shimizu Jyukankyo Research Institute / Schlunmberger Limited / Nippon Steel & Sumitomo Metal / Sekisui Chemical / National Maritime Research Institute / Sony / Sony Mobile / SoftBank Mobile / Takasago Thermal Engineering / Takenaka / TerraSky / Tokyo Gas / Toshiba / Toshiba Machine / Toray / Toyota Motor / Nikon / NISSAN / Nisshin Steel / Japan Airlines / Nomura Real Estate Development / Fujitsu / Future Architect / Marubeni / Sumitomo Mitsui Banking / Mitsubishi Electric / Mitsubishi Materials / Morinaga Milk Industry / Yamaha / Land Brains / Recruit / Ricoh