On December 25, 2018, Professor Koichi Suzumori of the Department of Mechanical Engineering of the School of Engineering at Tokyo Tech, along with Tokyo Tech Venture H-MUSCLE Co., Ltd. established with Suzumori, Assistant Professor Hiroyuki Nabae and President Kiyohiro Hioki of JPN Co., Ltd., held a press seminar at the Ookayama Campus for the hydraulic actuator they have developed. The technology developed by Suzumori and others is a hydraulic actuator (equipment that generates force) that will allow robots to operate in disaster sites and other harsh environments. H-MUSCLE Co., Ltd. has been established to pursue applications for the actuator.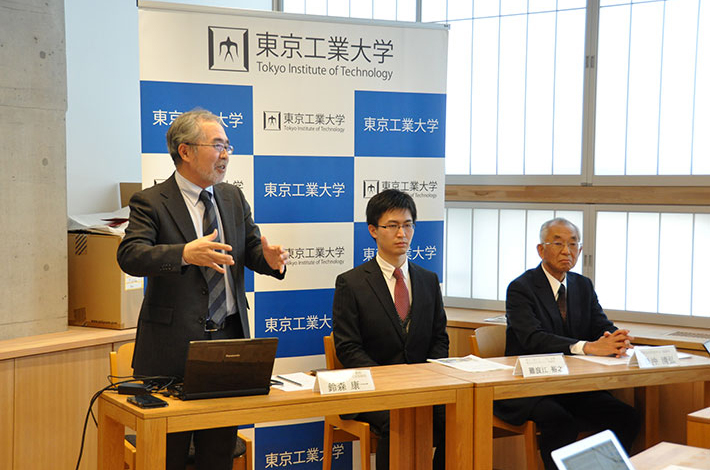 Background and the Point of Development
Research and development of remote-operated and autonomous outdoor robots that do not give out and can work toughly, even in extreme disaster sites, is one important public policy for Japan, a country often hit by natural disasters. It was therefore promoted in the Impulsing Paradigm Change through Disruptive Technologies Program (ImPACT) of the Cabinet Office of Japan in its Tough Robotics Challenge

(2014 to 2018).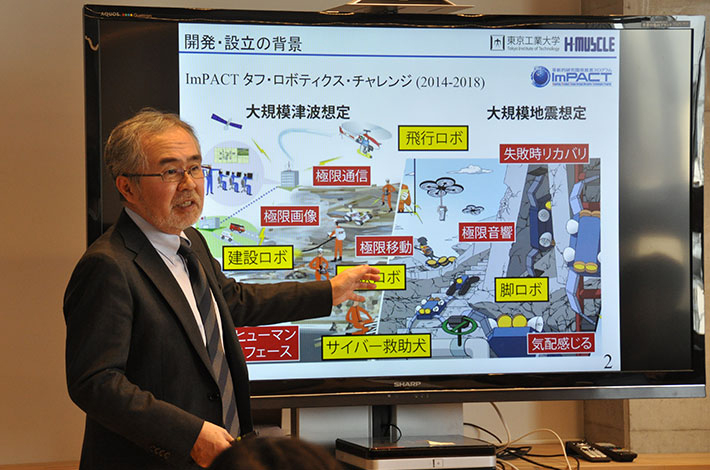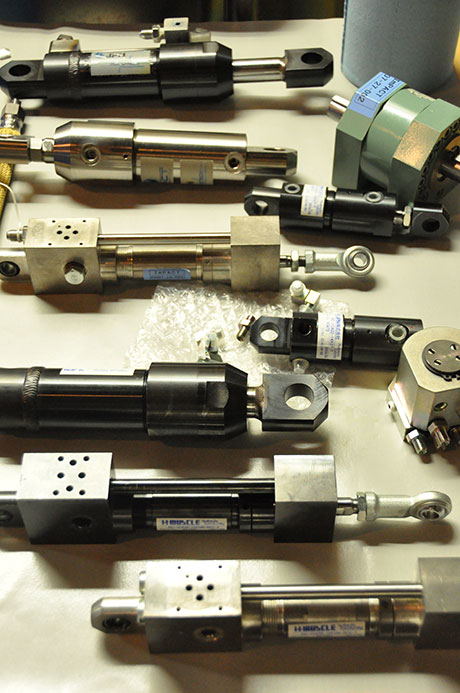 In this program, Suzumori served as the project leader for robot component development, researching and developing hydraulic actuators specifically for robots and their applications. High-output hydraulic actuators are well-suited for driving robots that are powerful, resistant to impact, and operate in unfavorable environments, in contrast with electric motor actuators used in most existing robots. However, typical hydraulic actuators have been developed for industrial machinery, like power shovels, and are too large and heavy to be used in robots; nor can they provide smooth movement or force control.
The hydraulic actuator for robots developed in this project realizes a combination of small size, light weight, power, and smooth operation as a result of factors including inventiveness in materials, such as using magnesium alloy. This development was made possible through the cooperation of many research institutes and companies that participated in ImPACT.
At the press event, Suzumori explained the background behind developing the hydraulic actuator for robots and the purpose of establishing H-MUSCLE. The press was able to handle prototypes and feel the difference from existing products. The press had many questions on the point that successfully developed this new actuator and plans for business development.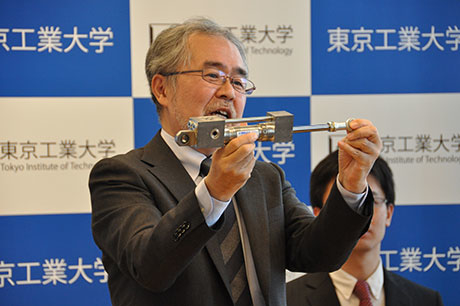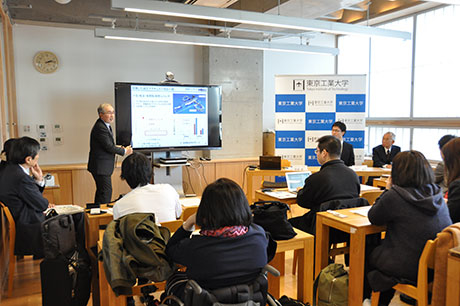 After some lively questions and answers, the seminar moved to the laboratory for demonstrations of a robotic hand and a leg robot. First, the robotic hand to be installed on the end of a construction robot arm was demonstrated switching from shovel mode to hand mode. In hand mode, it used its four fingers to lift up a 40-kg tetrapod, an object with protrusions, then a soft, rubber tire. It then changed the force of its grip and in other ways demonstrated its intelligent control in gripping objects of uneven shape and the functionality of its small but powerful body. Next, the leg robot broke through three layers of concrete, each 3 cm thick, in one instant. The swift movement and the sound of impact silenced the room for a moment before cheers erupted. Much discussion followed the demonstration, and the seminar concluded with great success.
A robotic hand that grasps objects gently regardless of shape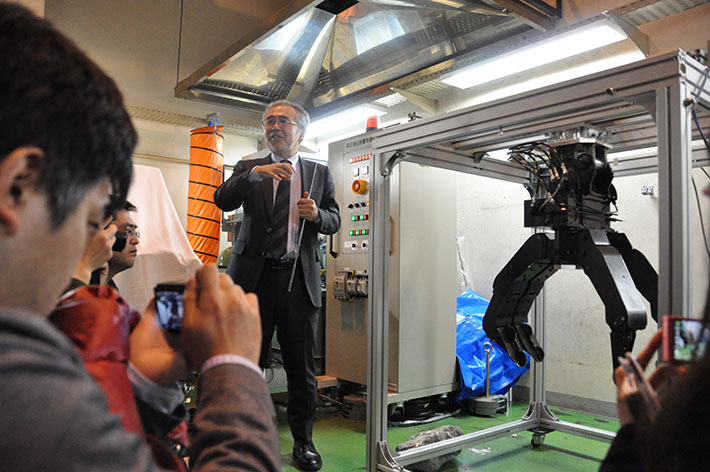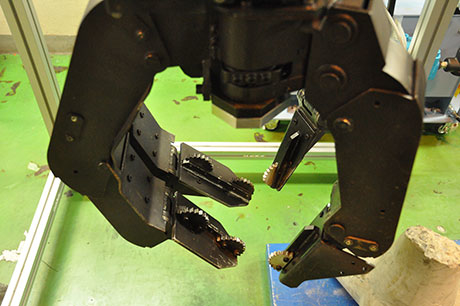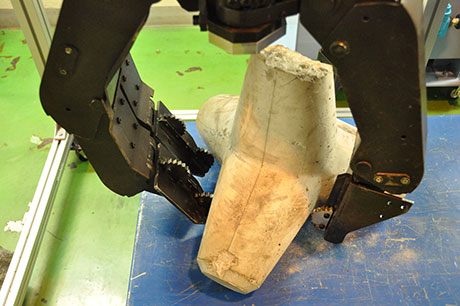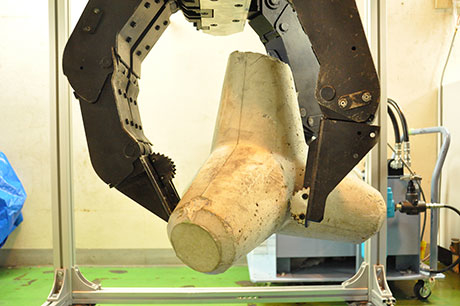 Hand robot easily lifting up a 40-kg tetrapod, an object with protrusions
Powerful leg robot breaking through concrete with ease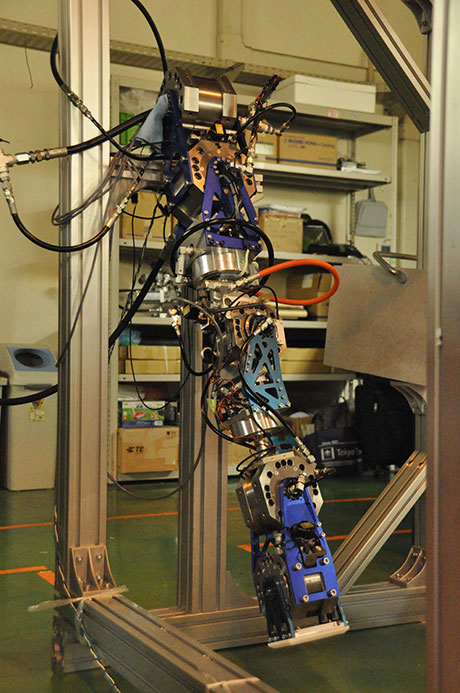 Comment from Professor Suzumori
To create rescue robots which do not give out in harsh environments and can continue to work toughly in actual disaster sites requires development of components which would support the required movements. Electric motors have been driving robots, however, driving robots moving in tough environments is not their forte. For this reason, we adopted hydraulic technology commonly used in heavy construction equipment and succeeded in developing a novel rescue robot that is concurrently small in size, high in output, and smooth in control. We will now standardize components and work on pricing competitively and expanding our product lineup. We need further progress in technology development so that this initiative can become a foundation for future tough robotics and mature to make a great contribution to society. We will work harder to attain this goal.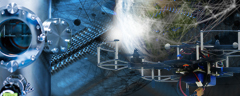 School of Engineering
—Creating New Industries and Advancing Civilization—
Information on School of Engineering inaugurated in April 2016
School of Engineering

Schools, Departments, and Institute for Liberal Arts

Contact
Public Relations Section, Tokyo Institute of Technology
Email media@jim.titech.ac.jp
Tel +81-3-5734-2975