Discover new phenomena, principles,
and methods to create new machines that harmonize with people and the environment
At the Department of Mechanical Engineering, students are trained to analyze the operations of mechanical systems through required courses such as Industrial Mechanics, Mechanics of Materials, Thermodynamics, Fundamentals of Fluid Dynamics, Dynamics of Machinery, and Machine Elements and Mechanical Engineering Drawing. They learn to integrate and apply this knowledge to create new machines. In addition to these fundamental study areas of mechanical engineering, our research activities cover a wide area, such as control, robotics, and mechatronics; precision engineering; machine design; processing, production, and materials; biomedical and welfare engineering; design engineering; and space engineering. Our goal is to foster individuals who not only have the ability to theoretically analyze various phenomena, but also are able to apply these to solve various engineering problems and are able to propose innovative mechanical systems that harmonize with people and the environment.
Message from the Department Chair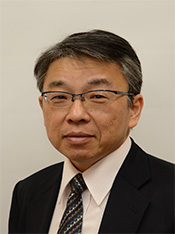 In the Department of Mechanical Engineering, we foster individuals who, in the future, will have the ability to maintain and improve the international competitiveness of Japan and succeed in industry and academic fields. In addition to developing our students' advanced expert knowledge of fields related to mechanical engineering and their ability to establish and resolve problems on their own, we put emphasis on cultivating students' international communication abilities. We have an excellent educational and research environment and our teaching staff are at the forefront of research in mechanical engineering. Will you join us at the Department of Mechanical Engineering to develop your potentials?
Takayosi Inoue