Tokyo Tech teams placed first and second at this year's ARLISS Mission Competition, held from September 10 to 13 in Black Rock Desert, Nevada, USA. One of these teams also accomplished second place in the Overall Category.
ARLISS — A Rocket Launch for International Student Satellites — is a collaborative project between Stanford University, other institutions of learning, and rocketry enthusiasts held annually since 1999 to demonstrate technologies used to develop man-made satellites. Teams of students from around the world design and create CanSats — models of satellites the size of soda cans — and launch them 4,000 meters into the atmosphere. These CanSats then execute various missions either during the flight or after landing. This year, 25 teams from Japan, Mexico, South Korea, India, Peru, Costa Rica, and the US participated.
In the championships, CanSats competed in two competitions — the Mission Competition and the Comeback Competition. In the former, participants are free to design their own missions, competing on the basis of creativity, scientific significance, and mission accomplishment. In the Comeback Competition, teams are ranked based on how near their CanSat arrives to its preset target.
Tokyo Tech teams
From Tokyo Tech, Team Rosette, a five-member team led by 4th-year Mechano-Aerospace Engineering student Teruaki Hayashi, and Team RASTICAS, a 10-member team led by 3rd-year Mechanical Engineering student Hiroyuki Kobayashi, joined the championships. The teams put to use what they had learned at the Institute's Practical Space Engineering Project and Space Systems Design Project.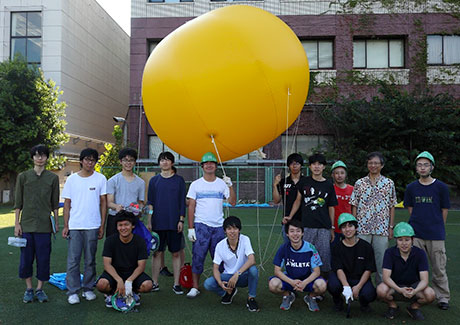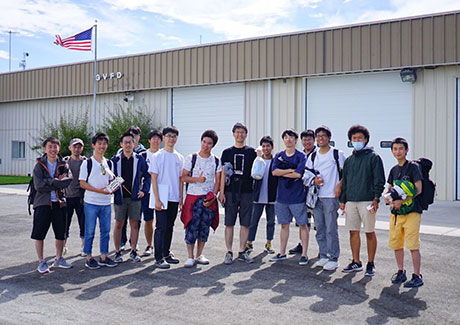 Team Rosette
ARLISS result
Overall Award – 2nd place
Best Mission Award – 1st place
Team members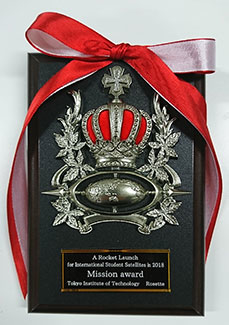 Teruaki Hayashi, 4th year, Mechano-Aerospace Engineering
Hiroki Ando, 4th year, Mechano-Aerospace Engineering
Tsuyoshi Nakashima, 4th year, Mechano-Aerospace Engineering
Yuki Nakatsuka, 4th year, Mechano-Aerospace Engineering
Kei Watanabe, 1st-year master's student, Mechanical Engineering
Comments from team leader Teruaki Hayashi
This was my second time in the competition, and I am very pleased that we were able to get our revenge. I am currently conducting research on new attitude control methods in reconfigurable space systems at Matunaga Laboratory, and therefore set our mission to observe a predetermined direction by using high accuracy attitude control by aerodynamic torque generated by variable shapes. This involved controlling the direction of cameras on our CanSat using paddles after the attached parachute deployed, and conducting observations in designated directions. During classes, we regularly reported our progress and carried out reviews, very much like during regular satellite development. Our team took longer than expected to decide on our mission, and therefore we continued to develop our CanSat until just before the launch. We completed the mission successfully, thanks to all the hard work of the team members and the guidance we received from faculty members and teaching assistants Yuhei Kikuya and Tsubasa Tsunemitsu. I hope I can use this valuable experience in future satellite development.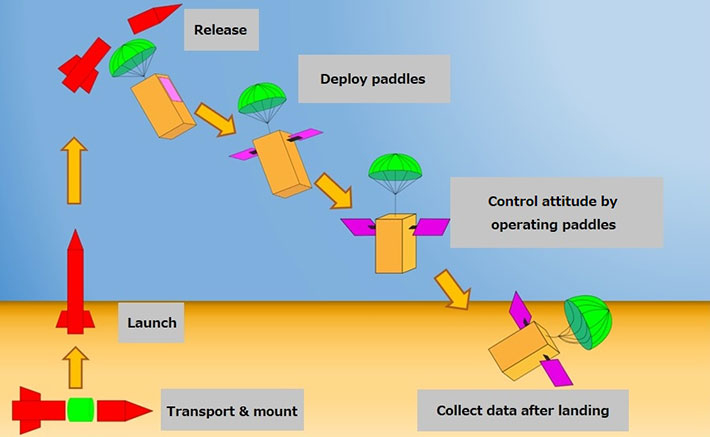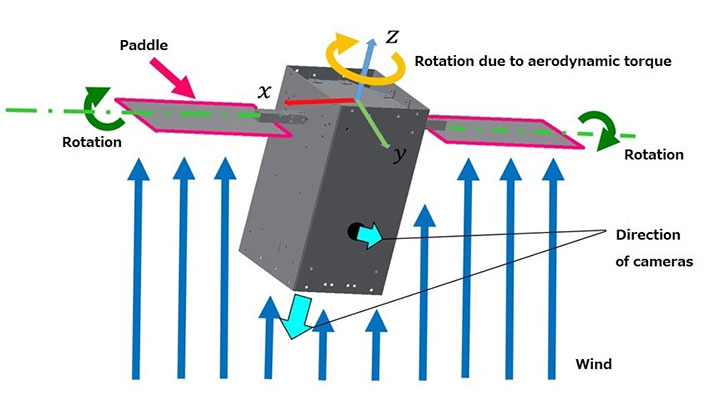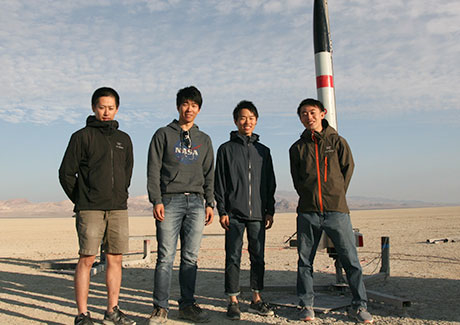 Challenges for Team Rosette
The main issue with Rosette's creation was high-accuracy attitude control. If torque due to atmospheric resistance was too low, the device would not move. If it was too high, it would remain unstable. The team was able to solve the problem by equipping the CanSat with two different modes — one to control angular velocity and stop rotation, and the other to control the angle itself and direct the device towards its target. By minimizing the friction in the rotating portion between the fuselage and parachute, the team were able to fine-tune the object's attitude under low atmospheric resistance. During the competition, the team successfully stopped high-speed rotation and maintained a visual of the intended direction.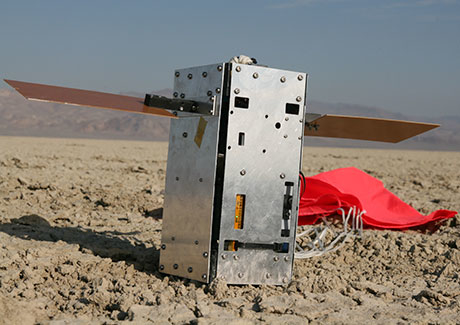 Team RASTICAS
ARLISS result
Team members
Ritsuya Aoki, 3rd year, Mechanical Engineering
Naoki Kawaguchi, 3rd year, Mechanical Engineering
Daisuke Kikuta, 3rd year, Mechanical Engineering
Soh Kimura, 3rd year, Mechanical Engineering
Hiroyuki Kobayashi, 3rd year, Mechanical Engineering
Kherlen Jigjid, 3rd year, Mechanical Engineering
Yuta Takahashi, 3rd year, Mechanical Engineering
Keigo Nakamura, 3rd year, Mechanical Engineering
Nobutaka Fukushima from The University of Melbourne, Mechanical Engineering
Makoto Yoshioka, 3rd year, Mechanical Engineering
Comments from team leader Hiroyuki Kobayashi
Under the guidance of Professor Saburo Matunaga and Associate Professor Hiroki Nakanishi, completed the design, creation, testing, and launch of our CanSat. Through this experience, I was able to systematically learn about practical space engineering methods and project management.
With a future sample collection from Saturn's moon Titan in mind, our mission was "the collection of soil samples and verification of loaded drone transport technology." At ARLISS, we collected sand from the desert, loaded it onto a drone inside our CanSat, and transported it to its destination.
A big thank-you goes out to our professors and TAs Yuhei Kikuya and Tsubasa Tsunemitsu, who advised us throughout the process. We deepened our knowledge, united as a team to take on a big challenge, and learned so many things not possible in a classroom. This valuable experience topped off with us winning an award, which was fantastic.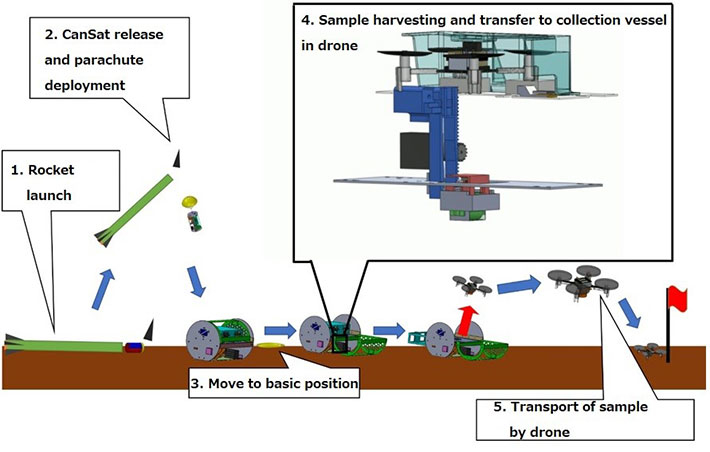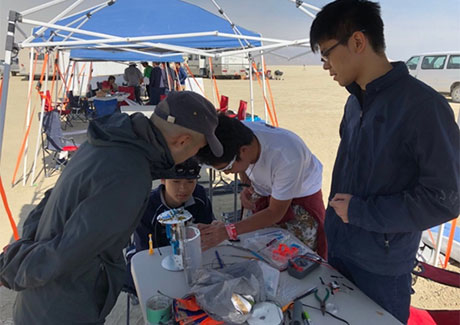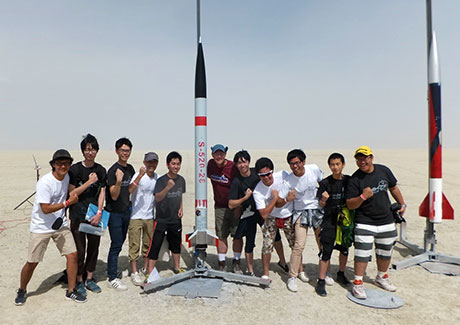 Challenges for Team RASTICAS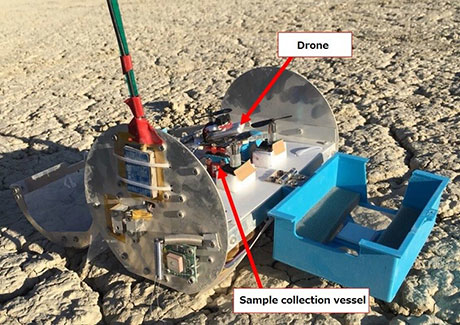 A mechanism inside the CanSat of Team RASTICAS collected a sample using an adhesive. The vessel containing the sample was then received by a drone, which departed the CanSat fuselage and transported the sample to its destination.
Each member of the team was responsible for creating subsystem components within the CanSat. For RASTICAS, integrating these components turned out to be the biggest challenge, requiring countless corrections and improvements. The team also experienced malfunctions when at the actual competition site in Black Rock Desert.
Courses at Tokyo Tech
The Practical Space Engineering Project, aimed mainly at graduate-level students, and the Space Systems Design Project, intended mainly for bachelor-level students, both aim to provide students with the engineering knowledge and project management techniques to design and create satellite models, conduct experiments, and overcome the demanding conditions required during rocket launch and CanSat missions. Capacity is roughly 10 students for each course.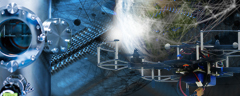 School of Engineering
—Creating New Industries and Advancing Civilization—
Information on School of Engineering inaugurated in April 2016
School of Engineering

Schools, Departments, and Institute for Liberal Arts